Every homeowner wants to spruce up their garage floor with a little style and color without having to worry about garage floor water containment. The standard concrete garage floor is pragmatically operable, but with a phenomenal intellect and a little elbow grease, garage floors can become aesthetically appealing and functionally convenient.
Homeowners often have trouble deciding which type of garage floor covering they should choose because of the number of options available to them. This article is designed to help homeowners make sure that they choose the right kind of garage floor covering based on their requirements. To help make the task easier we have divided the garage floor coverings into two categories: coverings and coatings.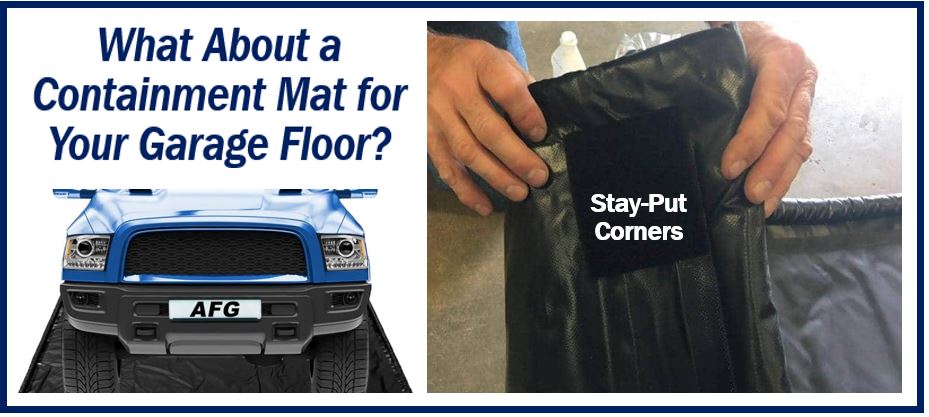 Garage Floor Covering Choices: Mats & Tiles
Garage floor coverings can be placed on top of the garage floor and they can be detached or shifted as required. At the same time, whatever you put on your garage floor should be capable of withstanding the weight of a vehicle and possible oil leakages. This means that you can throw away that doormat or rug on your garage floor because you will need a product that is specifically designed and manufactured to withstand extreme garage floor conditions. Garage floor mats and tiles both fit that product description.
Garage Floor Mats
One of the easiest ways to cover a garage floor is to use a roll-out mat made of polyvinyl plastic or rubber. Garage floor mats can be conveniently installed or rolled out on concrete floors that might have slight stains or cracks without any groundwork necessary. Mats manufactured specifically for being used on the garage floor can be in the form of padded gym mats, textured, and some have the qualities of a water-resistant rug.
All of the different kinds of mats on the market for being used on the ground floor will be easy-to-clean materials at the same time thick enough to be durable and resilient enough to maintain underfoot traffic of the garage floor.
Garage floor mats are available in all different standard sizes and some mats are also available in custom sizes. Getting a garage floor mat with the right thickness is key to making sure that you get the right garage floor mat.
One of the greatest advantages of using garage floor mats is that they can be rolled away and removed to reveal the unblemished garage floor, at any time the garage is needed for other purposes. Some of the best garage floor mats are slip-resistant, easy to clean, able to endure the weight of vehicles, resistant to oil spills, and provide a definitive warranty period.
Garage Floor Tiles
Homeowners can choose to install the same durable vinyl floor tiles used in the home but there are wood composite, rigid, semi-rigid plastic, and rubber tiles that are specifically made for being used on a garage floor. These tiles often have interlocking borders that structure a slightly elevated floor with the resilience to bear the weight of the vehicles parked in the garage.
On the other hand, regular floor tiles are a good proposition in places where the concrete floor is cracked or badly stained in a condition that is hard to repair. These tiles will help to even out some of the disparity between the edges of the floor and provide it an overall smoothness and symmetry.
A majority of the plastic garage floor tiles are made up of polypropylene plastic or PVC. A majority of the brands present a variety of different accessories and finishes for the borders of the tiles and doorways.
Some playrooms, sports facilities, and gymnasiums use the same rubber tiles that have interlocking edges to ensure that the occupants remain safe as they conduct their exercise routines possibly with heavyweights. One of the best qualities of these tiles is that they are extremely comfortable underfoot at the same time they can comfortably withstand immense weights without getting damaged.
Garage Floor Coating Choices: Epoxy & Paint
A garage floor coating is a thin coat that protects the garage floor. The purpose of applying this coat is to ensure that the garage floor remains shielded or guarded against the possible discharges from the vehicles standing in the garage. There are products that are specifically built for the purpose of being applied in a garage floor that can withstand garage floor conditions.
Garage Floor Epoxy Applications
Garage floor epoxy coatings are often perceived as a kind of paint because they both need to be applied with the help of paintbrushes and paint rollers. Chemically and from a functional perspective garage floor epoxies and paint are quite different. The difference between the two is that paint hardens when the dissolving agent, an oil-based liquid or water, evaporates. Whereas, epoxy coatings solidify by undergoing a chemical reaction between a catalyst and a resin.
Genuine garage floor epoxy is an extremely strong, hardwearing, and magnificent-looking covering for the garage floor. Genuine garage floor epoxy is completely different from 'epoxy paint'.
Epoxy paint contains just a little bit of epoxy to increase the hardness of the final solution. Garage floor enthusiasts should be warned that an epoxy coating is much better in performance in the long run in comparison to 'epoxy paint' so make sure to choose the right kind of epoxy coating for the garage floor.
Garage Floor Paint
A new coat of paint is all that is required to make your garage floor look new again if it is stained with grease, grime, rust, or oil. There are slip-resistant latex and oil-based paints that are composed of satin that are particularly durable and resistant to chemical spills including oil, grease, corrosive materials, and grime.
Some latex floor paints integrate a little bit of epoxy resin, for the purpose of making the final coat resistant to spills and stains. Before purchasing any kind of paint make sure it is recommended to be used specifically on concrete floors because these materials will outlast and surpass any kind of regular paint when the garage floor is covered with them.