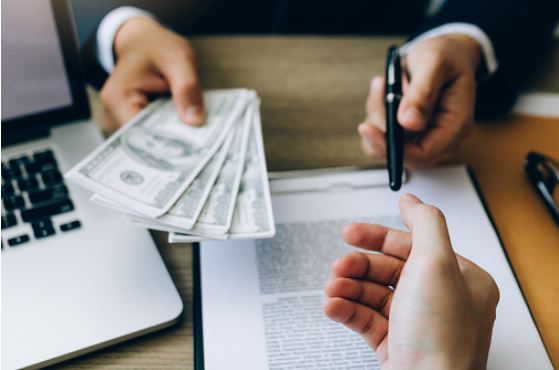 With today's rising federal interest rates and skyrocketing inflation, we've come to a critical crossroads where Reliance on payday loans is even greater. However, not all payday lenders are considered equal, with no shortage of predatory scam companies taking advantage of unsuspecting borrowers.
Fortunately, there are many reputable sources of secure online payday and cash advance loans. With these loans, bad credit borrowers can enjoy sub 35.99% APRs, customizable repayment terms, and no origination or prepayment penalties that only take money out of your pocket.
Keep reading to learn more about choosing the right payday lender, including definitions of bad credit loans with guaranteed approval, how to identify legit companies, and tips/tricks on how to read the fine print for a complete picture of rates and terms, ensuring no predatory tactics or hidden fees that can trap you into a vicious debt cycle.
What Are Bad Credit Loans with Guaranteed Approval?
Bad credit loans with guaranteed approval are offered to people with limited to no credit history, whom traditional lenders often reject. They allow you to secure funds for everything from unpaid medical bills to much-needed auto repairs preventing you from going to work.
One of the most important things to know about bad credit loans with guaranteed approval is the phrase " guaranteed approval." Bear in mind that it's a marketing phrase offering relief to those who have had difficulty taking out loans from banks and other financial institutions requiring higher credit scores. No loan is ever truly guaranteed, as each has its own minimum eligibility criteria such as age, legal residency, and minimum monthly income. 
Here are some common characteristics of bad credit loans with guaranteed approval:
No Minimum Required Credit Score. Unlike many financial institutions imposing a minimum 680+ credit score, bad credit loans with guaranteed approval do not rely on credit scores. Instead, lenders evaluate a borrower's credit worthiness using income, employment record, and existing debt obligations (debt-to-income ratio). Anyone with a DTI ratio higher than 40% is likely to be rejected. 
Higher Interest Rates. Naturally, borrowers with 300—580 credit scores pay higher interest rates. Think 26% —35.99% APRs versus the 8%—15% APRs offered to people with excellent to very good credit scores. Suppose you have a history of bankruptcies, delinquencies, collections, or similar activity. In that case, it signals to lenders that you do not know how to manage debt responsibly, so higher interest rates are charged to hedge against the risk of default.
Hopefully, you might have extra time to boost your credit score before signing any loan agreement. Even an 80-point increase in your credit score could pay immediate dividends with a whopping 15% APR difference, subject to market conditions and other eligibility requirements.
Smaller Loan Amounts. Unlike traditional personal loans, bad credit loans with guaranteed approval typically offer smaller loan amounts. Although the advertised maximum borrowing limits at reputable lending networks go north of $5,000, $15,000, and $40,000, most direct lenders on these platforms are only willing to extend a percentage of the max (e.g., Up to $10,000), more or less depending on your credit profile.
When considering guaranteed approval loans, we highly recommend that you perform thorough research in applying a magnifying glass to terms and conditions, including the presence of any hidden fees or extraneous fine print that is difficult to decipher. With a clear understanding of loan terms, you'll be on your way to addressing your emergency expenses smartly and confidently.
What Are Payday Lenders?
Payday lenders specialize in offering short-term installment loans to bad credit borrowers. Traditionally, these have been your local cash advance places charging upwards of 400% APRs with ultra-short two to four-week repayment terms, where loans up to $1,000 are repaid with your next paycheck. The old process comprises issuing post-dated checks in the amount of loan proceeds, withdrawn by the direct lender on your next payday.
Naturally, these types of payday loans are of concern. Aside from inflexible rates and terms, automatic withdrawals from account balances close to $0 could incur additional third-party fees (e.g., overdraft/insufficient funds fees), all designed to further pit borrowers into a vicious debt cycle.
Fortunately, one can quickly go for cash advance places and opt for legitimate online lenders offering much more favorable loan terms. Think borrowing amounts as high as $40,000 with sub 35.99% APRs and authorized withdrawals (from your bank account) rather than post-dated checks. Another strength of online payday lenders includes same-day approval and funding to an active checking or savings account as early as the next business day.
A Word on Payday Lending Statutes
With cash advance and payday loan providers, reputable ones are here to all regulations governing payday loans, which vary depending on your state. They protect borrowers and ensure fair lending standards. Some states even ban payday loans outright. 
There are several reasons why each state has its statutes:
Limiting Interest Rates and Fees. One of the main reasons for state-specific statutes is the limited interest rates and fees. Many predatory lenders charge outrageous 400% APRs and excessive fees, putting borrowers into further trouble. One of the ways states have taken control of the situation is by mandating maximums for loan amounts, repayment terms, and finance charges.
For example, in Montana, payday loans can be at most $300 with a minimum term of 31 days. APRs cannot be higher than 36%, which includes interest and applicable finance charges. They also restrict the number of loans you can take out at any given time. If borrowers already have an existing loan, then a payday lender cannot offer them a new loan.
Preventing Bad Lending Practices. There are many payday lenders out there that exploit subprime borrowers with all types of restrictions. One of the ways state-specific lending statutes do it is by limiting the maximum amount paid towards rollovers and extensions.
States can also mandate that only one payday loan be taken out simultaneously.
Let's continue learning about these types of payday lenders and how to identify reputable ones for your next bad credit loan with guaranteed approval.
How to Identify Reputable Payday Lenders Offering Bad Credit Loans with Guaranteed Approval
Nowadays, an avalanche of information can quickly compel borrowers to go with predatory options, charging 400% APRs. Failure to read all of the fine print/state regulations, privacy policies, checking for physical addresses, and other mishaps can easily cost you hundreds of dollars over the life of any loan, so it's essential to stay sharp when researching legit lenders.
Here are five of our favorite ways to identify reputable payday lenders offering bad credit loans with guaranteed approval:
State Regulations and Licensing. Ensure your payday lender fully adheres to all licensee requirements and state regulations. Most states have payday lending statutes with rules and limits on maximum APRs, repayment terms, and finance charges by payday lenders. 
To learn if your payday lender is licensed to operate in your state. Refer to your state's financial regulatory agency. The Florida Office of Financial Regulation regulates payday lenders in the state, where any loan greater than $500 with fee totals exceeding 10% of the amount is banned.
Review Lender Disclosures. One of the hallmarks of any smart payday lender search is thoroughly reviewing the lender's website for disclaimers. Well-written disclosures will indicate all loan terms and costs, contact information, privacy policies, advertiser disclosures, and all state licenses and affiliations with industry associations like the Online Lenders Alliance (OLA).
A Note on the Online Lenders Alliance
The OLA is one of the more well-known advocates for greater lending transparency in the payday lending industry. The OLA is a trade organization that advocates for best practices in the online lending industry, focusing on setting standards, consumer education, regulatory compliance, and research/data collection.
With arguably the number one concern of consumers being high interest rates and predatory lending practices, the OLA goes to great lengths to ensure regulatory compliance and consumer education on identifying legit online lending services.
If you see an OLA badge on your lending network's website, consider it an excellent sign!
Digest Third Party Reviews. One of the best ways to get a pulse on payday loan and cash advance companies is to read customer reviews and ratings. Third-party sites like the Better Business Bureau, TrustPilot, and various consumer advocacy websites where you can read positive and negative feedback from consumers.
As a best practice, ensure a healthy negative-to-positive feedback ratio with a focus on recurring complaints raised by borrowers, such as requests for upfront fees or lack of transparency with the fine print.
Customer Support. Ensure your paying provider has at least one communication method, preferably email and phone number. It's also essential to check all website disclaimers for an actual physical address. Reputable lenders will always address your concerns on time.
Industry Affiliations. The last way to identify reputable payday lenders offering bad credit loans with guaranteed approval is to check for industry affiliations. Kudos to any financial institution that is a member of the OLA, Community Financial Services Association of America (CFSA), or other trade organizations that advocate for consumer best practices and industry standards.
By checking off all of the above items, you are virtually assured of finding a reputable payday lender offering agreeable rates and terms.
How to Boost Your Credit Score Before a Payday Loan or Cash Advance
If you have extra time before applying for a secure cash advance or payday loan, then we recommend trying to work on your credit score.
Borrowers with credit scores above 700 enjoy the lowest interest rates, as low as 8% APR, on all kinds of personal loans, including short-term installment loans, instant online cash advances, and high-risk personal loans.
Here are five strategies we love that can help boost your credit score in no time:
Don't Miss a Payment. The largest percentage of your FICO score accounts for your payment history (35%). As a result, even a single missed payment could pay immediate consequences, resulting quickly in a 100 or 150-point drop, depending on your existing record. This means you are now eligible to pay much higher interest rates, which could easily equal hundreds of dollars in lost income. 
Check Your Credit Reports Regularly. We recommend checking your credit report regularly. All you need to do is go to annualcreditreport.com and request a free one from each of the three credit bureaus: Experian, TransUnion, and Equifax. Be sure to carefully review each report for errors, as it is widespread to see incorrect balances, wrong creditors, erroneously labeled accounts, and other information that could be reversed quickly.
If you are ready to find out, be with any of your creditors or credit report bureaus, then visit each respective bureau's dispute page for more information.
Diversify Your Credit. Lenders like to see that you know how to responsibly manage different types of credit. That's why we recommend you consider other types of credit, such as credit cards, auto loans, mortgages, and even student loans. However, it is essential to maintain a healthy DTI ratio, preferably under 30%. If you go above 40%, you are in danger of only qualifying for much higher interest rates.
Employ Neat Tricks. There are specific ways that you can boost your credit score quickly. One of the best ways to do this is by calling each of your credit card issuers and requesting a credit limit increase. Assuming your spending remains the same, and your recent payment history is okay, then you can expect the creditor to honor your request.
This strategy helps lower your credit utilization ratio, which accounts for 30% of your FICO score. Remember, the lower your outstanding account balance, the less risky you are to online cash advance loans and payday lenders, or any lender for that matter.
Don't Close Old Credit Card Accounts. Although your average account age only comprises a small percentage of your total FICO score, we highly recommend not closing any old credit accounts. Even if you are not using a card, keep it open by charging a small monthly subscription (e.g., Spotify) with automatic payments. That way, it's out of sight and out of mind.
By employing these strategies to boost your credit score before any cash advance or payday loan, you'll be on your way to securing lower interest rates, which can help you save hundreds of dollars in finance charges.
Reading the Fine Print: Terms to Look for with Secure Cash Advance/Payday Loans
Quick access to cash is necessary for sudden medical expenses, hospital bills, or emergencies. One of the best ways to secure emergency caches is through cash advances and payday loans from reputable online marketplaces.
However, as with today's, digesting all the fine print is essential, ensuring you understand all the details.
Here are terms to look for with secure cash advances for bad credit providers:
Interest Rates and Fees. Arguably, the number one thing to look out for is details about rates and fees. Remember that payday loans and cash advances come with higher than average interest rates of up to 35.99%, representing the upper threshold before entering predatory rate territory. Any disclaimer should always disclose the exact interest rate and all finance charges out of the fine print, preferably with representative loan examples that give you a better idea.
Loan Terms. Be mindful that cash advance loans typically come with shorter repayment terms. Some are through as early as your next payday, while others extend weeks or months out. watch out for any extension of rollover fees as well.
Late Payment Fees. If you produce a late or missed payment, well-written disclaimers on the lender's website will list all of the consequences, including elevated interest rates, late fees, implications of non-payment, and any other applicable charges.
Privacy. Cash advance and payday lenders should be explicit about their privacy policies. Specifically, they should inform you how your information is shared with all third-party partners. Ensure that your direct lender's online request form is secured using 256-bit SSL encryption to keep your data encrypted, making it unreadable to outside hackers.
Suppose you only read some fine print with your cash advance or payday loan. In that case, you can pay several issues, including unexpected costs, loan rollovers, legal pitfalls, and even privacy concerns. Remember, many predatory lenders share or misuse your personal information with third-party partners, so research is paramount.
Conclusion
Choosing the right secured cash advance or payday loan will be effortless if you understand all the steps. Feel free to consider alternatives such as debt consolidation loans, governmental assistance, forbearance/hardship opportunities, or negotiating directly with creditors. Bringing your credit score above 680 will give you the best loan opportunities, offering the most flexible rates and terms.
---
Interesting Related Article: "Can I Apply for Loans for Home Renovations?"