A lot of fitness centers now either require or advise a yoga mask during yoga and other exercises, including outdoor workouts. The CDC says face masks or coverings should be used in public when around other people, as this helps slow the spread of the coronavirus. WHO, on the other hand, has cautioned the public that wearing masks while exercising can force sweat to accumulate, which would make it a lot harder for you to breathe.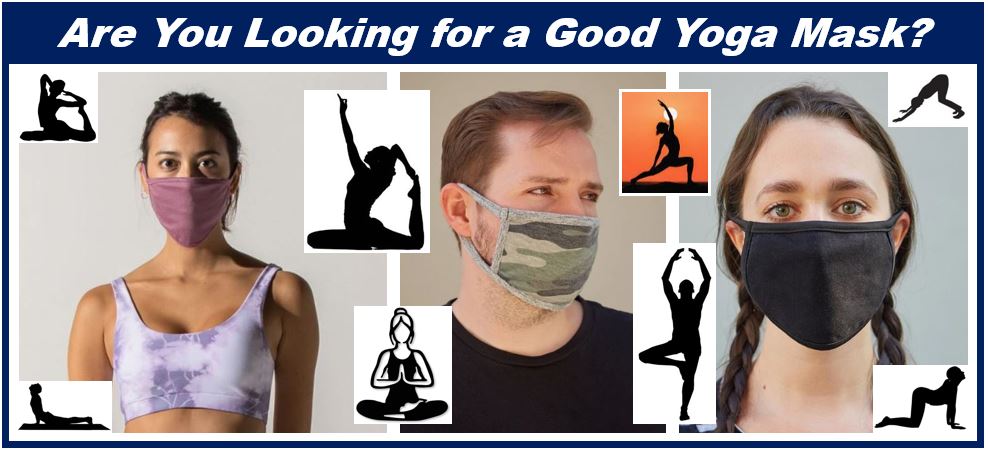 You should avoid going to group workouts or yoga classes for the time being and continue physical distancing. Even if you're social distancing at the gym, having a lot of people inside where there are a lot of heavy (and unmasked) breathing can create an environment where the coronavirus can spread more easily.
What you should know about the coronavirus and wearing a yoga mask
The Centers for Disease Control and Prevention recommends that those who are older than two years old should wear a face covering when in public places, or when they're around people they don't live with. Here are a few things you need to know about the virus and wearing a face mask:
Masks with multiple layers can trap larger respiratory droplets ejected through coughing, talking, or sneezing.
Some experts claim that the coronavirus is airborne. However, there isn't any scientific basis to officially say this.
The mask should cover your chin and nose. It should also be snug enough to prevent any gaps.
Wash the mask before and after you wear it.
While a lot of states across the country are enforcing Covid-19 mask regulations, and most gyms are fitness studios are still closed, people have been doing their workouts and yoga classes outdoors – with their masks on.
Doing yoga with a face mask on utterly sucks, so you might as well invest in a high-quality face mask that is specifically made for physical activities like yoga. This way, you won't be winding up in a soggy and smelly surgical mask.
What to look for when choosing a yoga mask
For your own's safety and the safety of others, you don't do yoga indoors without wearing a face mask, especially if you're around other people you don't know. If you can't stand wearing a mask, do it outside. But for those who are eager to go back to the fitness studios, where wearing a yoga mask is required, here are things you need to know when choosing a yoga mask.
Fabric
Fabric is the most important factor when it comes to doing physical activities with a mask. For everyday activities, cloth masks should be fine. But then, cotton can become damp really fast, which can affect your breathing and promote bacterial growth. Because of this, you need your yoga mask to be made with a breathable fabric.
N-95 masks and surgical masks aren't the best options when it comes to physical activities like yoga. While you need to protect yourself from getting the virus, you want your mask to be comfortable and breathable while you move.
Fit
Nothing is worse than having a face mask sag or fall off while you're doing yoga. It's just plain annoying. It also disrupts your yoga if you always have to stop to fix it. You'll likely have to touch your face when you fix it, which you should be avoiding if you want to stay safe.
Look for a face mask that you can adjust or one that comes in different sizes so you can choose the one that best fits you. Stretchy ear loops tend to fit snugly and won't slide around as much as surgical masks and those that tie around your head.
Antimicrobial features
Since moisture and sweat can be the bacteria's breeding grown, face masks that have some type of filter are perfect for physical activities like yoga. While they may not actually kill or destroy a virus particle, it won't hurt to have these extra barriers.
Not one mask can offer 100% guarantee protection from the virus, no matter what their features have. However, wearing a yoga mask is just another tool that can act as an extra barrier to prevent or slow down the spread of the virus. This can help protect you and other people.
Stylish yoga mask from The Yoga Society
The pandemic has spawned a new industry that includes designers and brands creating some chic face mask styles. Whether you're looking to buy a yoga mask online with tie-dyed designs, Bermuda gold mask chains, leather mask strap, and more, you can find the perfect fit for you in different styles and colors.
Note that these face coverings are not suitable for health care workers or anyone on the front line. These masks are for people who are observing physical distancing and want to avoid the spread of the virus as they go out and about or do physical activities like yoga.
If you feel like browsing or buying yoga face masks, check out the Yoga Society shop now. They offer fancy tie dye packs in different colors, variety packs, and more. Continue reading to find out our top picks of yoga masks.
Whether or not you wear a face mask while doing yoga outside is up to you and your state's Covid-19 regulations. For those who want to, or want to wear masks for any physical activity, what follows is a list of the best yoga mask designs.
Tie-dye packs – Tie-dye packs are made with 2 layers of fabric, following the California Department of Public Health guidelines. They contain the following mask designs: blue tie-dye, black tie-dye, pink tie-dye, and plain blue.
All pink tie-dye packs – Also made with 2 layers of fabric, this pack contains 4 pink tie-dye mask designs.
Neon 4-packs – This pack contains the following designs: neon lime, neon pink, neon orange, and neon lemon.
These masks aren't medical-grade masks and aren't guaranteed to protect you from the virus. They, however, can help reduce the spread of respiratory particles when doing yoga in public, which makes them worth wearing.
---
Interesting related article: "Benefits of Yoga Supported by Science."