Cigna is a global health service company, headquartered in Bloomfield, Connecticut, US, that focuses on providing customers with a range of health care products and services.
It is one of the leading US providers of medical, dental, disability, life and accident insurance and related products and services.
In 2013 the company reported $29.1 billion in annual revenues.
Cigna sells its produces in more than 30 countries and jurisdictions, with around 75 million customer relationships throughout the world.
Cigna was formed through the combination of INA Corporation and Connecticut General Corporation in 1982.
It provides its services through the following subsidiaries: Cigna Corporation, including Connecticut General Life Insurance Company, Cigna Health and Life Insurance Company, Life Insurance Company of North America and Cigna Life Insurance Company of New York.
Cigna is comprised of five operating segments, the three major ones are:
Global Health Care – this segment constitutes approximately 80% of the company's total revenues. It offers Managed Care plans, Preferred Provider Plans, Choice Fund Suite of Consumser Driven Products, and Medicare Advantage plans.
Global Supplemental Benefits – this segment constitutes around 8% of the company's total revenues. It offers supplemental life, health and accident insurance products.
Group Disability and Life – provides group long-term and short-term disability, group life, accident and specialty insurance products and related services.
The company is publicly listed on the New York Stock Exchange (NYSE) under the stock ticker symbol 'CI'.
Overview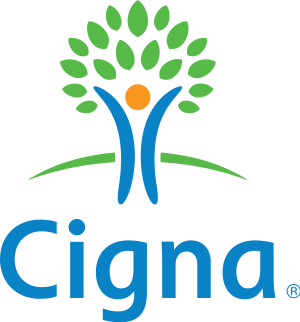 President and CEO: David Cordani
Chairman: Isaiah Harris, Jr.
Type: Public
Industry: Health Care Services
Listed on the New York Stock Exchange (NYSE)
NYSE stock ticker symbol: CI
S&P 500 Component
Revenue: $32.380 billion USD (2013)
Net income: $1.478 billion USD (2013)
Diluted earnings per share: $5.18 USD (2013)
Employees: 36,500 (2013)
Corporate headquarters: 900 Cottage Grove Road, Bloomfield, Connecticut
Investor relations contact number: 215.761.1414
Investor relations email: 

[email protected]

Website: http://www.cigna.com/
---
Net Revenues (in $ millions)

2013

2012

Premiums and fees
$28,976
$26,187
Net investment income
$1,164
$1,144
Mail order pharmacy revenues
$1,827
$1,623
Other revenues
$200
$121
Total realized investment gains
$213
$44
Total revenues
$32,380
$29,119
Benefits and Expenses (in $ millions)
Global Health Care medical claims expense
$15,867
$14,228
Other benefit expenses
$4,998
$3,672
Mail order pharmacy cost of goods sold
$1,509
$1,328
GMIB fair value (gain) loss
–
$(41)
Other operating expenses
$7,830
$7,455
Total benefits and expenses
$30,204
$26,642
Income Data (in $ millions)
Income before Income Taxes
$2,176
$2,477
Total taxes
$698
$853
Net Income
$1,478
$1,624
Net Income Attributable to Noncontrolling Interests
$2
$1
Shareholders' net income
$1,476
$1,623
Balance Sheet Data (in $ millions)
Total assets
$54,336
$53,734
Total Liabilities
$43,659
$43,851
Total Stockholders' Equity
$10,567
$9,769
Common share data (in $)
Basic earnings (loss) per common share
$5.28
$5.70
Diluted earnings (loss) per common share
$5.18
$5.61
Source: "Cigna Corporation 2013 Annual Report – Form 10-K"
---