The Cincinnati Financial Corporation is an American property casualty insurer group.
The company, based in Cincinnati, Ohio, is one of the largest insurance companies (by market share) in the United States.
Cincinnati Financial markets a range of property casualty insurance products across 39 states.
Approximately 1,300 independent insurance agencies market the company's business, home and auto policies.
The company's vision is "to be the best company serving independent agents."
It operates through the following subsidiaries:
The Cincinnati Insurance Company – which itself is comprised of four insurance subsidiaries:

The Cincinnati Casualty Company
The Cincinnati Indemnity Company
The Cincinnati Life Insurance Company – offers life and disability income insurance and annuities.
The Cincinnati Specialty Underwriters Insurance Company – markets excess and surplus lines insurance products.

CFC Investment Company – provides customers with leasing and financing services.
CSU Producer Resources Inc – a wholly owned excess and surplus lines brokerage.
The company (as it is today) was incorporated in the state of Ohio in 1968.
Its main subsidiary (The Cincinnati Insurance Company) was founded in 1950 by four independent insurance agents who had a mission that continues to guide the Cincinnati Financial Corporation today – grow profitably and enhance the ability of local independent insurance agents to deliver quality financial protection to the people and businesses.
The Cincinnati Financial Corporation is publicly listed on the NASDAQ stock exchange under the stock ticker symbol 'CINF'.
Overview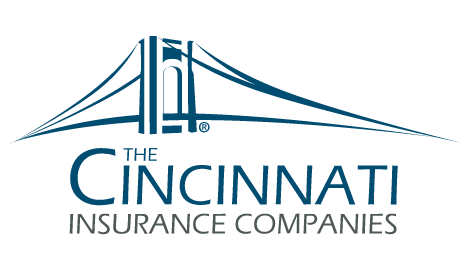 President and CEO: Steven J. Johnston
CFO: Michael  J. Sewell
Chairman: Kenneth W. Stecher
Type: Public
Industry: Insurance
Listed on the NASDAQ Stock Exchange
NASDAQ stock ticker symbol: CINF
S&P 500 Component
Revenue: $4.531 billion USD (2013)
Net income: $517 million USD (2013)
Diluted earnings per share: $3.12 USD (2013)
Employees: 4,100 (approximately)
Corporate headquarters: 6200 S. Gilmore Road, Fairfield, Ohio 45014-5141, USA
Investor relations contact number: 513-870-2768
Investor relations email: 

[email protected]

Website: http://www.cinfin.com/
---
Net revenues (in $ millions)

2013

2012

Earned Premiums
$3,902
$3,522
Investment income, net of expenses
$529
$531
Realized investment gains, net
$83
$42
Fee revenues
$8
$6
Other revenues
$9
$10
Total revenues
$4,531
$4,111
Benefits and expenses (in $ millions)
Insurance losses and policyholder benefits
$2,505
$2,322
Underwriting, acquisition and insurance expenses
$1,243
$1,155
Interest expense
$54
$54
Other operating expenses
$15
$14
Total benefits and expenses
$3,817
$3,545
Income data (in $ millions)
Income before income taxes
$714
$566
Total provision for income taxes
$197
$145
Net income
$517
$421
Comprehensive income
$892
$649
Balance sheet data (in $ millions)
Total assets
$17,662
$16,548
Total liabilities
$11,592
$11,095
Total shareholders' equity
$17,662
$16,548
Cash flow data (in $ millions)
Net cash provided by operating activities
$796
$638
Net cash used in investing activities
$(509)
$(304)
Net cash used in financing activities
$(341)
$(285)
Cash and cash equivalents at end of year
$433
$487
Common share data (in $)
Basic earnings (loss) per common share
$3.16
$2.59
Diluted earnings (loss) per common share
$3.12
$2.57
Source: "Cincinnati Financial Corporation 2013 Annual Report – Form 10-K"
---