Cisco Systems, Inc. is an American multinational company, based in California, that provides a range of networking services/solutions.
It is one of the most valuable companies in the world.
The company focuses on designing and selling Internet Protocol (IP) based networking and communications and information technology (IT) industry products, designed "to simplify and secure customers' network infrastructures."
Its products and technologies are grouped into the following categories: Switching; Next-Generation Network (NGN) Routing; Service Provider Video; Collaboration; Wireless; Data Center; Security; and Other Products.
Cisco has a broad range of products for transporting data, voice, and video. Its products are used by personal residences, commercial businesses, enterprise businesses, public institutions, service providers, and telecommunications companies.
Products include:  routers, switches, wireless systems, security systems, WAN acceleration, energy and building management systems and media aware networks, IP video and phones, vIP Cameras, VOIP (Voice over Internet Protocol) phones and gateway-systems, WiFi Access points, Nexus Switches, Routers, Cisco Wireless LAN products, and Catalyst switches.
According to the company's 2013 annual report, Cisco Systems is attempting to make a market transition towards more programmable, flexible, and virtual networks, known as software defined networking (SDN).
The company was founded in 1984 by Leonard Bosack and Sandy Lerner (both members of the Stanford University computer support staff). Their company was at the forefront of selling routers that supported multiple network protocols.
The two decided to call their company "Cisco" after the city name "San Francisco" and the company logo was designed to represent the two main towers of the Golden Gate Bridge.
In 1990 Cisco Systems went public on the NASDAQ stock exchange under the stock ticker symbol 'CSCO'.
Between 1992 and 1994 Cisco acquired a number of Ethernet switching companies, including: Grand Junction, Kalpana, and Mario Mazzola's Crescendo Communications.
The company's main competitors are: Alcatel-Lucent; ; Brocade Communications Systems, Inc.; Dell Inc.; F5 Networks, Inc.; Fortinet, Inc.; Hewlett-Packard Company; Huawei Technologies Co., Ltd.; International Business Machines Corporation; Microsoft Corporation; Motorola Solutions, Inc.; Palo Alto Networks, Inc.; Polycom, Inc.; Symantec Corporation; and VMware, Inc.; among others.
Overview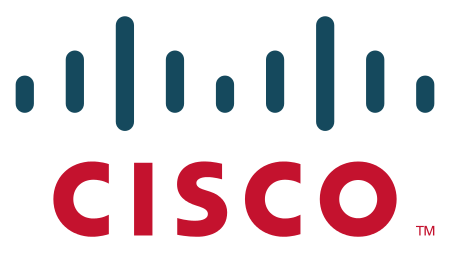 Chairman and CEO: John Chambers
President and COO: Gary Moore
Type: Public
Industry: Networking
Listed on the NASDAQ Stock Exchange
NASDAQ stock ticker symbol: CSCO
S&P 500 Component
Revenue: $48.607 billion USD (2013)
Net income: $9.983 billion USD (2013)
Diluted earnings per share: $1.86 USD (2013)
Employees: 75,000 (approximately)
Corporate headquarters: 170 West Tasman Drive, San Jose, California, USA
Corporate contact number: (408) 526-4000
Investor relations contact number: (408) 227-CSCO
Website: http://www.cisco.com/
---
Net revenues (in $ millions)

2013

2012

Product
$38,029
$36,326
Service
$10,578
$9,735
Total revenue
$48,607
$46,061
Cost of sales and operating expenses (in $ millions)
Cost of sales
$19,167
$17,852
Research and development
$5,942
$5,488
General and administrative
$2,264
$2,322
Amortization of purchased intangible assets
$395
$383
Restructuring and other charges
$105
$304
Total operating expenses
$18,244
$18,144
Income data (in $ millions)
Operating income
$11,196
$10,065
Interest income
$654
$650
Interest expense
$(583)
$(596)
Other income (loss), net
$(40)
$40
Interest and other income, net
$31
$94
Income before provision for income taxes
$11,227
$10,159
Provision for income taxes
$1,244
$2,118
Net income
$9,983
$8,041
Provision for income taxes
$9,923
$7,390
Balance sheet data (in $ millions)
Total assets
$101,191
$91,759
Total liabilities
$42,063
$40,458
Total Cisco shareholders' equity
$59,120
$51,286
Cash flow data (in $ millions)
Net cash provided by operating activities
$12,894
$11,491
Net cash used in investing activities
$(11,768)
$(3,815)
Net cash used in financing activities
$(3,000)
$(5,539)
Cash and cash equivalents at end of year
$7,925
$9,799
Common share data (in $)
Basic earnings (loss) per common share
$1.87
$1.50
Diluted earnings (loss) per common share
$1.86
$1.49
Source: "Cisco Systems, Inc. 2013 Form 10-K"
---