Citigroup Inc. is a banking and financial services company based in Manhattan, New York, USA.
Citigroup Inc. has one of the world's largest financial services networks, with operations in over 140 countries.
Citigroup is one of America's Big Four banks, along with JPMorgan Chase & Co., Wells Fargo, and The Bank of America Corporation.
The company operates retail banks (primarily known as Citibank) and offers wide range of products and services, including: credit cards, consumer banking, corporate banking, investment banking, private equity, financial analysis, and global wealth management.
A financial analysis is an assessment of a project or company regarding its stability, viability, solvency, and profitability.
Its four key global regions are North America, Latin America, Europe, Middle East and Africa, and Asia Pacific.
History of Citigroup Inc.
Over two centuries ago, in 1811, a group of merchants were set on creating a bank to help New York compete with rivals Boston, Baltimore, and Philadelphia.
Noting that it was easier to do banking in Philadelphia, Boston, and Baltimore than in New York, they petitioned the state assembly "praying to be incorporated as a banking company."
A year later the City Bank of New York was founded. It had $2 million of capital and Samuel Osgood was elected as the first President of the company.
By 1895 it was the largest bank in America. Eighteen years later, in 1913, it became the first contributor to the Federal Reserve Bank of New York. The following year it opened the first overseas branch of a U.S. bank in Buenos Aires, Argentina.
It acquired the American overseas bank International Banking Corporation in 1918, which set it in on course to become the first US bank with over $1 billion in assets. By 1929 it was the largest commercial bank in the world.
It was a huge innovator in financial services in the US. It was the country's first major bank to offer compound interest on savings, customer checking accounts, unsecured personal loans, and certificates of deposit.
It wasn't until 1976, when Walter B. Wriston was CEO, that the company changed its name to Citibank.
Citigroup Inc. was created in 1998 following the merger of Citicorp and Travelers Group, creating a $140 billion company with assets of nearly $700 billion.
In 2002 Citigroup spun off its Travelers Property and Casualty insurance underwriting business.
The financial crisis of 2008
The bank suffered greatly during the Great Recession of 2008 and was rescued by the U.S. government with a massive stimulus package, under the Troubled Asset Relief Program. Conditions of the relief program required the company to expand the flow of credit to American consumers and businesses on competitive terms and work to modify the terms of residential mortgages to strengthen the housing market.
Vikram Pandit, the former chief executive of Citigroup, a position he held from December 2007 until he was forced to resign, on 16 October 2012, said:
"Americans from all walks of life are facing real economic hardship, and Citi must do whatever we can to help them. Our responsibility is to put TARP capital to work quickly, prudently, and transparently to support U.S. consumers, businesses and our communities during these challenging times. To this end, Citi is working in partnership with the Government to increase available lending and liquidity in the U.S. financial markets and to help put the U.S. economy back on track."
The company's plan to shed off unprofitable businesses
Citigroup Inc. announced that it plans to shed off the unprofitable businesses that it operates around the world. In December, 2014, the company said that Sumitomo Mitsui Banking Corp (SMBC) agreed to acquire Citigroup Inc's Japanese retail banking operations.
Citigroup's business segments
The company is split into the following business segments:
Global Consumer Banking (GCB) – Includes retail banking, Citi-branded cards, and Citi retail services.
Institutional Clients Group (ICG) – Consists of investment banking, corporate lending, treasury and trade solutions, as well as its markets and securities services.
Corporate/Other – Includes Treasury operations and technology, global staff functions, other corporate expenses, and discontinued operations.
Citi Holdings – Consists of certain international consumer lending, consumer loans, and certain retail alternative investments.
Key facts about Citigroup Inc.
CEO: Michael Corbat
Chairman: Michael E. O'Neill
Industry: Banking
Type: Public
Listed on the New York Stock Exchange.
NYSE stock symbol: C
S&P 500 Component
Revenue: $76.366 billion USD (2013)
Earnings (loss) per share: $2.44 USD (2013)
Headquarters: 399 Park Avenue, Manhattan, New York City, New York, USA
Employees: 251,000 (approximately)
Website: http://www.citigroup.com/

Investor relations contact number: 212-559-2718
Investor relations email address: [email protected]
Citigroup Inc., subsidiaries: Citibank, Citibank India, Banamex, CitiMortgage, CitiBranded Cards, Citi Private Bank, Citi Securities & Banking, Nikko Citigroup, Railmark Holdings, Sedna Finance, Salomon BIG
Company Logo: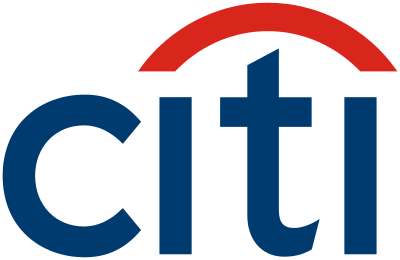 Live Citigroup Inc. stock data
---
| | | |
| --- | --- | --- |
| Key figures (in millions of USD except for share data) | 2013 | 2012 |
| Total Revenues, Net of Interest Expense | $76,366 | $69,128 |
| Total Operating Expenses | $48,355 | $49,974 |
| Income from Continuing Operations | $13,630 | $7,818 |
| Citigroup's Net Income | $13,673 | $7,541 |
| Total assets (December 31) | $1,880,382 | $1,864,660 |
| Total Citigroup stockholders' equity (December 31) | $204,339 | $189,049 |
| Total equity (December 31) | $206,133 | $190,997 |
| Earnings per share – diluted (in USD) | $2.44 | $4.35 |
Source: "Citigroup Inc., 2013 Financial Information – January 16, 2014 – Fourth Quarter – Financial Supplement PDF"

---