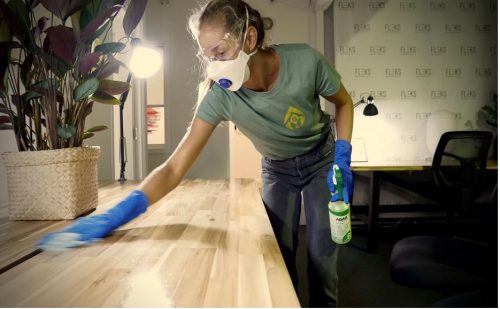 If there is one thing that the Covid-19 pandemic of 2020 has taught us, it is the importance of keeping our work space and homes as clean as possible.
All types of germs from the common cold to the flu can be easily spread in the work offices and can survive on different surfaces for long enough to infect our work colleagues, so using an office cleaning service to keep your workplace safe has become a top priority for all different types of businesses.
Deep Cleaning
As well as regularly tidying up and cleaning your office and workspace it's also important to deep clean your working environment at least once every two to three weeks.
Deep cleaning can take up quite a long time but it is important especially during the pandemic we are all going through.
Should you or your working team not have the time to deep clean, then it's a good idea to hire in a professional company to do it for you. This can take away the stress and worry and save you the hassle of doing it yourself.
A deep clean should include all the basic types of cleaning that you regularly do alongside items such as blinds, light switches, baseboards, door knobs and any other items in your office that could need a clean.
What Company Should You Use?
There are many cleaning companies to be found on the internet but how do you know which one you should choose.
Many will offer an excellent service but like with all things in life, some may not be as good as others. It's important to first find a company that is either based or will travel to your area to clean your office space.
Use a company that offers improved office cleaning that has a good track record and good online reviews. Do some research on the companies before deciding on which to use for your cleaning needs, reading up recent reviews to get some honest opinions from people who have recently used their services.
You could also ask for recommendations from other companies that you may know that have similar offices to your business. Word of mouth is always the best form of recommendation.
What Are The Key Qualities I Should Be Looking For?
As mentioned above it's important to do some research on the cleaning company that you choose, checking our previous reviews and references.
Find out what their availability is and how flexible they can be, as you will need them to work around your working office busy schedule. The more flexible they are the better and easier it will be to schedule them in on a regular basis.
Make sure they have the right equipment for the job and a wide variety of good cleaning supplies, making sure the chemicals they use are environmentally friendly as well as effective with bacteria and viruses.
And finally make sure that they have the relevant insurances needed should anything go wrong or break while they are cleaning your offices. Make sure to communicate with them clearly asking all these types of questions before hiring them.
What Type Of Workplaces Need Deep Cleaning?
Although pretty much all types of offices and workspaces should be getting regular deep cleans while we are going through the Covid-19 pandemic there are some workplaces that will need it more than others.
These include offices that have more than six people working in them, offices that regularly have people coming and going and waiting rooms.
Although you should be cleaning these types of workplace regularly yourself it's also advisable to hire expert help to deep clean all these types of rooms and surfaces to prevent any type of outbreak of Covid-19 in your workplace.
Should your work office have an outbreak of Covid-19 it is likely they will have to shut for at least two to three weeks and have a deep clean which will affect your business profoundly having to close. So it's better to take precautions and keep on top of the cleaning before any such eventuality.
Things You Can Do To Keep Your Workplaces Safe And Clean
Alongside having your workplace deep cleaned on a regular basis, there are some simple and easy things you and your work colleagues can do to help keep your office Covid-19 secure.
Making sure that everyone washes their hands on a regular basis with water and soap, or failing that using alcohol gels is just one of the simple and most effective ways to combat this virus.
Avoid touching your mouth or face as much as possible as this is one of the ways the virus can spread from person to person should they come into contact with an infected person or surface.
If you are in close contact with your work colleagues then making sure you wear the proper protective PPE is vital. Although we should all be trying to minimise contact with people outside our homes, sometimes especially in the workplace this can be difficult, so wearing PPE clothing is a simple way to combat this problem.
To Sum Up
These are really crazy times we are living through and our whole life has to continue as normal as possible. It's important to take every precaution of safety measures to avoid catching Covid-19 or any other virus.
---
Interesting Related Articles: "Deep Cleaning Services: More essential than before"