Two coffee compounds may team up to fight Parkinson's disease and Lewy body dementia. Parkinson's and Lewy body dementia are two progressive diseases associated with brain degeneration. There is currently no cure for either disease.
Scientists from Rutgers University and Princeton University discovered the therapeutic potential of combining caffeine with another compound in coffee. They wrote about their study and findings in the journal Proceedings of the National Academy of Sciences (citation below).
The scientists say that if we combine the two compounds, they could become a therapeutic option to slow down brain degeneration.
According to lead author Prof. M. Maral Mouradian, previous studies have shown that people who drink coffee have reduced risk of developing Parkinson's disease.
M. Maral Mouradian, M.D., is the Director of Rutgers Robert Wood Johnson Medical School Institute for Neurological Therapeutics. She is also the William Dow Lovett Professor of Neurology at Rutgers.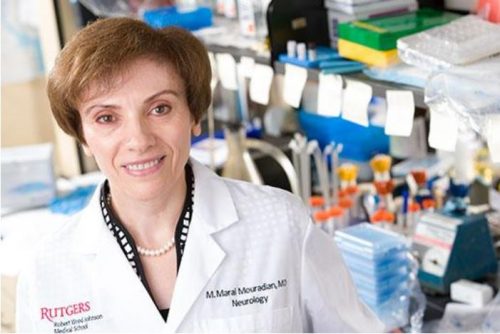 There are more than a thousand compounds in coffee
Most of us know that coffee's special protective agent is caffeine. What few people know, however, is that there are over one thousand other coffee compounds.
In this latest study, researchers focused on EHT (Eicosanoyl-5-hydroxytryptamide). EHT is a fatty acid derivative of the neurotransmitter serotonin. EHT exists in the coffee bean's waxy coating.
The scientists found that EHT protects the brains of mice against abnormal protein accumulation. This type of accumulation is associated with Lewy body dementia and Parkinson's disease.
Could two coffee compounds work together?
Prof. Mouradian's team wondered whether two coffee compounds – caffeine and EHT – could work together. More importantly, in combination, could they offer even greater brain protection?
They gave laboratory mice small doses of EHT or caffeine separately. They also gave the mice the two coffee compounds together.
Caffeine on its own was not effective, and neither was just EHT at these small doses. However, in combination, they boosted the activity of a catalyst that helps curb the accumulation of harmful proteins in the brain.
This suggests that the two coffee compounds, in combination, may stop or slow down the progression of these two diseases.
Current treatments for Parkinson's disease only address its symptoms. No treatment today can protect against the degeneration of the brain.
Need to find the right ratio
Prof. Mouradian said that they need to carry out additional studies to determine what the proper EHT-to-caffeine ratio is.
Regarding how much EHT there is in coffee, Prof. Mouradian said:
"EHT is a compound found in various types of coffee but the amount varies. It is important that the appropriate amount and ratio be determined so people don't over-caffeinate themselves, as that can have negative health consequences."
Parkinson's disease and Lewy body dementia
Nearly one million Americans live with Parkinson's disease. It is a brain disorder that can lead to stiffness, shaking, and difficulty walking. Patients also have problems with coordination and balance.
Lewy body dementia causes problems with thinking, behavior, mood, and movement. It affects over one million Americans.
Citation
"Synergistic neuroprotection by coffee components eicosanoyl-5-hydroxytryptamide and caffeine in models of Parkinson's disease and DLB," M. Maral Mouradian, Run Yan, Jie Zhang, Jeffry B. Stock, Hye-Jin Park, Eun S. Park, Michael Voronkov, Stephanie Oh, Haiyan Zheng, and Eunsung Junn. Proceedings of the National Academy of Sciences (December 3, 2018). DOI: https://doi.org/10.1073/pnas.1813365115.