Adriana Castro believes that quality and detail will always win over disposable trends. As such, it is little wonder that her line of striking handbags—cross-body purses, satchels and totes–has caught the eye of celebrities such as Sarah Jessica Parker, Jennifer Lopez and Kim Kardashian. The Adriana Castro bags were even worn by Samantha and Carry in Sex and the City 2, which helped the designer to position her brand.
Strong Foundations
Born and raised in Barranquilla, on the northern coast of Colombia, where her father operated a crocodile farm, Castro moved to the United States in 2000 at the tender age of 17, where she studied economics and accessory design. Her high-end brand, which was founded in 2009, epitomizes her Latin American roots. Combining Colombian traditional craftsmanship with modern patterns and exotic materials, such as lizard, python, crocodile and snake skin, her line favors precision over quantity and fashion trends, with each piece lovingly fashioned by hand.
Timeless Designs
Bold and sensual, Castro's classic designs are a celebration of tradition and quality rather than fast, disposable fashion. Each Adriana Castro piece is a striking play on textures and bright colors made to stand the test of time. Many of her designs have been inspired by her Colombian heritage. Her iconic Carriel collection, for instance, harks back to the traditional bags of the Paisas, or the people from the northwest of Colombia. All her designs embody luxury with a purpose that encapsulates the spirit of its wearer, whether it be a fashionista or a housewife. Her Zenú, Azza and Mini bags are versatile enough to be simple yet elegant during the day and couture at night.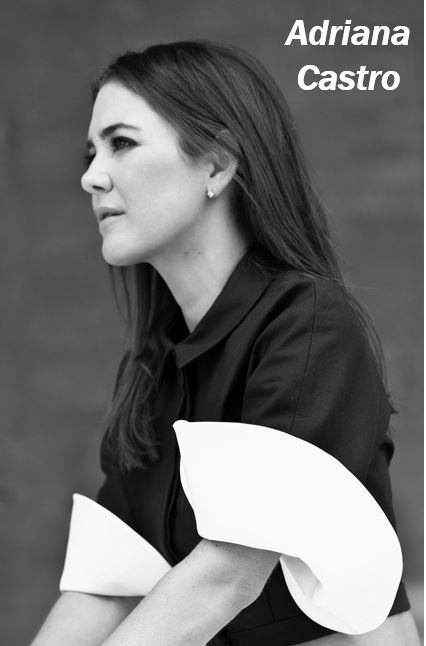 The Creative Process
The Adriana Castro creative process is as intricate as the philosophy behind it. Once Castro comes up with a design, or what she refers to as shapes and skins, she travels as far as Italy to select her materials, which are often painted by hand. According to LADIESHOY, her detailed prototypes can take up to 30 days to perfect.
Once the skins are transported to the Atelier Adriana Castro in Barranquilla, it takes around seven days for them to be crafted into refined art pieces. They are then transported to high-end stores in the USA, as well as far-flung places such as the United Arab Emirates and China.
Deep Values
With success, comes responsibility. Castro's bags are not only designed to be passed from generation to generation, but she donates a portion of her proceeds to various projects that benefit people and wildlife. She has supported programs that aid the repopulation of caiman lizards as well as the Hispanic Heritage Foundation, which facilitates the growth of Latino entrepreneurs. All of Castro's designs also adhere with the requirement of the Colombian Ministry of Natural Resources and the Convention on International Trade in Endangered Species of Wild Fauna and Flora.
Exploring New Territories
In 2017, Castro entered into a collaboration with Moda Operandi, a high-end online retailer, to sell her small collection of shoes. After spending months in a Spanish factory to learn about the shoe-making process, she released the loafer mule in spring 2018. She has also recently expanded her brand by venturing into the accessories market with her striking card holders, zip wallets and belts.