It happens every year – the mornings get a bit darker, the days a bit colder and everyone gets a bit of the sniffles. Staying healthy and comfortable throughout the winter months can be a real challenge, personally and professionally.
Imagine enduring cold temperatures outside only to arrive at an office that feels just as cold. Or equally as uncomfortable, spending the day at an office in which the heat is cranked up and the air is unbearable dry, exacerbating coughs, dry skin, and other winter health concerns.
Keep yourself, colleagues and employees healthy and productive through the winter by making a few simple changes to create comfort and boost immunity in your workplace.
Ways To Improve Your Workspace
The options for adding comfort and wellness to an office are as varied as our workspaces themselves.
Business professionals in office towers may want to combat dry air and coughs with a humidifier, while creatives in a chilly, open-concept loft may have eyes on the best space heater for large rooms. The home-based office or co-working space too, can become a healthier space for mompreneurs and the self-employed with immunity boosting wellness tips.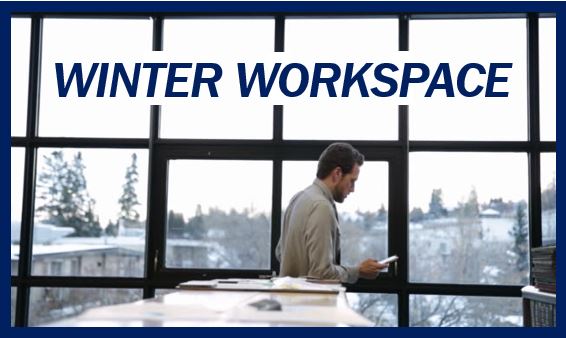 Get Rid Of Chills With A Space Heater
Portable indoor space heaters offer the perfect solution to warm any office. These gadgets can be used to supplement your main heat source when and where needed, adding cost benefit as well as comfort.
For a shared workspace, consider a space heater with multiple settings and an adjustable thermostat as you may find that room temperatures and personal preferences fluctuate throughout the workday.
Safety features like timers mean nobody has to reminder to shut it off, and modern design aesthetics mean you can find an attractive space heater to fit your workplace style.
Large offices and live/workspaces can be particularly challenging rooms to heat. Narrow down your best options by considering reviews of space heaters for large rooms. In fact, gas and electric space heaters are just one of three ways to add warmth to large living spaces and spacious offices.
Put An End To Dry Air With A Humidifier
Humidifiers are effective for adding much needed moisture to dry, indoor air.
Anyone suffering from cold and flu symptoms such as a runny nose, cough or congestion will appreciate having a humidifier in the workplace. Moist air makes breathing less laborious, and can help keep germs and bacteria at bay, together with these strategies for stopping the spread of cold and flu germs at work.
If your office demands air that is warm, moist and/or free of common allergens, then a multi-tasking appliance is your best bet. Consider a space heater with humidifier or a humidifier-air purifier combo to meet multiple needs.
Stay Healthy By Snacking Smart
Mid-morning and mid-afternoon are common times to crave a snack or energy boost at work. Baked goods, sugary and caffeinated treats may taste great but can leave you and your team feeling bloated, lethargic or in a brain fog not long after.
Keep productivity, energy levels and wellness up with immunity boosting foods and nutritious snacks packed with essential vitamins and minerals. By ordering healthy bites for meetings, storing nutritious snacks in your desk or stocking the kitchenette, you'll ensure there's always a smart choice on hand.
Whether the commute to work is one hour or one minute, every worker appreciates arriving to and being in a comfortable space to produce top notch work all year long. And whether your office is a cozy attic nook, or a large space with impressive square footage, it can be a comfortable place to work all year round.