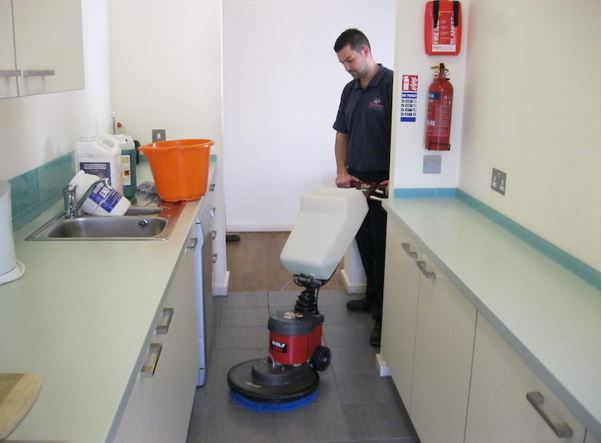 Cleanliness in the workplace is essential. Not only does it provide your workforce with a clean and healthy environment in which to work, but it gives the right impression to customers and other visitors who may attend your premises.
It has been shown in many examples of research that a regularly cleaned office space is a more productive one. Clearly, those using the area are happier when it is clean.
The same applies to all areas of industry and commerce, and a space that is not sufficiently clean can sometimes contravene health and safety regulations.
For smaller businesses, hiring a permanent commercial cleaning team means diverting funds where they could be better used elsewhere.
Cleaning is a necessity, but so are sales, marketing, accounts, and other areas in which you need permanent staff. What's the answer? Outsource your cleaning requirements to a professional and local cleaning and janitorial service who will do the job for far less outlay, and with superb results every time. How does it work? Let's have a look.
How It Works
One of the main advantages of engaging the services of a professional commercial cleaning company is that they will provide you with the best results every time. You will also find they can offer you a wide range of services that attend to all your cleaning needs.
The professionals will use the latest techniques and materials and ensure that everything is completed as you require. You can also choose how often they attend and specify which areas they can clean and when.
It's not just businesses that are hiring cleaners as this article confirms but there are different requirements for home cleaning services and those in commercial premises.
The first thing to consider is what you need to be cleaned, and how often. If you only have a small space – say you operate a booking office that is essentially a single-room business – the necessity will be vacuuming or cleaning the floor and attending to the bathroom.
You may also want them to clean your telephones and computer equipment regularly, especially as things are in the current climate.
What else can a commercial cleaning outfit do for you? You'll find they offer a comprehensive range of services!
Further Commercial Cleaning Solutions
The great thing about commercial cleaners is they can turn their hand to any sort of business, and they know the different approach that various commercial premises require.
For example, of you have a shop you will need a different cleaning routine to an office, and at different times. You can arrange for the cleaners to attend when is most convenient to you, and to cause the least disruption.
They can attend to car showrooms, offer correct cleaning for medical premises, keep your warehouse suitably clean and provide cleaning solutions for schools, office blocks and all scope and size of commercial and industrial buildings.
There's much more to keeping a working building clean and you may not have considered the complexities involved.
Rather than employ a cleaner on a full or even part time wage, you'll find the commercial cleaning company to be a far more cost-effective solution, and you can rely on them to do the job as you want and need every time.
You can schedule them for a regular attendance or ask them to do a one-off clean, or you can talk to them about their various service options and choose the one that is best for you. Keeping things local also means keeping the cost down, so why not chat to your local cleaning and janitorial service provider now, and you'll soon work out what's best for your premises.
---
Interesting related article: "How to clean your office."