ConAgra Foods, Inc. is an American packaged food company, based in Omaha, Nebraska.
The company claims to be one of the largest private brand packaged food businesses in North America.
It has a significant focus in the product groups of snacks, convenient meals, meal enhancers, potatoes and specialty items.
Its portfolio of brands, include: Banquet®, Chef Boyardee®, Egg Beaters®, Healthy Choice®,Hebrew National®, Hunt's®, Marie Callender's®, Odom's Tennessee Pride®, Orville Redenbacher's®, PAM®, Peter Pan®, Reddi-wip®, Slim Jim®, and Snack Pack.
It is comprised of four reporting segments (Consumer Foods, Commercial Foods, Ralcorp Food Group, and Ralcorp Frozen Bakery Products):
Consumer Foods – this segment is comprised of branded, private brand, and customized food products, sold via retail and foodservice channels.
Commercial Foods – includes all commercially products, which are typically sold to food manufacturing, foodservice, and industrial customers. The segment's key products include: milled grain ingredients, specialty potato products, and vegetable products, blends, flavors, and seasonings.
Ralcorp Food Group – ConAgra Foods acquired Ralcorp on November 26, 2012, and as a result continues to market Ralcorp's private brand food products, namely: snacks, cereal products, spreads, sauces, and pasta.
Ralcorp Frozen Bakery Products – private brand frozen bakery products such as: pancakes, waffles, and french toast.
ConAgra was founded by Frank Little and Alva Kinney in 1919. It began as a flour-milling company. Since its inception it has greatly expanded its product portfolio – through a number of acquisitions and divestitures.
ConAgra Foods, Inc. is publicly listed on the New York Stock Exchange (NYSE) under the stock ticker symbol 'CAG'.
Overview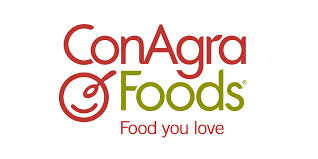 President and CEO: Gary M. Rodkin
CFO: John F. Gehring
Type: Public
Industry: Packaged Foods
Listed on the New York Stock Exchange (NYSE)
NYSE stock ticker symbol: CAG
S&P 500 Component
Revenue: $15.491 billion USD (2013)
Net income: $786 million USD (2013)
Diluted earnings per share: $1.85 USD (2013)
Employees: 34,840 (2013)
Corporate headquarters: One ConAgra Drive, Omaha, Nebraska, USA
Corporate contact number: (402) 240-4000
Investor relations contact number: (402) 240-4154
Website: http://www.conagrafoods.com/
---
Operating data (in $ millions)

2013

2012

Net sales
$15,491.4
$13,367.9
Cost of goods sold
$11,931.4
$10,555.1
Selling, general and administrative expenses
$2,135.6
$1,983.6
Interest expense, net
$275.6
$204.0
Income from continuing operations before income taxes and equity investment earnings
$1,148.8
$625.2
Income tax expense
$400.2
$195.8
Equity method investment earnings
$37.5
$44.9
Income from continuing operations
$786.1
$474.3
Net income
$786.1
$474.4
Net income attributable to noncontrolling interests
$12.2
$6.5
Net income attributable to ConAgra Foods, Inc.
$773.9
$467.9
Balance sheet data (in $ millions)
Total assets
$20,405.3
$11,441.9
Total liabilities
$15,042.3
$6,905.9
Total stockholders' equity
$5,363.0
$4,536.0
Cash flow data (in $ millions)
Net cash provided by operating activities
$1,412.2
$1,052.0
Net cash used in investing activities
$(5,465.8)
$(1,064.3)
Net cash provided by (used in) financing activities
$4,133.0
$(849.6)
Cash and cash equivalents at end of year
$183.9
$103.0
Common share data (in $)
Basic earnings (loss) per common share
$1.88
$1.13
Diluted earnings (loss) per common share
$1.85
$1.12
Source: "ConAgra Foods Inc. 2013 Form 10-K Annual Report"
---