CONSOL Energy is an American energy company based in Cecil Township, Pennsylvania. It is considered to be the leading producer of high-BTU bituminous coal in the US.
The company is publicly listed on the New York Stock Exchange (NYSE), under the stock ticker symbol 'CNX'.
It is primarily active in Appalachia (Pennsylvania, West Virginia, Virginia, Ohio, and Tennessee).
The company has stated that its current focus is on the development of its Marcellus Shale acreage (where it has the rights to extract natural gas in 446,000 net acres) and the exploration and development of its Utica Shale acreage (where it controls approximately 109,000 net acres).
CONSOL Energy is comprised of two primary business divisions: coal mining and oil/gas exploration and production (E&P).
The E&P business segment focuses on the production, processing and acquisition of natural gas properties and oil in the Appalachian Basin.
The company's coal segment focuses on the extraction and preparation of coal in the same area (the Appalachian Basin). CONSOL Energy has around 3.0 billion tons of proven and probable coal reserves.
In 2013 the company produced 472,274 Mcfe (thousand cubic feet equivalent) per day – 98% Natural Gas and 2% Liquids, and had 5.7 Tcfe (trillion cubic feet equivalents) of proved reserves – 97.5% natural gas.
In 1991 the company was incorporated in the state Delaware. However, predecessors of CONSOL Energy had been mining coal in the Appalachian Basin since the 1860's.
Overview
Chairman and CEO: J. Brett Harvey
President: Nicholas J. DeIuliis
CFO: David M. Khani
Type: Public
Industry: Gas/Coal
Listed on the New York Stock Exchange (NYSE)
NYSE stock ticker symbol: CNX
S&P 500 Component
Revenue: $3.299 billion USD (2013)
Net income: $659 million USD (2013)
Diluted earnings per share: $2.87 USD (2013)
Employees: 4,633 (2013)
Corporate headquarters: 1000 CONSOL Energy Drive, Canonsburg, PA 15317-6506, USA
Corporate contact number: (724) 485-4000
Website: http://consolenergy.com/
The map below highlights the areas where CONSOL Energy is conducting its gas and coal operations: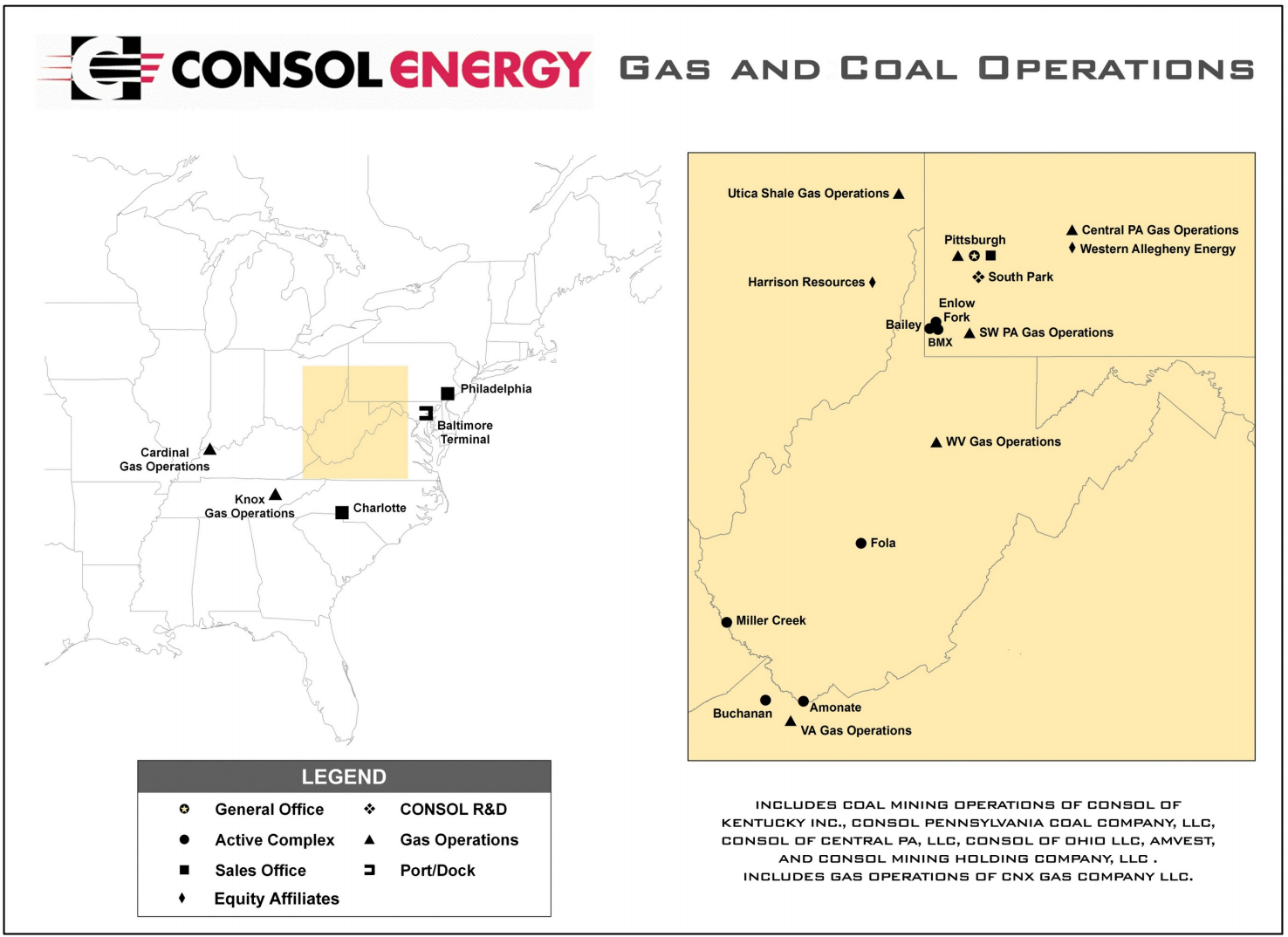 ---
---
Operating data (in $ thousands)

2013

2012

Sales—Outside
$3,015,551
$3,122,550
Sales—Gas Royalty Interests
$63,202
$49,405
Sales—Purchased Gas
$6,531
$3,316
Freight—Outside
$35,438
$107,079
Other Income
$178,963
$395,176
Total Revenue and Other Income
$3,299,685
$3,677,526
Total Costs
$(3,253,610)
$(3,270,839)
Earnings Before Income Taxes
$46,075
$406,687
Income taxes
$(33,189)
$88,728
Income from Continuing Operations
$79,264
$317,959
Income from Discontinued Operations, net of tax
$579,792
$70,114
Net Income
$659,056
$388,073
Net Income Attributable to CONSOL Energy Inc. Shareholders
$660,442
$388,470
Comprehensive Income Attributable to CONSOL
Energy Inc. Shareholders
$1,082,667
$442,682
Balance sheet data (in $ thousands)
Total assets
$11,393,667
$12,997,594
Total liabilities
$6,387,378
$9,043,849
Total stockholders' equity
$5,006,289
$3,953,792
Cash flow data (in $ thousands)
Net cash provided by operating activities
$658,776
$728,113
Net cash used in investing activities
$(201,981)
$(1,000,410)
Net cash used in financing activities
$(151,237)
$(81,577)
Cash and cash equivalents at end of year
$327,420
$21,862
Common share data (in $)
Basic earnings (loss) per common share
$2.89
$1.71
Diluted earnings (loss) per common share
$2.87
$1.70
Source: "CONSOL Energy 2013 Form 10-K Annual Report"
---