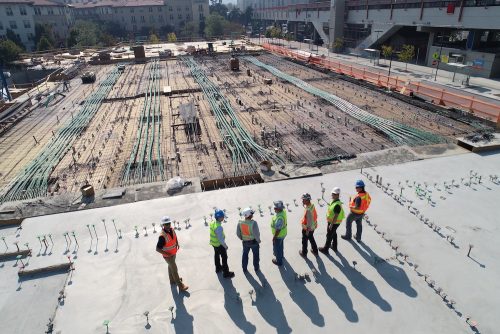 Since the Building Safety Act gained royal assent in April 2022, the government is running consultations on the necessary secondary legislation. These will help to shape the regulations that will determine how the Building Safety Act is enforced.
In order to improve the building safety regulatory system, the Department for Levelling Up, Housing & Communities (DLUHC) is gathering opinions on policy proposals. The first consultation on Higher Risk Buildings (Descriptions and Supplementary Provisions) Regulations ran from June to July.
Further consultations are now open covering parts three and four of the Building Safety Act. If you're a stakeholder or professional in an industry relating to fire safety or building safety, then you have until 11.45pm on 12th October 2022 to submit your views.
Here's what you need to know about these Building Safety Act consultations.
New Building Regulations and Building Control Regime for high-risk buildings
The consultation on 'implementing the new building control regime for higher-risk buildings and wider changes to the building regulations for all buildings' relates to design and construction only (not the occupation of higher-risk buildings).
This covers the proposed policy changes under part three of the Building Safety Act, which will apply to England only. The government wants to hear from professionals in relevant sectors on:
Dutyholder and competence requirements for work on all buildings and additional duties for work on higher-risk buildings (with a stronger focus on regulatory compliance)
Robust 'hard stops' as gateway points to strengthen building control oversights before a higher-risk building can be occupied
Approaches to Regulator's notices supporting building work on both higher-risk and non-higher-risk buildings
Additional requirements for work carried out on existing higher-risk buildings
Strengthening change control during higher-risk building construction
Certifying processes for works carried out without regulatory approval
'Golden thread' of information to establish better record-keeping and management
System for mandatory occurrence reporting in higher-risk buildings
Enforcement powers and sanctions for building work on all types of buildings
Changes to the existing Building Regulations system to align with the new system
Transitional provisions for switching to the new regime for higher-risk buildings
Click here to find out more about joining this consultation, or complete the online survey. You can also email enquiries or responses to [email protected].
In-occupation Regime for occupied higher-risk buildings
The consultation on 'the in-occupation regime for occupied higher-risk buildings' relates to a strict new regime for participants in building work and safety management for occupied higher-risk buildings (containing at least two residential units and at least 18m high).
This covers the policy change proposals under part four of the Building Safety Act, which applies to England only. The government is gathering opinions from professionals who would be affected by:
Registration and certification
Accountable person/people
Safety case approach and report
Mandatory occurrence reporting
Residents' voices and duties for residents
Golden thread contents, storage, and management
Information sharing duties for the accountable person
Enforcement and appeals
Key building information
Click here to learn more about participating in this consultation or complete the online survey. You can also email any questions or responses to [email protected].
How will the Building Safety Act secondary legislation affect you?
Anybody involved in the construction and maintenance of residential buildings will be affected by the new regulations brought about as part of the Building Safety Act. Everyone from designers and architects to builders and contractors should stay aware of the changing systems.
At the moment, there is also a 'call for evidence' for leaseholders occupying buildings that are at least 11 metres or 5 storeys high. If you are a leaseholder, you can fill out the online survey or email [email protected] by 14th November 2022.
The Health and Safety Executive is also running a consultation on 'Building Safety Regulator's proposals for the Building Safety (Fees and Charges) Regulations', which closes on 7th October 2022. Another consultation on 'Building Safety Operational Standards Rules' for the Building Safety Regulator is also now open until 25th October 2022.
Now is a crucial time to communicate to the government which changes professionals in these industries are looking for from the secondary legislation. While the consultations are in progress and new regimes haven't been set up yet, it's best to keep following the existing Building Regulations to the letter (and make sure that every structure has a suitable building warranty).
---
Interesting Related Article: "Ways a Commercial Construction Software Can Solve Your Construction Problems"