Packaging is very useful nowadays wherever you may be in the world – this is especially true when it comes to food and consumer products. Products that are not properly packaged are unlikely to do well and clients' satisfaction is generally non-existent.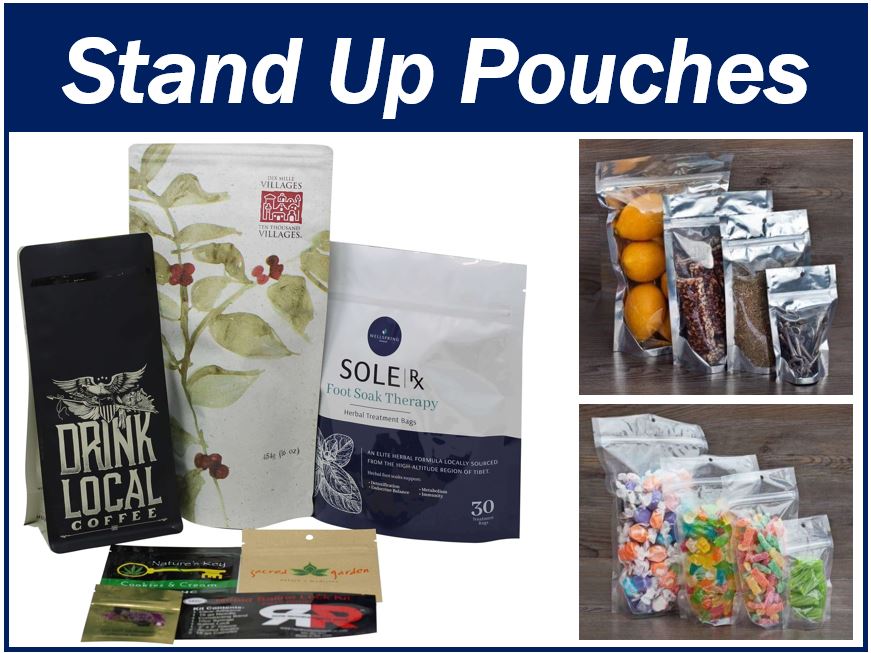 Due to the development of new packaging materials, there is seemingly a countless variation of primary packaging choices that are being presented to manufacturers and distributors alike. To name a few, boxes, displays bottles, composite boxes and flexible packaging. With all these choices, one stands out and is evenly efficient in contents of protection and convenient for the customer – this is the stand up pouches.
Advantages of Using Stand up Pouches
Stand up pouches, also known as flexible packaging, offer benefits for both the producer and the consumer over other standard packaging choices.
A stand up pouch's main advantage would be its versatility. They can be produced in a diverse variety of sizes with enhanced features such as with a tear notch for convenient opening, hang holes for the in-store pegboard displays as well as the addition of different kinds of closures whenever a reclosable pouch is preferred. The ability to stand up results from incorporating a bottom gusset during the production phase, which means that it has a piece of material that is put horizontally to the surface of the pouch wherein it becomes the base that allows the pouch to stand upright.
For its sealability, stand up pouches usually have a zipper. This is to facilitate a customer's convenience since, more often than not, stand up pouches contain goods that are going to be taken out dozens of times before it would be emptied out – such as nuts, dog treats, pancake mix, etc. Also, the zipper preserves the remaining contents when being stored after initially opening the pouch. Simply put, a reclosable functionality allows and encourages the product to be enjoyed at maximum freshness more than once.
In addition, stand up pouches also safeguard contents against any moisture, vapour, odour, pests, air, and light. The resistance characteristics of the pouch (which includes the foil and nylon) will keep the contaminants out, thus preserving the freshness, flavour and dietary characteristics while being sealed.
Furthermore, it is very comfortable to use stand up pouches. These pouches, which have a bottom gusset, save consumer shelf area by conveniently storing it in the garage, closet, kitchen cupboard or fridge or freezer. Optional tear notches enable to open the bags easily. Zip lock closures for dry goods and pouring spouts and re-sealable caps for fluids are accessible and are excellent features for resealability.
Benefits of Manufacturers in using Stand up Pouches
Consumers are not the only ones benefiting from the increasing use of stand up pouches in the beverage sector, in fact, there are numerous benefits for packagers and suppliers or manufacturers. Stand up pouch packaging weighs much less than rigid kinds of packaging, such as cans or bottles, using less material to hold equal liquid quantities. Due to the decreased weight per unit and the capacity to fit more units in the same area, the main advantage of this is lower shipping costs.
Customers are now more conscious than ever of the ethical and environmental effect of products and services, meaning that stand up pouches' environmental advantages are a good way for the companies to distinguish themselves and demonstrate their environmental responsibility.
Stand up pouches are also remarkably lightweight as opposed to rigid packaging like those of cans or bottles intended to hold the same quantity of product. This is indeed a great benefit for the manufacturer as shipping costs are directly connected to the package weight.
The product weight ratio to packaging weight skews significantly towards product weight in flexible packaging, which guarantees that a manufacturer can ship more products per dollar of transport costs. Flexible packaging will not also need a lot of room as compared to rigid packaging. This will substantially benefit the manufacturer because it will allow them to pack more products per shipping container than that of rigid packaging.
In addition, stand up pouches give beverage brands much higher liberty to ensure that their products stand out on the racks. Rather than conforming to normal dimensions and shapes, beverage companies are now able to customize their packaging to distinctive shapes, styles and designs, as well as the capacity to print very vibrant and clear designs onto stand up pouches, offering higher opportunities for brand recognition and competitor differentiation.
Due to the higher potential for creativity in merchandising, stand up pouches can also create a true difference on the shop floor. Bottles usually have to be presented on a shelf to the customer, while drinks in pouches can also be intended to be hung from pegs, enabling for more eye catching and uncommon in-store advertising stands that can enhance sales.
The Use of Stand up Pouches in Beverage Industries
Drinks producers and packagers around the globe are progressively using stand up pouches for a broad range of products in their packaging – this includes mineral water, non-carbonated soft drinks and wine. While there are currently some limitations on the kinds of drinks that can be safely stored in pouches, such as carbonated soft drinks, additional uses of stand up pouches are being found all the time. For example, the sale of cocktail mixes in stand up pouches has grown from zero to 300 million units per year in the last four years.
According to studies, they found out that the demand for stand up pouches is anticipated to increase by 6.2 percent annually with the development which is happening in Western Europe, and in the United States of America, while the highest growth is anticipated in China and other developing countries. The perceived value for customers is a significant reason on why the use of stand up pouches is continually growing.
Experts claim that the customers may prefer a stand up pouches' aesthetics as well as other features that are not found on some other kinds of beverage packaging, such as spouts or handles.