Unfortunately, the coronavirus pandemic is far from over. So far, we have had more than 30 million confirmed cases worldwide and almost 1 million deaths associated with the virus. Since restrictions have been eased to reduce the impact an extended lockdown would have on the economy, people are trying to find ways to adapt to the "new normal."
Still, we need to keep in mind that pandemic is ongoing, and the level of risk will remain high until a vaccine becomes available or we achieve herd immunity.
Weighing the Risks of Going Out
The risk of infection associated with activities that involve going out depends on several factors:
Will you be in close contact with someone who is not wearing a mask and could be sick?
Is the number of cases high in your community?
Do you take measures to protect yourself?
Will you be spending time outdoors or indoors?
Will you be able to keep a distance of 6 feet from other people?
As a general rule, the more you interact with other people, the higher the risk. It also depends on how closely and for how long you interact with other people. Keep in mind that someone can be infected with the coronavirus and not show any symptoms.
Being around people in closed spaces is riskier than in open spaces because of the lack of ventilation. Also, older adults and those with underlying medical conditions are at higher risk of developing complications.
Understand How It Spreads
The coronavirus is believed to spread mostly from person-to-person, especially when in close contact (within 6 feet) through respiratory droplets produced by an infected person when they sneeze, cough, or talk.
These droplets can be inhaled into the lungs of healthy people or come into contact with their mouths or noses. Again, remember that someone can be infected with the virus and not show any symptoms.
Know the Signs
COVID-19 symptoms often resemble symptoms of other viral respiratory infections such as influenza. They can include tiredness, fever, dry cough, and shortness of breath. Most people only show mild symptoms, but some can get very sick.
If you have symptoms or think you may have been exposed to someone infected with the coronavirus, it's better to first call your doctor instead of going to their office or the emergency room, so you don't come into contact with more people. There might also be the option of using a virtual care platform to speak with a healthcare professional via video call. They can evaluate the severity of your symptoms and tell you what further actions you need to take.
Cover Your Mouth and Nose with a Mask
Everyone should wear a mask when in public, especially in areas where social distancing is difficult such as public transport. Since the coronavirus is spread through respiratory droplets, wearing a mask reduces the risk of infecting other people. Keep in mind that you might be infected without showing any symptoms.
It's doesn't have to be a medical mask. You can buy reusable masks online like organic string tie face masks or make your own. A mask can also serve as a useful reminder that you should keep from touching your face. Do not wear the mask under your nose. It needs to cover both your mouth and your face. You can find instructions regarding how to wear a mask on the World Health Organization website.
Wash Your Hands Often

You should wash your hands often, especially if you've been in a public space. You don't need to wear gloves, but you should carry hand sanitizer and sanitizing wipes with you and avoid touching your face with unwashed hands.
You also don't need to use antibacterial soap. You can use regular soap and water, but it's important to wash your hands thoroughly for at least 20 seconds. If soap and water are not available, you can also use hand sanitizer with at least 60% alcohol. The sanitizing wipes should be used to clean surfaces that are frequently touched by others, such as doorknobs and shopping cart handles. You should also clean your phone with a sanitizing wipe before letting it touch your face.
It's important to wash your hand after leaving a public place, before eating or preparing food, before touching your face, before and after handling your mask.
Avoid Close Contact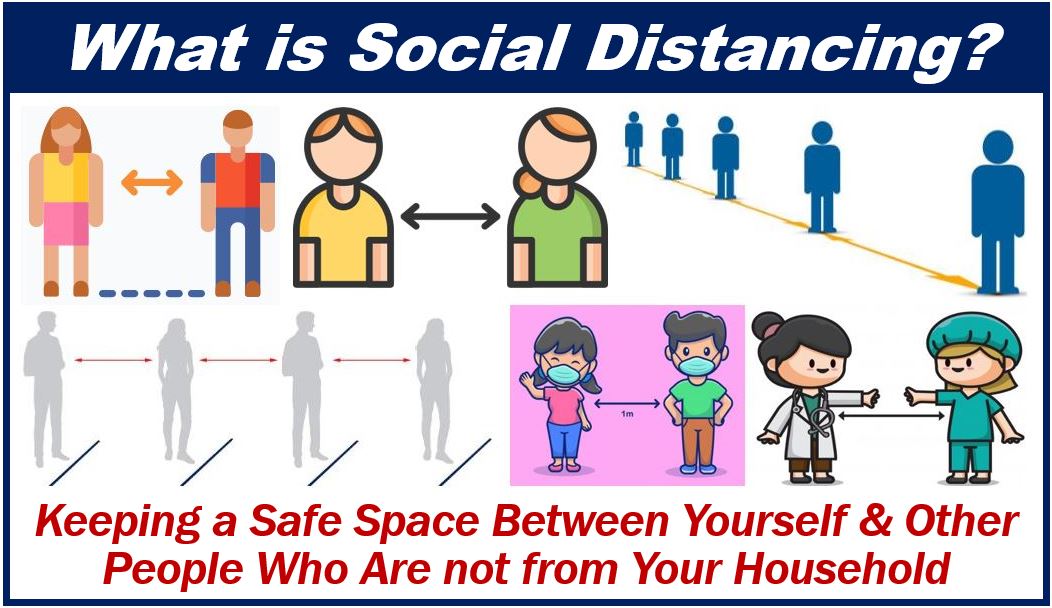 Even if you wear a mask and wash your hands often, it's still important to keep your distance from people who are not part of your household. The CDC recommends a distance of 6 feet. This is particularly important for older adults or people with chronic medical conditions, but also if you are someone who lives with people that are older or have chronic medical conditions.
It can take up to 14 days for someone infected with coronavirus to start showing symptoms, so it's better to avoid going to places with high traffic and avoid close contact as much as possible.
Monitor Your Health Daily
Watch out for symptoms of coronavirus such as fever and dry cough. You can take your temperature at home but avoid doing so within 30 minutes of exercising. It would be best to take your temperature daily, particularly if you plan on running errands that day. If you have a fever or other symptoms of COVID-19, call your doctor.
The Flu Season
Because the symptoms of COVID-19 and the flu are so similar, it's more important than ever to get a flu vaccine. Although the flu vaccine will not keep you from getting infected with coronavirus, it will keep the healthcare system from getting overwhelmed.
If fewer people get the flu, there will be more resources the healthcare system can allocate to identifying and treating people who have been infected with the coronavirus.
Avoid Traveling
Traveling puts you at a higher risk of getting infected with the coronavirus and increases the global spread. All non-essential international travel should be avoided. Domestic travel is also not without its risks.
If you must travel, check the spread of coronavirus at your destination and take measures to protect yourself, such as wearing a mask, avoiding rush hour, and bringing hand sanitizer and sanitizing wipes with you.
---
Interesting related article: "What is Social Distancing Important?"