An entrepreneur's biggest dream is usually financial freedom, but there's another dream that impacts achieving that dream: the ability to work in a spacious, clean, quiet space.
Serious entrepreneurs will work anywhere just to get their work done. If they have loud housemates or have to work from a busy coffee shop, they wear headphones to stay focused. However, many struggle in these chaotic environments.
In recent years, coworking spaces have popped up all over the world to provide entrepreneurs with an affordable, professional working environment. Instead of chaos, there's peace, quiet, and possible networking opportunities.
A coworking space removes chaos from the environment
Entrepreneurs living the "laptop lifestyle" tend to be nomadic. They usually have a few different locations where they work and will switch locations when the environment gets chaotic. For example, they might work from home as well as a couple different coffee shops or even the library. If it gets too loud at the coffee shop, they'll pack up and head to the library. If the library desks are taken, they'll head back home.
It's great to have options, but the lack of consistency and unpredictability of the environment can result in chaos.
A coworking space, on the other hand, provides a consistent, reliable, chaos-free environment. Everyone who rents an office or shared desk space is required to agree to certain terms and conditions that include being respectful of others. Disruptive people will quickly lose their right to use the space.
A coworking space provides a luxury office without the cost
What entrepreneur doesn't dream of working from a luxurious office? Whether it's a ground floor space with plenty of amenities or a tenth-floor suite in the heart of downtown, entrepreneurs dream of luxury. If only it were in the budget.
Coworking spaces are far more affordable than renting office space and can be quite large and luxurious. For example, Novel Coworking in Minneapolis has a location that features contemporary amenities, floor-to-ceiling views, and skyway connectivity to surrounding businesses like dining, hotels, and courthouses.
Smart entrepreneurs don't waste money on renting an office (and signing a lease) unless they're already profitable and can justify the cost. A coworking space is the ultimate compromise that provides a professional working environment at a fraction of what an office would cost.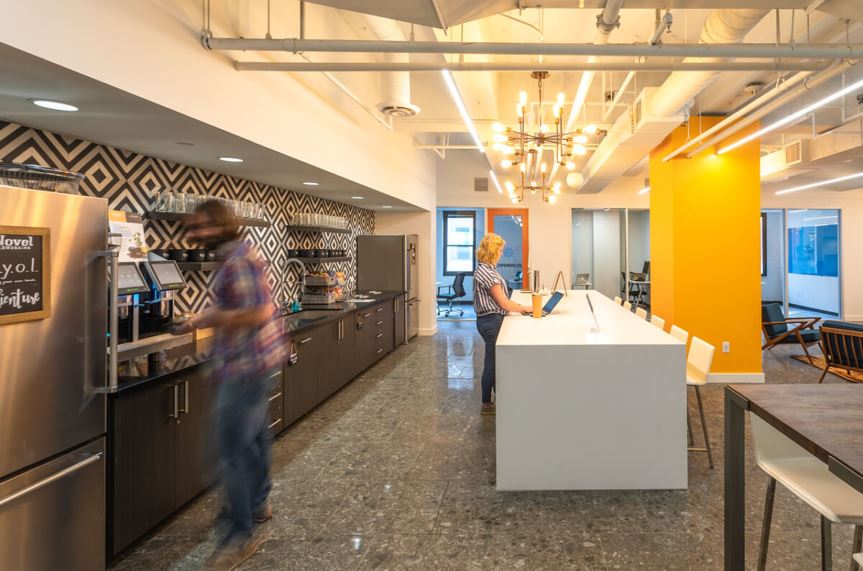 A coworking space gives entrepreneurs a choice
Most entrepreneurs know what it's like to have little to no choice in their work environment. The idea of choosing between public coffee shops or the kitchen doesn't exactly count as a choice.
Many entrepreneurs have no choice but to start their business from their basement or by squeezing into a corner at the local coffee shop. Although it works to some degree, none of these scenarios make ideal working conditions. It's not hard to see why an entrepreneur's productivity might suffer when there's a pile of laundry or a washing machine within their view.
Coffee shops can be loud and unsecured Wi-Fi networks put sensitive data at risk. While bedrooms and basements are quiet, they don't inspire creativity.
A coworking space gives entrepreneurs a choice. They can work from home if and when they want, but working from the kitchen is no longer the lesser of two evils. Having a professional office environment to work in makes working from home or a coffee shop truly a choice.
A coworking space breaks the cycle of bad habits
Working from a home office makes it easy to develop bad habits like spending too much time on social media or getting lost in emails. Other bad habits might include making phone calls, doing household chores, playing with kids and pets, or finding other distractions. In a coworking space, most of these distractions are eliminated. Distractions can be limited in a coffee shop as well, but it's not for everyone.
Plenty of entrepreneurs report being more productive when they work from a coffee shop. This has been dubbed the "Coffee Shop Effect." One blogger says she's more productive working from coffee shops because it satisfies her brain's need to constantly seek out novelty. A coworking space can have the same effect on entrepreneurs who thrive in structured environments. Instead of working from a home office, a coworking space – though structured – is still a new environment and will have the same effect.
Coworking space is like renting an office without the lease
Entrepreneurs need to save as much money as possible, but they also need a proper work environment. A coworking space solves both of these needs.
_______________________________________________________________
Interesting related article: "What is an Entrepreneur?"