There are many tools online now that can help you design your own marketing materials, everything from flyers to brochures and postcards. Starting with a postcard template in mind is usually the best way to have a final product you are happy with.
Before showing you dozens of brochure templates to promote your business, let's present some tips on how to create, attract, and delight your customers through flyers, brochures, and postcards.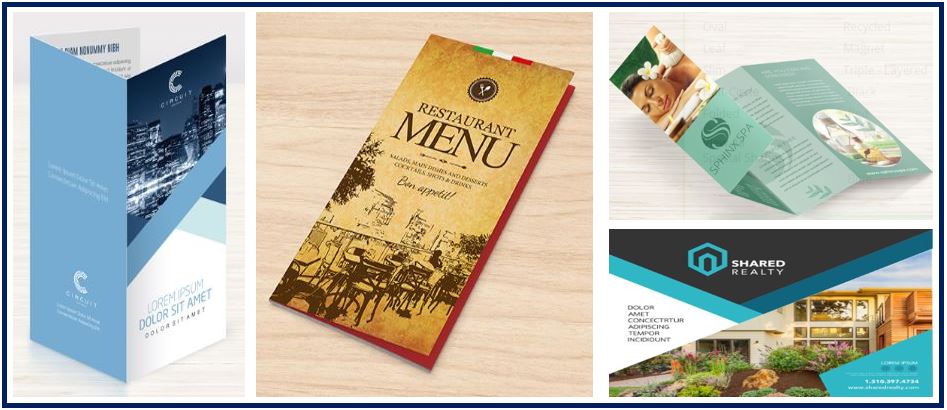 Tips for creating advertising materials such as brochures, flyers, and postcards
Focus and objectivity
Consumers like to be informed, but in turn could easily lose interest if too much information is provided at once. It's best to focus on one or two key features of your business, service, or product, and then move on to include more details as needed.
Sell benefits alongside features
Features are an important selling point when it comes to showcasing your products and services, but what about the potential benefits? Customers prefer a product that contains innovative features as well as beneficial elements that will factor into day-to-day or long term goals.
Grab their attention
Catchy verbiage, vibrant color schemes, and cool design are all important features that are sure to attract consumers. However, note that overkill is likely if your thought process is "more, more, more!" It's important to base the aesthetic of your promotional tool on your brand's vision, as well as your target audience.  As the saying goes… sometimes, less is more! Keep it tasteful and classy, and you're sure to win them over!
Keep your visual identity consistent
As mentioned previously, stick to your brand's vision. Your company logo is part of your identity – the color scheme, symbols, and typography of your business all affect how your audience sees you. In this case, consistency is key. When designing your promotional materials, don't shy away from your visual identity, it's what defines your brand the most.
Distribute accordingly
Do you plan to display your brochures at the front desk of your business? If so, it's a good start! However, there are a number of other methods you can use to increase distribution. You can send a flyer or postcard by mail, fold into local magazines, distribute on business visits and at high traffic points.
Use coupons to measure the result
Including a coupon in a brochure, flyer, or postcard that offers a small gift or discount will allow you to see if your distribution strategy was effective in guiding traffic to your business.
Set goals for success
It's a given that marketing materials are an extra expense. To ensure the steps you took were profitable for your business, it's important to set goals and expectations such as: At what rate should your sale volume increase? What demographic are you aiming to reach? Compare your final results with your initial goals and you'll be able to tell if your efforts were worthwhile (and whether it's worth it to go for round 2!).
Use high-quality images
Beautiful, high-quality images are sure to attract and delight your customers. Consider taking photos with a DSLR camera, so that your images will come out crisp and professional. Beware of mobile phone images, as the resolution is not nearly as good for marketing print materials.
Printing companies like GotPrint make creating personalized marketing and stationery materials simple! Choose from a variety of premium paper stocks to print your businesses brochures, flyers, and postcards all from one place.
Video – Marketing Tools
Brochures are one of many marketing tools that companies use to enhance their business and boost sales. This Market Business News video explains what the term means using simple examples.