You hired a professional photographer to capture the key moments of your wedding ceremony, and they did a superb job. While you appreciate all of the photos taken by the specialist, there is one in particular that touches you deeply. Have you considered highlighting it by adding more style to it? In addition to framing or creating a photo album, there are several creative hobbies that can be used to enhance wedding photos.
Transform your photo with a custom paint by number kit
Paint by numbers is a popular DIY activity that involves painting on a canvas divided into numbered sections. Similar to diamond painting, this entertainment is a great way to initiate yourself into the art of painting, but it also offers a unique opportunity to make your wedding photo more original.
To create your personalized canvas, simply order a kit from a specialist. The kit will include a pre-printed canvas with numbered zones, a brush, and numbered paint pots. Applying each corresponding color to the indicated number is all that is needed to transform your photo into a stunning piece of art.
Making a custom paint by number kit not only allows you to paint an existing image, but it's also a fun and rewarding practice that can reveal your talent and passion for painting. 
To achieve a beautiful result, it is important to choose the right website from which to order your paint by numbers kit. Look for customer reviews and ensure that the brand has a good reputation. Additionally, choose a large and high-quality image to avoid blurry or pixelated photos. Enlarge the image to ensure its quality, and if it looks like the original, you can use it. Finally, after completing your canvas, framing it will keep it in good condition for a long time.
Elevate Your Wedding Photo with Diamond Painting
Diamond painting, also known as diamond painting, is a technique originating from Asia that creates a sparkling mosaic on canvas with small 3D effect rhinestones. The result obtained after placing the rhinestones is stunning, and you want to try diamond embroidery to style your wedding photo.
To get started, you need to visit one of the specialized platforms that offer custom diamond painting kits. Once you've downloaded the photo of your choice and added it to your cart, you will need to mention the type and size of diamonds you prefer. After launching your order, you'll receive your photo on canvas with a diamond embroidery kit to style the image.
The kit includes a pre-printed canvas, a complete bag of rhinestones, two trays, a diamond pen, and glue, along with instructions on how to enhance your image. Styling your wedding photo with diamond embroidery has several advantages. Not only does it make your photo more original, but it also adds charm to your interior. Moreover, diamond embroidery is an anti-stress activity that trains the brain, developing concentration and dexterity of the hands.
When you receive your kit, spread your pre-printed canvas on a flat surface and use the stylus to take one rhinestone at a time and glue it to the canvas where you'll find the corresponding symbol. There are two types of rhinestones, round and square-shaped, which differ depending on their shape. Round diamonds are easier to apply and appreciated by beginners, but they leave gaps between the rhinestones, allowing the background canvas to show through. Square-shaped diamonds require more precision but provide a realistic and impressive result. Therefore, if you want your diamond embroidery canvas to be perfect, square diamonds are more suitable.
Before applying the rhinestones, ensure you are in a distraction-free environment to make the most of this activity. By using diamond embroidery to enhance your wedding photo, you can view one of the most beautiful moments of your life on an authentic support, bringing joy and charm to your home.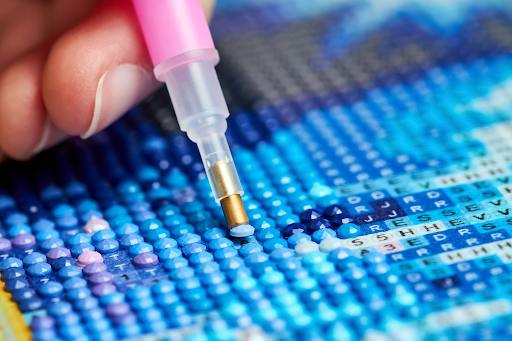 Turn Your Wedding Photo into an Artistic Drawing
Transforming your wedding photo into a drawing can add another level of artistry to it. You can achieve this by using free or paid software available in the market. These software offer various preconceived artistic effects and integrated settings that can transform your photo into a drawing. You can find such image processing software in the form of Android or iOS applications. Simply download the application on your phone or computer and start processing your photo.
If you want the result to be perfect, it is best to entrust your photo to a professional photographer who can make the necessary adjustments using professional software. Adding a filter to an image can change its appearance, but to get a result that meets your expectations, using the services of a professional is recommended.
For those who prefer the traditional approach, you can have your photo reproduced on paper by a professional illustrator. This option is recommended to obtain a realistic result. Moreover, the illustrator has all the necessary tools to reproduce the colors and lines of the original photo exactly.
Overall, taking professional photos of your wedding is an excellent way to immortalize the special moments of your life. However, it's important to find the best way to highlight these images. Diamond embroidery or paint by numbers are engaging practices that can stylize your best wedding photo while providing an interesting activity. We recommend doing this activity with your family, including your children, to fully enjoy it. In addition to making your photo more authentic, these activities will allow you to spend quality time with your family and create wonderful memories.