Crédit Agricole S.A. is a French multinational banking and financial services company, based in Paris.
The bank was fully controlled by the French government, under the name Caisse Nationale de Crédit Agricole (CNCA), until 18 January 1988 when it was transformed into a public limited company, with a 90% stake sold to the Regional Banks and 10% to staff.
CNCA went public in 2001 under the name Crédit Agricole S.A – listed on Euronext Paris.
Crédit Agricole is comprised of the following business segments: French Retail Banking, International Retail banking, Specialized Financial Services, Asset Management, Insurance and Private Banking, and Corporate and Investment Banking.
According to the company, it is the number one retail bank in Europe and the leading European asset manager, bancassurer, and global leader in aircraft financing.
The company has a number of subsidiaries that focus in every aspect of finance, including: Amundi, BforBank, CA Grands Crus, CACEIS, Cariparma FriulAdria Group, CFM Monaco, CPR asset management, Credibom, Credigen, Crédit Agricole Assurances, Crédit Agricole Bank and Insurance, Crédit Agricole Banque Privée, Crédit Agricole Cards & Payments, Crédit Agricole Consumer Finance, Crédit Agricole Consumer Finance Nederland BV, Crédit Agricole Corporate & Investment Bank, Crédit Agricole Egypt, Crédit Agricole Immobilier, Crédit Agricole Leasing & Factoring, Eurofactor, Interbank, LCL Banque Privée.
Overview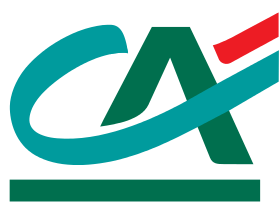 CEO: Jean-Paul Chifflet
Chairman: Jean-Marie Sander
Industry: Banking
Type: Société Anonyme
Listed on Euronext and NASDAQ
Euronext stock symbol: ACA
NASDAQ stock symbol: CRARY
Revenue: €16,015 million (2013)
Income: €2,881 million (2013)
Earnings per share: €1.0 (2013)
2013 sales growth: 41.3%
Headquarters: 91-93 boulevard Pasteur, Paris, France
Employees: 150,000 (approximately)
Website: http://www.credit-agricole.com/
| | | |
| --- | --- | --- |
| Key figures (in euros) | 2013 | 2012 |
| Revenues | €16,015 million | €15,954 million |
| Gross operating income | €4,738 million | €4,330 million |
| Net income | €2,881 million | (€6,431 million) |
| Net income Group share | €2,505 million | (€6,389 million) |
| Total assets (Dec 31) | €1,536.9 billion | €1,617.4 billion |
| Gross loans | €408.5 billion | €460.9 billion |
| Customer deposits | €632.6 billion | €634.0 billion |
| Assets under management | €915.0 billion | €877.6 billion |
| Basic earnings/(loss) per share | €1.0 | (€2.6) |
Source: "Crédit Agricole S.A. Annual Report 2013" (PDF)
Jean-Marie Sander, Chairman of Crédit Agricole S.A., commented on the company's 2013 results:
"These results reflect an increased contribution from the Regional Banks and a solid performance from Crédit Agricole S.A. business lines. Once again, they demonstrate the strength of our retail banking business and related activities and the strength of our Group, which is today the leading retail bank in France and Europe."
Jean-Paul Chifflet, Chief Executive Officer of Crédit Agricole S.A., added:
"Our results first and foremost reflect the robustness of our economic model. Prior to unveiling our medium-term plan on 20 March next, Crédit Agricole has shown that it is ready to move forward with confidence. It has reduced its risk profile and refocused on the businesses where it excels. It has a strong capital structure and is ahead of Basel 3 regulatory requirements."
---