Crown Castle International Corp. is an American company that operates and provides wireless infrastructure, including towers and other structures and distributed antenna systems ("DAS").
Nearly all of the company's operations are located in the United States and Australia.
It operates via long-term contracts in various forms, such as license, sublease and lease agreements.
The company provides telephone coverage for service providers such as Verizon, AT&T Mobility, Sprint and T-Mobile, Vodafone, Optus and Telstra.
Crown Castle International Corp. is comprised of two major tower operation subsidiaries:
Crown Castle USA – engineers, deploys, markets, owns, operates and leaded shared wireless communication sites, operating a total of more than 22,000 towers in 92 of the top 100 U.S. markets.
Crown Castle Australia – entered the Australian market in March 2000 and now delivers communications and cellular coverage to more than 92% of Australians.
Crown Castle traces its history back to 1994. It began with 133 communication towers in Southwest Texas. Since its inception the company has enhanced its portfolio organically and through acquisitions.
The company is publicly listed on the New York Stock Exchange (NYSE), under the stock ticker symbol 'CCI'.
Overview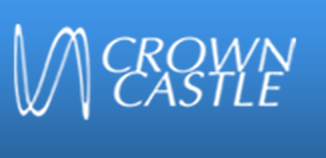 President, CEO and Director: W. Benjamin Moreland
CFO: Jay A. Brown
Chairman: J. Landis Martin
Type: Public
Industry: Mobile Infrastructure
Listed on the New York Stock Exchange (NYSE)
NYSE stock ticker symbol: CCI
S&P 500 Component
Revenue: $3.022 billion USD (2013)
Net income: $93 million USD (2013)
Diluted earnings per share: 0.26 USD (2013)
Employees: 1,900 (2013)
Corporate headquarters: 1220 Augusta Drive, Suite 600, Houston Texas 77057-2261, USA
Corporate contact number: (713) 570-3000
Investor relations contact number: 713-570-3078
Investor relations email address:

[email protected]

Website: http://www.crowncastle.com/
---
Operating data (in $ thousands)

2013

2012

Site rental revenue
$2,503,620
$2,124,190
Network services and other revenue
$518,764
$308,490
Total revenue
$3,022,384
$2,432,680
Costs of site rental
$725,109
$539,239
Cost of network services and other
$321,687
$189,750
General and administrative expense
$238,702
$212,572
Asset write-down charges
$14,863
$15,548
Acquisition and integration costs
$26,005
$18,298
Depreciation, amortization and accretion
$774,215
$622,592
Total operating expenses
$2,100,581
$1,597,999
Operating income
$921,803
$834,681
Interest expense and amortization of deferred financing costs
$(589,630)
$(601,044)
Losses on retirement of long-term obligations
$(37,127)
$(131,974)
Operating income
$921,803
$834,681
Interest income
$1,355
$4,556
Other income (expense)
$(3,872)
$(5,392)
Income before income taxes
$292,529
$100,827
Benefit (provision) for income taxes
$(198,628)
$100,061
Net income (loss)
$93,901
$200,888
Net income (loss) attributable to the noncontrolling interest
$3,790
$12,304
Net income attributable to CCIC stockholders
$90,111
$188,584
Balance sheet data (in $ thousands)
Total assets
$20,594,908
$16,088,709
Total liabilities
$13,653,733
$13,137,445
Total stockholders' equity
$6,926,717
$2,938,746
Cash flow data (in $ thousands)
Net cash provided by operating activities
$1,237,656
$772,557
Net cash used in investing activities
$(5,520,969)
$(4,199,596)
Net cash provided by financing activities
$4,063,133
$3,786,803
Cash and cash equivalents at end of year
$223,394
$441,364
Common share data (in $)
Basic earnings (loss) per common share
$0.26
$0.64
Diluted earnings (loss) per common share
$0.26
$0.64
Source: "Crown Castle International Corp. 2013 FORM 10-K Annual Report"
---