Danaher Corporation focuses on the development, manufacturing and marketing of professional, industrial, medical and commercial products.
It has a team of approximately 66,000 persons, with research and development, manufacturing, sales, distribution, service and administrative facilities located in over 50 countries.
The company is comprised of five primary business segments:
Test & Measurement – provides electronic measurement instruments, professional test tools, thermal imaging and calibration equipment used in electrical, industrial, electronic and calibration applications.
Environmental – offers water quality and retail/commercial petroleum market services and products, including water quality analysis and treatment (providing instrumentation and disinfection systems) and fuel dispensing, remote fuel management.
Life Sciences & Diagnostics – focuses on analytical instruments, reagents, consumables, software and services for hospitals and doctors.
Dental – provides dental equipment and services used to diagnose, treat and prevent dental complications.
Industrial Technologies – a leading provider of equipment, consumables and software for printing, coding, marking, color management, and design applications.
The company was founded in 1969, under the name DMG, Inc. In 1978 the company changed its name to Diversified Mortgage Investors, Inc., and then to Danaher Corporation in 1984.
Overview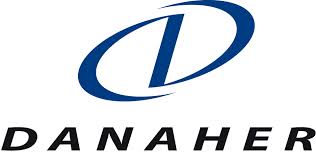 President and CEO:  H. Lawrence Culp, Jr.
Chairman: Steven M. Rales
Type: Public
Industry: Industrial/Professional/Commercial Products
Publicly listed on the New York Stock Exchange (NYSE)
NYSE stock ticker symbol: DHR
S&P 500 Component
Revenue: $19.118 billion USD (2013)
Net income: $2.695 billion USD (2013)
Diluted earnings per share: $3.80 USD (2013)
Employees: 66,000 (2013)
Corporate headquarters: 2200 Pennsylvania Ave. N.W., Suite 800, Washington, D.C., USA
Corporate contact number: 202-828-0850
Investor relations contact number: 202-828-0850
Investor relations email address: 

[email protected]

Website: http://www.danaher.com/
---
Operating data (in $ millions)

2013

2012

Sales
$19,118.0
$18,260.4
Cost of sales
$(9,160.4)
$(8,846.1)
Gross profit
$9,957.6
$9,414.3
Selling, general and administrative expenses
$(5,432.8)
$(5,181.2)
Research and development expenses
$(1,249.9)
$(1,137.9)
Operating profit
$3,274.9
$3,165.1
Earnings from continuing operations before income taxes
$3,566.0
$3,010.8
Income taxes
$(871.0)
$(711.5)
Net earnings
$2,695.0
$2,392.2
Comprehensive income
$2,968.7
$2,369.9
Balance sheet data (in $ millions)
Total assets
$34,672.2
$32,941.0
Long-term debt
$3,436.7
$5,287.6
Total stockholders' equity
$22,451.4
$19,083.9
Cash flow data (in $ millions)
Net cash provided by operating activities
$3,585.3
$3,415.0
Net cash used in investing activities
$(552.5)
$(1,887.6)
Net cash used in financing activities
$(1,605.8)
$(388.4)
Cash and cash equivalents at end of period
$3,115.2
$1,678.7
Common share data (in $)
Basic earnings (loss) per common share
$3.87
$3.45
Diluted earnings (loss) per common share
$3.80
$3.36
Source: "Danaher Corporation 2013 FORM 10-K Annual Report"
---