The use of dating apps Grindr and Tinder are believed to have increased violent crime figures dramatically – sevenfold – in England and Wales in a period of just two years, according to data released to the Press Association under the Freedom of Information Act.
The types of crime that increased from 2013 to 2015 include attempted murder, rape and grooming.
The figures come from police reports across England and Wales where the two apps are mentioned in the crime report. This does not necessarily mean that either Grindr or Tinder were used directly by the criminal perpetrator.
The dating app Tinder is popular among younger adults. (Image: Wikipedia)
Crime figures 'shocking'
Crime experts, who described the findings as 'shocking', are now urging the Government and public security authorities to launch a nationwide campaign to raise awareness of the dangers that so-called hook-up sites pose to users, who arrange to meet complete strangers face-to-face.
Several criminologists and LGBTI rights activists have warned in the British media that these figures could be just the tip of the iceberg. How many users are there out there who were victims of a crime but never reported it? Users of Tinder and Grindr are vulnerable to sextortion, they added.
---
---
According to data from thirty police forces, there were fifty-five reports of crimes that mentioned Tinder or Grindr in England and Wales in 2014. By 2014 the number rose to 204 and then 412 for the first ten months of 2015.
Tinder was mentioned in 21 crime reports in 2013, compared to 227 in 2015 up to October. Grindr was mentioned in 34 crimes in 2013, compared to 135 in 2015 up to October.
Grindr users are predominately gay daters, while those that use Tinder are mainly heterosexual.
Violent and sexual crimes were the most commonly reported. There were 152 reports involving sex offences and 253 allegations of violence, including the sexual exploitation of children, rape and grooming.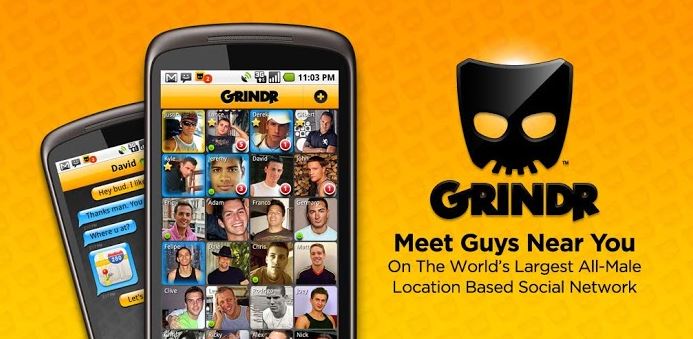 Grindr is the world's largest gay dating site. (Image: hngn.com)
In an interview with BBC News, Deputy Chief Constable Andy Cooke, from the National Police Chiefs' Council, said:
"The rising popularity of online dating apps and websites has contributed to an increase in the number of recorded crimes."
"I would urge those who use online dating apps to be as security conscious as possible and not to share personal data with anyone until they are sure about those they are communicating with."
Gay Star News quoted LGBTI rights activist Peter Tatchell, who said that closeted gay and bisexual males were most at risk because criminals knew they were less likely to report crimes to the police.
Mr. Tatchell said:
"The steep rises in sexual and violent offenses are a worrying trend that seems likely to continue. I suspect these figures are just the tip of the iceberg."
Andy Phippen, professor of social responsibility in IT at Plymouth University, said crime linked to dating site usage was a 'growing problem, particularly around sextortion-type activities'.
The Lancashire Evening Post quoted Prof. Phippen as saying:
"If we are going to base the formation of a relationship on a photo and a few lines of text, how do we know that person is who they say they are and they have the right intentions?"
"It is something we tell kids about – don't trust who people say they are online – but the adult population go merrily about their way thinking it is a good way of hooking up. And there will be people who are using these apps to coerce and groom children, sadly."
About Grindr
Grindr is a geosocial networking app geared towards gay and bisexual males, which runs on Android and iOS. The app comes in both free and subscription-based versions (Grindr Xtra).
The Grindr app helps men meet other men who live nearby by using the device's geolocation. It is the world's largest and most popular gay mobile app community, and is available in 192 countries.
It was recently cited by the European Monitoring Centre for Drugs and Drug Addiction as one of many apps that promote illegal drug use. Some drug-using members, who allegedly supplied drugs, shared their drug experiences using Grindr.
About Tinder
Tinder is a location-based dating app (using Facebook) that facilitates communication between users who have similar interests. It matches them up and thus allows them to chat.
The app, which was launched in 2012, had registered one billion 'swipes' per day by 2014. It was one of the first 'swiping apps' where users can swipe through photos of other users – swiping right for promising matches and left to move onto the next one.
The app is used widely across the world and is available in more than 30 language. By the end of 2014, about 50 million people used Tinder once a month with an average of 12 million matches each day.
Tinder was acquired by messaging company Chill in 2015.