Widely used in the software development industry for its cost-efficiency, flexibility, and productivity, the dedicated team model is a great choice for both IT companies looking to extend their development capabilities and businesses in need of a software development team for a mid- or long-term project to develop a particular product.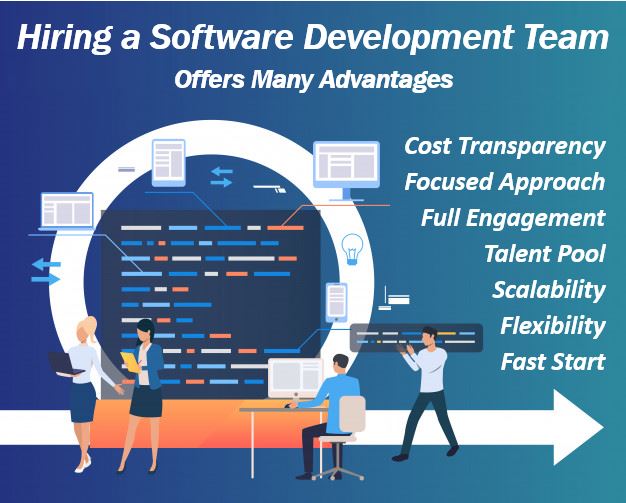 Numerous companies around the world today choose to hire dedicated teams to spend less time and money on search, recruitment, and maintenance while effectively filling in the gaps in technological expertise and domain knowledge.
This is how it works:
The company gets in touch with their trusted tech partner and specifies the requirements for their software development project.
According to the specified expertise, tech stack, and team size, the vendor assembles a team of best-fitting designers, developers, and other requested specialists for the job.
After reaching agreement on all collaboration terms and conditions, the dedicated team integrates seamlessly with the company's business until their services are no longer needed.
Dedicated team is by far the most popular engagement model on the market due to the considerable advantages it has over other business approaches.
Dedicated team advantages
Instant access to talent
Search and recruitment can be a major inconvenience when time is of the essence. Whether you have a groundbreaking idea you want implemented ASAP or you need a competitive edge to catch up with the market, you definitely don't want to waste your precious time looking for candidates. And with a dedicated team model you don't even have to because all the talent you need is already in one place.
You simply lay down the requirements and your trusted vendor quickly tailors a perfect fit for your project—a dedicated team of the right size, skills, and experience.
Cost efficiency
Search and recruitment are not your only concerns when hiring in-house. There are also a whole bunch of administrative responsibilities and extra expenses to consider such as procurement of new equipment, additional office space, onboarding, training, etc.
Hiring from a vendor, in turn, saves you all the administrative trouble as your dedicated team already has everything they need to start working on your project with no delay. This makes it much cheaper and easier to build and maintain a dedicated team. Besides, with transparent pricing and accurate estimates provided by your vendor, all the costs become very predictable which allows you to budget ahead with confidence.
Full engagement
There is a reason such teams are called dedicated. This is because they dedicate their full time and attention to your project alone. The dedicated team model boasts an exceptionally high level of engagement and long-term efficiency.
They practically become a part of your organization—follow your policies, adhere to your values, and play by your rules. They commit entirely to your goals and objectives which gives them a better understanding of your business needs and the best ways to reach them.
Increased productivity
Another significant advantage of the dedicated team model is its amazing productivity in reaching your goals. Professional vendors build dedicated teams from people who have already worked together on other projects and know each other well.
This means your team already has great teamwork and its members don't need time to get used to each other or learn to work together. They are quick to react to changes and adjust their workflows to new requirements. They provide clear communication with frequent, concise reports. All this leads to fast onboarding with the project, well-established processes inside and outside the team, and better collaboration results.
Great scalability
It's never been easier to adjust your team size to the changes in the scope of the project, strategic shifts, or unforeseen circumstances. With the dedicated team model, you can scale your dedicated team up or down effortlessly and on the spot.
Whether you need to extend your software solution with a new feature or your project fell victim to some unexpected budget constraints, just say a word and your vendor will immediately optimize the team size by adding or taking a requested number of specialists off the team. Such great team flexibility gives you more power and freedom in change management.
Flexible management
Last but not least, you are free to set up the processes on the project any way you want it. If you have a preferred project management approach or a particular methodology in mind, you can easily have the dedicated team working your way (but make sure your team members possess the necessary skills and experience with the approach before you do).
You can either set the goals, sit back, and follow the progress through weekly reports, leaving the rest to a dedicated project manager, or you can take direct control over task management, scheduling, workloads, and other responsibilities. Your team, your rules.
____________________________________________________________________________
QArea is a full-cycle software development company with over 280 qualified engineers and 18 years of experience in the international outsourcing market. We offer clear communication, a wide range of niche skills, and broad expertise in various domains.
---
Interesting related article: "What is Scalability?"