Even though footers are commonly neglected and overlooked parts of a website. But let us remember how in effective web design every single part is critical. Alpha Efficiency agency will dedicate this post to showing how this content piece can make a huge difference in the overall web design look and user experience. The right design and carefully chosen footer content contribute to achieving website goals through its practical qualities.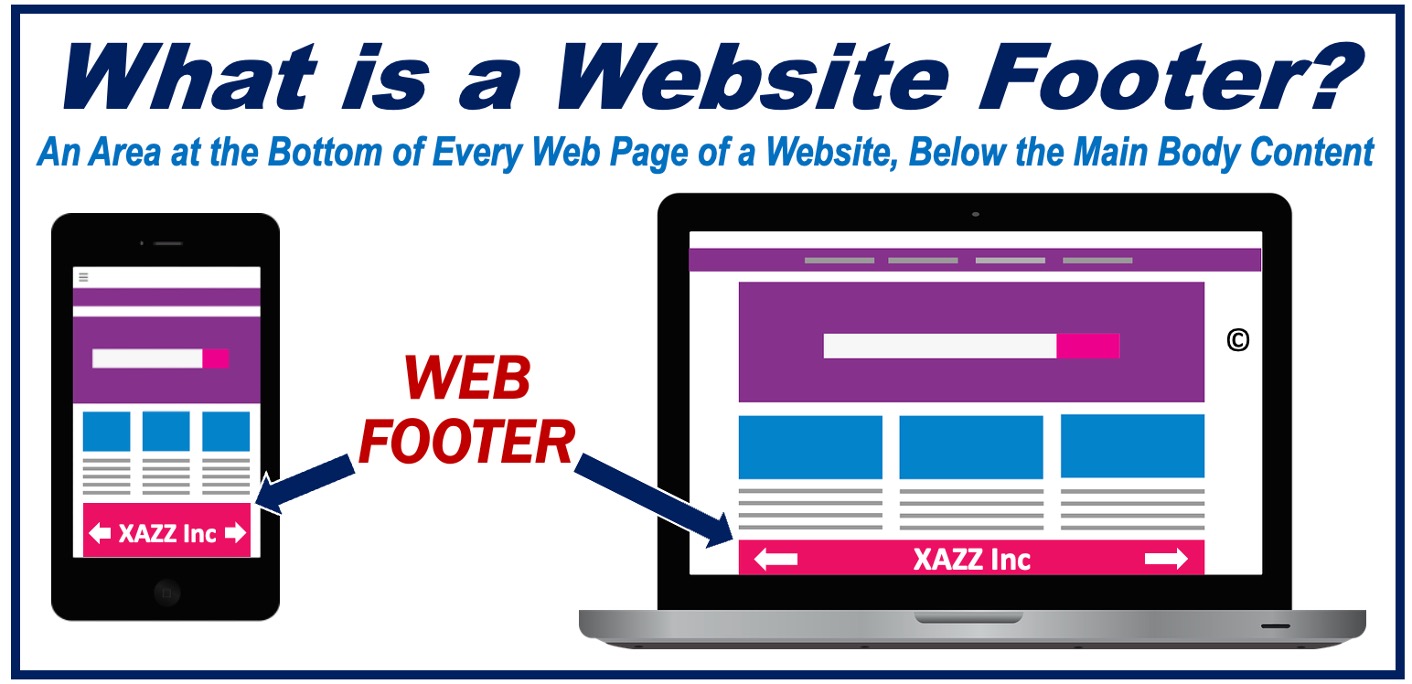 What is a footer?
Footer is a place where visitors can find desirable information if they haven't noticed them in other sites sections. Therefore, a footer is a place that contains important website information that exactly improves website usability.
The homepage makes the first impression of your website and the footer is the final thing in its appearance. Footers take place at the bottom of the page, often repeated on every website page, and contain material that guides visitors directly to needed information. The function of the footer can be considered a secondary site menu. That is why it's so important that the footer is easily discoverable, with predictable content, and consistent.
The inability to find needed information can make the visitor leave the site before discovering offers. As many visitors prefer to reach for relevant information before deciding whether they will consider buying and having business with your company, displaying such data in an expected place can mean a make-or-break conversion. This signifies that internet visitors are aware of what content provides footer and expect to find valuable information in this precise section.
Footer is a great space for placing informative formalities about your website while dedicating the rest of the site to impress visitors with authentic design and solutions.
Sometimes footer is a large sector crowded with various links but usually, the footer considers a small space. Thus, a compact space doesn`t assume a simpler design procedure and might require even more creativity and careful choosing of elements to achieve an imposing footer.
Footer elements
It's essential to place basic site and business information in the footer. Additionally, you can place elements that are not present in the global navigation. The content of the footer varies for different reasons.
The most usual content of the footer is a privacy policy, contact us, about us, FAQ, Help and terms & conditions, and other elements depending on business nature and needs. Additional items in the footer can be our team, portfolio, CTA, careers, sitemap, blog, delivery and return, email subscription, newsletter, and many others. Often, the footer is the place to emphasize and highlight certain qualities such as awards, presence in media, and icons for brands' social media accounts.
Although there is no particular way to construct a footer, it should incorporate standard links and information.
Demonstrate creativity and personality
As with every other part of the website, the footer should also fit the entire design and reflect the authentic identity of the brand. With appropriate micro attributes in design, the footer can grab visitors' attention and encourage users to convert. Adapt color, word choice, and tone to achieve a cohesive impression with the rest of the website. The alternation of the overall appearance of the footer contributes to the overall user experience. Precisely because it is placed at the bottom of the webpage, the footer can be the main asset that will make the ultimate positive impression on the visitor. Support footer usage by conveying a clean and simple design that will provide users with easy-to-consume information. This means appraising content hierarchy, grouping, and legible font size and color.
Footer types
1. Infinite scroll and the mini footer
Many websites involve infinite scrolling to conduct users on the website. Webpages with infinite scrolling browsing optimization don't have consistent bottom and therefore conventional footer. However, content that is supposed to be in the footer takes palace in the "mini footer" on the right side, or in the expended general navigation.
2. Contextual footers
A contextual footer refers to a customized footer formulated by page information or a task-based footer. This type of footer is suitable for websites that have different user roles such as "member" vs. "non-member", "subscribed" vs. "not-subscribed", "content creator" vs. "content consumer".
Final Thoughts
Hopefully, we managed to reveal to you the importance of footer utilization as it can significantly lift user experience. While many highly underrate this area, the footer actually receives plenty of use, and the advantages of your website perhaps lie in the impressive footer. Most of the website dedicates just as much utilization as needed to its functionality but you can elevate the footer with exquisite style. Footer is the opportunity to strike users with stirring aesthetic and utilization.