For most people, it is a bit difficult to maintain focus for hours on end. One needs to ensure that the time they spend working is as productive and fulfilling as possible. A dull and an uninspiring workplace while functional, loses its productivity. A well designed office space plays a major role in employee performance as well as productivity.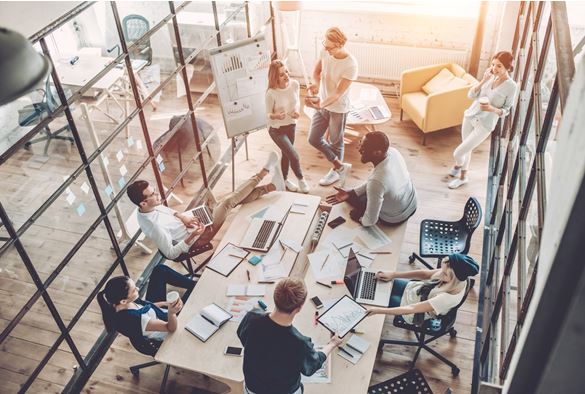 The definition of the workplace is ever changing as the functions and operations of companies are becoming more and more complex. This has brought about an explosion of new concepts and ideas in the design world geared towards accommodating the ever-shifting definition of the workspace.
To improve productivity in the office, consider the following:
1. Work with themes
Make the workspace livelier and vibrant by incorporating themes. Themes reflect the character of the space. Having a theme makes it easy to pick out design pieces and figuring out where they go in a space.
Pick a theme and then get decorative elements and shades of colour that
support it. Consider the architectural elements of the office and then go from there. You may be tempted to choose themes that lean towards your own personal aesthetics, however, consider having them customized to center on the core business or the main goal of the company.
2. Utilize colour and custom prints and frames
Colour has an automatic and unconscious associations in the mind of a viewer because they have a personal and emotional reaction to it. The colour and overall styling of your workspace will help enhance output. While choosing the colour palette for your office, make sure that it goes with the wall art you will put up.
Working with custom prints and frames makes it easy to coordinate your colour scheme with your artwork and photos. Interior designers utilize custom canvas prints, which allow them to incorporate their artistic vision and customize it to the already existing décor and furniture. Custom printing enables the designer to print the desired images onto a canvas, then have them framed and hanged in the office.
3. Choose the correct furniture
Declutter your office space by having the correct number of furniture pieces. Pick pieces that will allow your employees to sit and work easily. Consider the comfort of the employees who have to sit all day in an uncomfortable work station.
The comfort of your employees is a motivational factor and it is as important as their career and salary. Their productivity is related to how comfortable they feel. The right furniture needs to be functional as well as comfortable.
This helps employee performance as it gives them enough space to move around and they can sit comfortably at a desk for 8 hours or more without any tension thus making the employee productive. For this purpose, consider buying ergonomic chairs that are both functional and comfortable.
4. Work with greenery
Bring the outside inside by incorporating the element of nature to get a fresh feel around the office. Plants can be used to fill empty spaces and make them feel less awkward.
Nature is generally chaotic and wild and you may desire your workspace to be simple with clean lines. The trick is to add the plants as a creative layer; Use them as any other accessories and display them artfully to give a unique look and feel to your work space. Get a natural look and create harmony by putting the plants in woven pots.
Place some plants like the fiddle leaf plant to both sides of the window or door to give the space a fresh, tropical feel. Some plants such as peppermint have a refreshing scent and bring a burst of energy. Have floral plants that match the overall colour scheme of the office to add a bit of colour as well.
5. Good office acoustics
Bad acoustics make for an irritating work environment. It is distracting and affects the concentration of workers. To make your office acoustically welcoming, consider having the walls and partitions filled with sound-absorbing fabric and the same fabric for a carpet. The individual work areas will be visually connected while cutting back on unnecessary noise.
6. Make it homey

Many office spaces are delving into the idea of making the office a home away from home. Make your office stress-free and cozy as possible by having it resemble a home. Incorporate lounge spaces, swings, and comfortable sofas and even ping pong tables. Encourage employees
to bring personal photos from home and have them decorate their personal office space with them. It makes a lot of difference. Consider getting a stylish rug for the cold, tiled office floor to make it feel more welcoming and familiar.
The idea is to make the office a fun and comfortable place where employees can rest their minds and bodies while taking breaks. It makes them look forward to coming to the office every morning.
7. A flexible office design
New ways to work are developing rapidly, and ideas for home offices are sprouting everywhere. A flexible design for your office is worth considering to inject new energy, collaboration and efficiency into the work environment. Work on creating work spaces where
people want to come together, share their ideas and be proud of their work.
Shared work points are the new trend, where designers create agile spaces that can be used for other purposes in lieu of a dedicated work space for an individual. Larger furniture with deeper and wider dimensions should be used in order for the employees to engage with each other, while maintaining social distance.
Conclusion
Interior design trends are constantly changing, with some fizzling out while others have more staying power. With the changing trends, the office design is constantly being re-imagined to accommodate the changes. So, when designing the workplace, consider the culture and vision of the business before making any major design decisions. It is important to strike a balance between making the office a profitable work environment and incorporating all the design elements without going over the edge.
---
Interesting related article: "What is Productivity?"