Deutsche Bank AG is one of the world's leading banks and financial services company. It is based in Frankfurt, Germany.
The company was founded in Berlin in 1870 as a means of improving and facilitating trade relations between Germany, other European countries, and overseas markets.
Since its inception Deutsche Bank has emerged into one of the most influential banks in the world, with over 100,000 employees.
Its major regional hubs are in Frankfurt, London, New York, Sao Paulo, Dubai, Singapore, and Hong Kong.
Deutsche Bank AG is currently listed on both the Frankfurt (FWB) and New York stock exchanges (NYSE).
The company is comprised of the following corporate divisions:
Private & Business Clients: banking services to private individuals, self-employed clients as well as small and medium-sized businesses (loans, investment management, and pension products).
Asset & Wealth Management: offers traditional and alternative investments across all major asset classes.
Corporate Banking & Securities: the sales, trading and structuring of a wide range of financial market products, such as bonds, foreign exchange, money market instruments, and other securities.
Global Transaction Banking: commercial banking products and services for corporates and financial institutions worldwide.
The Non-Core Operations Unit: reducing capital demand to strengthen the Bank's capital ratio through the divestment of non-core assets.
Deutsche Bank AG – Company Overview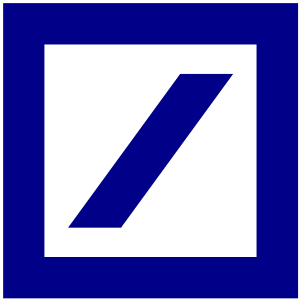 Chairman: Paul Achleitner
Co-CEOs: Juergen Fitschen and Anshuman Jain
Industry: Banking
Type: Aktiengesellschaft (public)
Listed on FWB and NYSE
FWB stock symbol: DBK
NYSE stock symbol: DB
Net income: €681 million (2013)
Earnings per share: €0.67 (2013)
Headquarters: Deutsche Bank Twin Towers, Taunusanlage 12, Frankfurt, Germany
Employees: 100,000 (approximately)
Investor relations contact number: +49 69 910-00
Website: https://www.db.com
| | | |
| --- | --- | --- |
| Key figures (in millions of €EUR except for share data) | 2013 | 2012 |
| Net interest income | €14,834 | €15,975 |
| Total noninterest income | €17,082 | €17,761 |
| Income before income taxes | €1,456 | €814 |
| Net income | €681 | €316 |
| Total assets | €1,611,400 | €2,022,275 |
| Total shareholders' equity | €54,719 | €54,001 |
| Total equity | €54,966 | €54,240 |
| Cash and cash equivalents at end of period | €56,041 | €53,321 |
| Earnings per share – basic (in EUR) | €0.67 | €0.28 |
| Earnings per share – diluted (in EUR) | €0.65 | €0.27 |
Source: "Deutsche Bank AG Annual Report 2013 – Financial Statements" 
---