Devon Energy Corporation is an American energy company, based in Oklahoma City, that focuses on the exploration, development and production of oil, natural gas and natural gas liquids in North America.
It produces about 2.4 billion cubic feet of natural gas every day and is currently one of the United States's larger processors of natural gas liquids
The company is publicly listed on the New York Stock Exchange (NYSE) under the stock ticker symbol 'DVN'.
Devon Energy was founded by John Nichols and his son Larry in 1971. The company went public company in 1988 and has since achieved significant growth both organically and through mergers and acquisitions.
Devon Energy holds approximately 14 million net acres, of which roughly 60 percent are undeveloped, providing the company with a strong platform for future growth.
Its core properties include:
Andarko Basin – located in Oklahoma's Blaine, Caddo, Dewey, and Canadian counties. It is a non-conventional reservoir and produces natural gas, natural gas liquids and condensate. Devon is the largest producer in the basin and the largest leaseholder.
Barnett Shale – located in north Texas's Johnson, Parker, Tarrant, Wise, and Denton counties. It is Devon's largest property in terms of proved reserves and production and the company is the largest producer in the area.
Mississippian-Woodford Trend – located in southern Kansas and northern Oklahoma. The acres in the area target oil in the Woodford Shale and Mississippian Lime.
Permian Basin – located in southeast New Mexico and west Texas. The company targets conventional and non-conventional oil and liquids-rich gas targets within the Bone Spring, Midland-Wolfcamp, Wolfberry, Conventional Delaware, and Avalon Shale plays.
Overview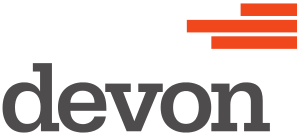 President and CEO: John Richels
CFO: Thomas L. Mitchell
Chairman:  J. Larry Nichols
Type: Public
Industry: Energy/Oil/Gas
Publicly listed on the NASDAQ Stock Market
NASDAQ stock ticker symbol: DVN
S&P 500 Component
Revenue: $10.397 billion USD (2013)
Net (loss): $(20) million USD (2013)
Diluted (loss) per share: $(0.06) USD (2013)
Founded: 1971
Founder(s): John Nichols
Employees: 5,900 (2013)
Corporate headquarters: 333 West Sheridan Avenue, Oklahoma City, Oklahoma, USA
Corporate contact number: (405) 235-3611
Investor relations contact number: 405-552-4505
Investor relations email: 

[email protected]

Website: http://www.devonenergy.com/
---
Net Sales and Revenues (in $ millions)

2013

2012

Oil, gas and NGL sales
$8,522
$7,153
Oil, gas and NGL derivatives
$(191)
$693
Marketing and midstream revenues
$2,066
$1,655
Total operating revenues
$10,397
$9,501
Costs and Expenses (in $ millions)
Lease operating expenses
$2,268
$2,074
Marketing and midstream operating expenses
$1,553
$1,246
General and administrative expenses
$617
$692
Production and property taxes
$461
$414
Depreciation, depletion and amortization
$2,780
$2,811
Asset impairments
$1,976
$2,024
Other operating items
$121
$92
Total operating expenses
$9,776
$9,353
Income Data (in $ millions)
Operating income
$621
$148
Earnings (loss) from continuing operations before income taxes
$149
$(317)
Income tax expense (benefit)
$169
$(132)
Earnings (loss) from continuing operations
$(20)
$(185)
Earnings (loss) from discontinued operations, net of tax
–
$(21)
Net earnings (loss)
$(20)
$(206)
Comprehensive earnings (loss)
$(523)
$(10)
Balance Sheet Data (in $ millions)
Total assets
$59,521.3
$56,265.8
Total liabilities
$49,253.6
$49,403.8
Total stockholders' equity
$10,267.7
$6,862.0
Cash flow data (in $ millions)
Net cash provided by operating activities
$5,436
$4,956
Net cash used in investing activities
$(6,758)
$(8,225)
Net cash provided by financing activities
$20
$1,629
Cash and cash equivalents at end of period
$6,066
$4,637
Common share data (in $)
Basic earnings (loss) per common share
$(0.06)
$(0.52)
Diluted earnings (loss) per common share
$(0.06)
$(0.52)
Source: "Devon Energy Corporation 2013 FORM 10-K Annual Report"
---