Diamond Offshore Drilling, Inc. is an American deepwater drilling contractor, based in Houston, Texas, that provides drilling services to the energy industry.
The company has a fleet of 45 offshore drilling rigs, of which 33 are semisubmersibles.
It focuses on providing services in the floater market (ultra-deepwater, deepwater and mid-water) and the non-floater market.
Diamond Offshore Drilling's mission is "to exceed customer expectations and continually set the standard of excellence as we assist our customers in their worldwide efforts to discover and produce offshore petroleum resources."
Diamond Offshore was incorporated in Delaware in 1989 and went public on the New York Stock Exchange (NYSE) in October 1995 under the stock ticker symbol 'DO'.
Diamond Offshore's predecessor companies were ODECO, Zapata Corporation, and Diamond M Drilling Co.
Overview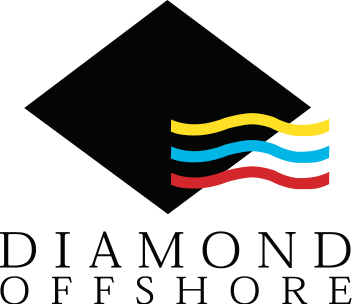 Chairman: James S. Tisch
CEO: Lawrence R. Dickerson
CFO: Gary T. Krenek
Type: Public
Industry: Diamond/Oil/Gas Drilling
Publicly listed on the New York Stock Exchange (NYSE)
NYSE stock ticker symbol: DO
S&P 500 Component
Revenue: 

$2.920 billion USD (2013)

Net income: $

548 million USD (2013)

Diluted earnings per share: $

3.95 USD (2013)

Employees: 5,500 (2013)
Corporate headquarters: 15415 Katy Freeway, Houston, Texas 77094, USA
Corporate contact number: (281) 492-5300
Investor relations contact number: (281) 492-5370
Investor relations email:

[email protected]

Website: http://www.diamondoffshore.com/
---
Operating data (in $ thousands)

2013

2012

Contract drilling revenue
$2,843,584
$2,936,066
Revenues related to reimbursable expenses
$76,837
$50,442
Net revenue
$2,920,421
$2,986,508
Contract drilling expense, excluding depreciation
$1,572,525
$1,537,224
Depreciation
$388,092
$392,913
Total operating expenses
$2,118,815
$2,024,130
Operating income
$801,606
$962,378
Income before income tax expense
$774,240
$918,081
Income tax expense
$(225,554)
$(197,604)
Net income
$548,686
$720,477
Comprehensive income
$546,540
$727,615
Balance sheet data (in $ thousands)
Total assets
$8,391,434
$7,235,286
Total liabilities
$3,754,176
$2,658,892
Total stockholders' equity
$4,637,258
$4,576,394
Cash flow data (in $ thousands)
Net cash provided by operating activities
$1,065,988
$1,311,269
Net cash used in investing activities
$(1,552,075)
$(815,718)
Net cash used in financing activities
$497,666
$(493,884)
Cash and cash equivalents at end of period
$347,011
$335,432
Common share data (in $)
Basic earnings (loss) per common share
$3.95
$5.18
Diluted earnings (loss) per common share
$3.95
$5.18
Source: "Diamond Offshore 2013 Annual Report"
---