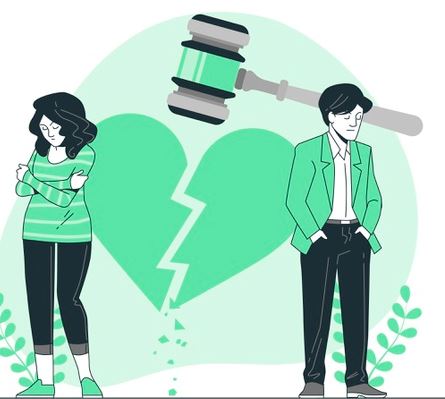 Are you about to file for divorce in Nebraska but are not sure whether to choose a traditional divorce or legal separation? This article will answer the most burning questions on this topic and clearly outline the difference between these two concepts.
Divorce in Nebraska: Grounds & Features
In Nebraska, there are two ways to handle a marriage that has reached a dead-end — the dissolution of marriage (aka divorce) and legal separation. Before discussing the main differences, let's deal with each concept separately. First, what are the features of the divorce process in Nebraska?
Residency requirements. To obtain a divorce in Nebraska, you and your spouse must correspond to the law about residency requirements. The court can give you a divorce in two cases:
You or your spouse lived in Nebraska for a minimum of one year before filing for divorce. Aso, you intend to make Nebraska your permanent home;
You and your spouse were married in Nebraska and permanently resided in the state from the time of your marriage until the time you filed for divorce.
Moreover, if you or your spouse is in the US military, one of you must have been stationed at a military base in Nebraska for one year before getting a divorce. Also, remember that if you get married in Nebraska, you must live there permanently from the time you get married until you apply for divorce.
Grounds for divorce. Nebraska's marriage law only allows for no-fault divorces. It means that the court does not consider misconduct as a reason for divorce. Therefore, neither spouse blames the other for the divorce in Nebraska. They only need to state that they can no longer be together.
Also, a Nebraska court can divorce you without a hearing if, 60 days after you filed for divorce, you and your spouse:
Refused to hold a hearing;
Confirm in writing that the marriage has broken up and reconciliation is not possible;
You both signed a Settlement Agreement in advance, in which you wrote down all the main points regarding your divorce — property division, child custody, spousal support (alimony), etc.
Since a no-fault divorce often goes hand in hand with an uncontested divorce, you can ease your divorce process by using a web divorce company. This online divorce service helps collect all the necessary divorce papers without an attorney based on the information you provide. This is incredibly convenient for DIY (do-it-yourself) divorce, as the platform is quick (forms are prepared within two business days) and affordable.
Legal Separation in Nebraska: Everything You Need to Know
Let's start with the fact that legal separation is always a mutual and conscious choice of a couple to live separately. Under Nebraska law, when separated, spouses must be physically separated from each other — living in different rooms in the same home does not count as separate living. Moreover, you must live in other houses from the date stated in the separation document.
As in a divorce, the court divides jointly acquired property and assets, splits custody of children, and awards alimony and child support. However, through legal separation, you do not dissolve the marriage bond. You will still be legally married to your spouse.
So what is the point of legal separation?
There are a few reasons why spouses (or someone alone in a couple) may choose to legally separate. Some of the most common include:
Certain religious or philosophical beliefs reject the concept of divorce and even forbid it. Thus, a couple may live separately but still be married for religious reasons;
Desire to maintain medical insurance. Interestingly, all medical benefits are preserved during the separation, while their term ends instantly during a divorce;
To give each other time to see if you can reconcile in the future;
To claim certain marital benefits (social security, military pension, etc.) while being married and living separately for several years;
Neither spouse meets the residency requirements for divorce, so legal separation is formalized as a step before the divorce.
Main Difference Between Divorce & Legal Separation
Let's recap the main differences.
The main difference between legal separation and divorce, of course, is that during separation, you officially remain married, while divorce means the final termination of your marriage bonds.
Separation is often a temporary solution to a troubled marriage. It gives time to sort out your feelings, resolve financial or child custody disputes, and eventually take a break from each other so that you can honestly answer the question to yourself later — do you want a final divorce?
Also, the judge can freeze your joint assets so that neither spouse can sell them behind the other's back or accumulate debts.
A divorce decree will permanently end your marriage. Once the Nebraska court has made a final divorce decision, you must wait 6 months before you can marry another person. Also, when deciding in favor of legal separation, you should be aware that, depending on the type of separation you have, you may be liable for your spouse's debts incurred during the period of separation. And yes, you can always appeal or overturn the separation, but if you get a final divorce, your only option to reconcile is to remarry.
When you sign a Separation Order, you agree that you and your spouse have separated and are not required to live together from a specific date. This document is somewhat similar to a Settlement Agreement signed during a divorce. This paper should cover all issues usually discussed during an official divorce, including property division, guardianship, alimony, etc.
Final Thoughts
Before deciding to separate or divorce, be sure to study all the details of each concept. Only by carefully studying the information and your situation can you tell which is right for you. And if you need help with divorce documents, you can always turn to a lawyer or online divorce companies. Listen to proven experts and your heart, and you will see that everything will work out in the best way for you.
---
Interesting Related Article: "When Is A Divorce Possible After 4 Months Of Marriage?"