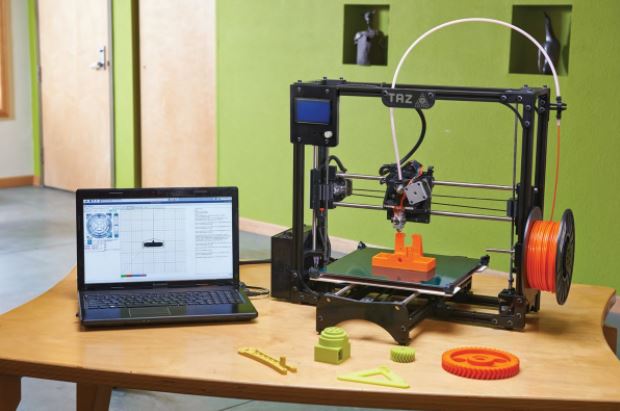 Buying a 3D printer is not something to take lightly, it is an investment in the long run and you have to know very well where and how to buy it. But there's always the same problem: you're going to buy something, you hardly even know how it works, and you have doubts.
Although there are a lot of 3D molding machines being sold online through eCommerce and classified ads websites like Shoppok, knowing the basics on how to buy is still very important.
What is a 3D printer and how does it work?
A 3D printer is a machine capable of creating three-dimensional objects from a 3D file. The most interesting thing is that it creates things by overlapping layers, on top of each other, as if we were making a sandwich.
The printer head melts plastic (either in the form of a wire or through a laser) and wires each layer of the final part, hence the 3D objects look like micro-slots in their final design.
There are several types of this machine, but the ones most people commonly use are FDM type or Molten Deposition Modeling (melt a filament coil and deposit it on a basis to create the part we go).
Currently, this technology is being applied to both dental, industry 4.0, the medical sector, or even cooking. You'll probably end up using it to create your own 3D pieces, but there's everything.
As the market is relatively new and the products are still little known to many professionals and individuals, the first purchase of this equipment may seem difficult.
To help you make the best decision, you need to ask yourself at least 5 questions that will help you define the right brand, budget, and technology. Before you start asking these questions, it's also important to know how you'll use your 3D molding machines, what projects you want to lead, and what knowledge you have today in terms of 3D technologies.
What is my budget?

Once you've clearly defined how you'll use your 3D molding machine, you need to know how much you're willing to spend on this new equipment. There are different price ranges: for $250  you can now find 3D FDM printers in a kit that you will have to build yourself and which are often Chinese-made. If your budget is larger, starting at $1,200, you can buy a ready-to-use machine that can start working in just a push of a button.
If your budget exceeds thousands of dollars, other technologies are available to you. Between $1,300 and $2,000, you will find 3D SLA and FDM printers with very good quality. Between $8,000 and $35,000, you will opt for industrial molten material deposit machines or more specialized SLA printers for sectors such as dental or jewelry. You'll also find selective laser sintering machines (SLS), popular in some industries that use polyamide powders.
Finally, the latest price range starts from $80,000 and up. Such a budget will allow you to access technologies such as HP's, the Multi Jet Fusion, or direct metal sintering (DMLS) that allows you to create metal parts.
What material will I use?
Now that you know how much you want to spend, you also need to choose your base materials. A technology such as the FDM is mainly used with plastics, with coils of filaments available from 20 degrees depending on the type of technicality desired – there are more technical filaments of up to 350 degrees per kg.
If you are switched on to ALS technology, you will use photopolymer resins starting at 70 degrees per liter. However, it is important to note that there are not yet many colors available today, although some manufacturers are trying to develop others.
If you're looking at more industrial applications with your equipment, you'll opt for SLS or DMLS technologies. In the first case, you will mainly use polyamide powders, and in the second, different metals and metal alloys also with a price that will vary according to your needs.
How much will I print?
It's important to know what output you want and how much; Small-scale molding does not involve the same needs as producing in higher quantities. This is where you have to consider that the cheapest equipment may not be the best solution. In some cases, you will have to spend a little more to get more output.
However, there are FDM technology machines with generous volume at an affordable price or even large-format machines like Bigrep's. In the case of SLA or SLS technologies, 3D molding machines generally do not have as much large output. For 3D metal printers, sizes vary depending on your need and the investment made but it is already possible to have beautiful industrial parts.
What is my level of knowledge?
It's important to know where you stand in relation to 3D printing: are you a beginner? Do you have any technical skills in this area? The degree of knowledge in additive manufacturing could influence the choice of your equipment.
There are 3D technologies that are suitable for everyone; therefore, beginners can use FDM technology, they will find Plug and Play equipment, which combine hardware and software. The equipment is already assembled and it is possible to start molding directly.
On the other hand, there are 3D molding machines in kits, which will allow you to produce what you want but you will have to assemble the equipment yourself. If you are familiar with 3D printing and have skills in mechanics, 3D modeling, etc. you will be able to opt for more professional technologies such as SLA, SLS, Multi Jet, or DMLS that require additional training and attention to fully understand the whole process.
Where can I buy a 3D printer?
Now that you've clarified your project and you know what type of 3D printers you want to go to, one last question arises: where to buy it?
In terms of brands, the choice will not be missed. You can 3D printers online by going to Shoppok.com. They have a wide range of choices for whatever purpose and amount of budget you may have.
Do you like smart technology?! Read here our article about smart solutions for homes.
---
Interesting related article: "What is Additive Manufacturing?"