DineEquity, Inc., also known as IHOP Corporation, is a leading American restaurant industry corporation that operates and franchises the IHOP® and Applebee's® restaurant chains.
It is based in Glendale, California.
The company was founded by Al and Jerry Lapin and used to be known as IHOP until it acquired Applebee's International Inc – a deal estimated to have been valued at $2.1 billion USD.
DineEquity, Inc. is now one of the world's largest full-service restaurant companies, with over 3,600 restaurants across 17 countries, more than 400 franchisees, and around 200,000 team members.
According to DineEquity, Inc., the company's "goal remains to provide delicious, innovative dishes and exceptional guest experiences each and every time a guest walks through either brand's doors." 
Overview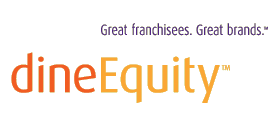 Chairman and CEO: Julia Stewart
Industry: Restaurants
Type: Public
Listed on NYSE
Stock symbol: DIN
Total revenues: $640,467 thousand USD (2013)
Net income: $72,037 thousand USD (2013)
Headquarters: 450 North Brand Boulevard, 7th Floor, Glendale, California 91203
Employees: 200,000 (approximately)
Website: http://www.dineequity.com/

Investor relations contact number: 818-637-3632
Over 3,600 locations
---
| | | |
| --- | --- | --- |
| Key figures (in thousands of USD except for share data) | 2013 | 2012 |
| Franchise and restaurant revenues | $502,586 | $712,580 |
| Rental revenues | $124,769 | $122,859 |
| Financing revenues | $13,112 | $14,489 |
| Total revenues | $640,467 | $849,928 |
| Gross profit | $369,692 | $391,944 |
| Net income | $72,037 | $127,674 |
| Total assets | $2,404,642 | $2,415,400 |
| Total stockholders' equity | $315,179 | $308,805 |
| Earnings per share – basic (in USD) | $3.75 | $6.81 |
| Earnings per share – diluted (in USD) | $3.70 | $6.63 |
Source: "DineEquity, Inc. Reports Significant Progress in Fourth Quarter and Fiscal 2013 Results"
Julia A. Stewart, Chairman and Chief Executive Officer of DineEquity, Inc., commented on the company's results:
"For DineEquity, 2013 marked the first full year as a 99% franchised company and a year of significant progress. IHOP achieved three consecutive quarters of increasingly positive same-restaurant sales and the highest annual increase since 2006. We are extremely proud of the results that the IHOP team and franchisees have achieved and hope to build on this success going forward. Applebee's continued to outperform its category, but we know that we can do better. We continued to demonstrate our commitment to create value for our shareholders by returning approximately $87 million in cash dividends and share repurchases. We have set the bar high in 2013 and look to carry this momentum into 2014."
---