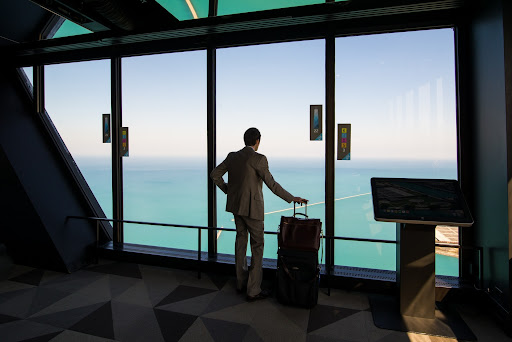 The coronavirus pandemic has affected every aspect of our life, including business and travel. Many companies have done what they can to reduce the risk of catching the virus, by allowing employees to work from home and imposing social distancing measures in their offices. Employers have reduced significantly the number of business-related travels, however, as our world returns to normal so is the business world, although with some adjustments. 
Covid-19 Impact On Business Travel
Travelling during the Covid-19 outbreak is believed to be very risky, even though flying was proved to have lower transmission rates than other 'risky' activities like inside dining or religious services. Concerns about being in close proximity to strangers, other passengers not wearing masks combined with the fear of flying led to such beliefs. Industry specialists are still struggling to understand how quickly business travel will return to normal, as there's no precedent to something like the Covid-19 pandemic.
The first thing you can do to protect yourself while travelling is to be vigilant and mindful of health protection measures. The virus that causes this rare but serious respiratory infection is extremely contagious and easily spreads among people. The strain of this virus is proving resistant to many of the most commonly used treatments which makes prevention of the virus more difficult. Even if you are fully vaccinated, it still does not mean that you cannot get infected.
How Covid-19 Testing Is Helping Business Travel
As travelling for work is now fully accepted, it is important that businesses acknowledge and prepare themselves for any mandatory testing and potential quarantines for their employees. For employees travelling internationally, it's important to be up to date on any new symptoms or changes in symptoms that might be experienced after contracting the virus.
Businesses are going the extra mile to ensure workplace travel can continue and the health and safety of employees is not compromised throughout their international travel. This is possible thanks to the easy and accessible Covid-19 testing process.
The UK government are now requiring that all vaccinated international arrivals take a Covid PCR swab test on day 2 after arrival. To facilitate the testing process, the UK government has been working closely with a number of private companies to provide coronavirus testing. This will ensure great support for companies that are struggling with their business travel requirements.
Conveniently located, most of the testing centres are in close proximity to the major airports, making testing for Covid-19 a hassle-free activity. Now, you can easily book online your pre-departure and arrival at Heathrow Airport to avoid any queues and inflated prices.

What You Need To Know About Heathrow Day 2 Test
The Heathrow day 2 test has proved to be an extremely useful addition to the health screening process in place. It allows important business trips to continue in a safe and secure way.
The booking process is very straightforward and so is the testing. Everything can be done online, and your presence is only required on day 2 when the actual Covid-19 test is done. Moreover, the testing only takes a few minutes, and then you're on your way.
The benefits of the Heathrow day 2 test are especially important for frequent business travellers since they are constantly exposed to new people on a regular basis, and therefore the risks of contracting the virus are high. The Heathrow day 2 test ensures that you do not spread the virus after your arrival in the UK, and thus protect your family and colleagues.
Preparation Is Key
The global pandemic has changed travel rules drastically with health measures imposed to limit the spread of the virus, which led to the assumption that travelling during the outbreak of coronavirus is a difficult task. In fact, with proper preparation and precautions, you can make the trip abroad during the Covid-19 pandemic a pleasant and rewarding experience. As long as you research your testing options in advance for your departure and arrival, your business travel can be done safely and with minimal inconvenience. To avoid any disappointments, make sure to book your day 2 Covid-19 test at Heathrow in advance, as there might be a shortage of supply given the increased demand.
---
Interesting Related Article: "Travel and Expense Management: A Complete Guide"