Dominion Resources, Inc. is an American energy and power company based in Richmond, Virginia.
It is one of the country's largest producers and transporters of energy.
Dominion Resources, Inc. is publicly traded on the New York Stock Exchange (NYSE) under the stock ticker symbol 'D'.
The company, which was incorporated in Virginia in 1983, has a portfolio of assets includes approximately 6,400 miles of electric transmission lines, 23,600 MW of generating capacity, 57,000 miles of electric distribution lines, 10,900 miles of natural gas transmission, gathering and storage pipeline and 21,900 miles of gas distribution pipeline.
Dominion supplies electricity to Virginia and North Carolina and supplies natural gas to areas in Ohio, West Virginia, North Carolina, and Pennsylvania, serving around 6 million utility and retail energy customers.
Dominion has three primary operating segments: DVP (electric distribution and electric transmission), Dominion Generation (regulated electric fleet, merchant electric fleet, nonregulated retail energy marketing) and Dominion Energy (gas transmission and storage, gas distribution and storage, LNG services, producer services).
Overview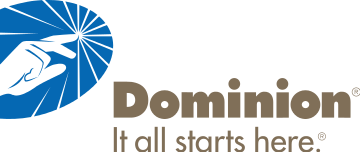 Chairman and CEO: Thomas F. Farrell II
CFO: Mark F. McGettrick
Type: Public
Industry: Energy
Publicly listed on the New York Stock Exchange (NYSE)
NYSE stock ticker symbol: D
S&P 500 Component
Revenue: $

13.120 billion USD (2013)

Net income: 

$1.720 billion USD (2013)

Diluted earnings per share: $

2.93 USD (2013)

Founded: 1983
Employees: 14,500 (2013)
Corporate headquarters: 120 Tredegar Street, Richmond, Virginia, USA
Corporate contact number: (804) 819-2000
Investor relations email address:

[email protected]

Website: https://www.dom.com
---
Operating data (in $ millions)

2013

2012

Operating Revenue
$13,120
$12,835

Electric fuel and other energy-related purchases

$3,885
$3,645

Purchased electric capacity

$358
$387

Purchased gas

$1,331
$1,177
Other operations and maintenance
$2,459
$3,091
Depreciation, depletion and amortization
$1,208
$1,127
Other taxes
$563
$550
Total operating expenses
$9,804
$9,977
Income from operations
$3,316
$2,858
Other income
$265
$223
Income tax expense
$892
$811
Net income
$1,720
$329
Net income attributable to Dominion
$1,697
$302
Balance sheet data (in $ millions)
Total assets
$50,096
$46,838
Total liabilities
$38,197
$35,956
Total equity
$11,642
$10,625
Cash flow data (in $ millions)
Net cash provided by operating activities
$3,433
$4,137
Net cash used in investing activities
$(3,458)
$(3,840)
Net cash provided by (used in) financing activities
$93
$(151)
Cash and cash equivalents at end of period
$316
$248
Common share data (in $)
Basic earnings (loss) per common share
$2.93
$0.53
Diluted earnings (loss) per common share
$2.93
$0.53
Source: "Dominion Resources, Inc. 2013 Annual Report"
---