The financial sector is among the top 10 industries that are rapidly adopting information technology. In 2021, there was a record number of FinTech startups in the world: 10,755 in America, 9,323 in Europe, the Middle East, and Africa, and 6,268 in the Asia-Pacific region. Statistics show that financial institutions seek to cooperate with IT companies to develop their business. The main thing is to find a reliable technology partner that will implement innovation on demand. Let's take a look at 10 financial software development companies that Clutch ranks as the most credible.
Saritasa
The American company Saritasa has been "empowering its clients with technology" for over 17 years. The team has implemented 1700+ projects, 20% of which were carried out for financial institutions. The company's employees have mastered such technologies as IoT and AR/VR.
Saritasa has developed an AR billing tool for Avadyne Health, the Penny Hoarder VR platform for a financial company, a trading education app, and other interesting products. Clients and Clutch users rate the team members' efforts at 4.8 stars, noting their versatile skills, honesty, and the ability to deliver projects on time.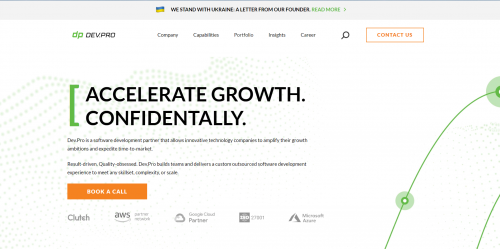 Source: saritasa.com
Andersen
Financial software development is one of Andersen's top priorities. Over the 15 years of its existence, the company has implemented 350+ FinTech projects, including digital payment solutions, applications for controlling the issuance of loans, BNPL platforms, mobile banking, and other products. Such brands as G Bank, TFinance, Narvi, ZILA, and other large organizations regard Andersen as a trustworthy partner. 
The company has 93 reviews on Clutch, and its current rating is 4.9 out of 5 stars. The team has reached such a level of professionalism because they care about a product as much as its owner does. Employees are sociable, quickly develop solutions, give regular feedback, and respect the budget. Inga Levich, CTO of Business Services Co, states: "They are professional in every field they touch." Now the team is working on 25 financial projects and is open to cooperation with SMEs and large enterprises.
Source: andersenlab.com
Praxent
For 20 years, this FinTech veteran has been helping financial companies become innovation leaders and upgrade their software. Praxent specializes in real estate, insurance, lending, and FinTech services.
The team has implemented over 300 projects, 75% of which are related to FinTech. Praxent is highly regarded by Amherst Holdings, Keller Williams, Cost Plus World Market, and other brands. Its developers updated and launched the BlueStar pension app, the Dimensional Fund Advisors financial advisory portal, a consumer loan builder app for Austin Capital Bank, and other platforms. Customers rate the employees' honesty, insight, and discipline at 4.8 stars.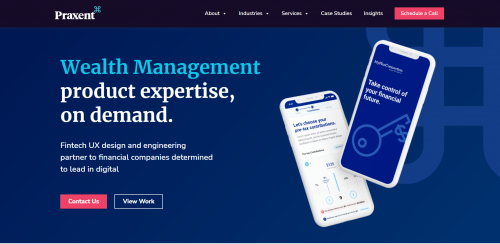 Source: praxent.com
Dev.Pro
Dev.Pro is an American company that has been scaling customers' software for more than 10 years. Its development teams are located in 50 countries on five continents, but this does not prevent them from building honest, prompt, and transparent communication with clients.
Dev.Pro employees have implemented more than 150 projects for Inveniam.io, Securrency, XCM, and other major players in the FinTech market, healthcare, retail, and technology. The team created the Heartland Billpay billing solution, set up digital certification of Inveniam's financial assets, launched the Coinsquare crypto lending platform, and so on. Customers appreciate the responsibility of Dev.Pro developers, their engineering capabilities, and creative skills. The company's services received 5 stars out of 5 on Clutch.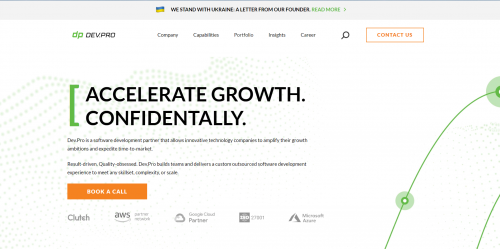 Source: dev.pro
Studio Graphene
Since 2014, Studio Graphene has been producing world-changing digital products based on a human-centric approach. By creating the most complex applications, the company makes them accessible to users. The team takes on projects of any level and scale, collaborating with both startups and global corporations (Canopy, Harth, Nesta, OrderPay, and others).
15% of Studio Graphene projects are for FinTech organizations. The team created the Mintago financial accounting software solution, the Agio exchange rate search platform, and the OrderPay payment application for goods and services. Clients rate the studio's work at 5 out of 5 stars for its flexibility, timeliness, and transparency. In particular, Ben Crawford, Creative Director at Xelba, notes that the application developed by Studio Graphene has saved hundreds of labor hours per month. The friendliness and openness of the team help clients to build effective and pleasant cooperation.
Source: studiographene.com
Merixstudio
Almost half of the Merixstudio projects (40%) are for financial institutions. For 23 years of providing outsourcing services, this Polish company has built a good reputation and attracted dozens of regular customers. The team turns ideas into digital products – mobile and web applications. The firm also deals with specialized solutions: Startup DNA, software modernization, or ML/AI development. 
With the participation of Merixstudio, the Facta cloud solution for financial data exchange, the Moneyfarm digital asset management application, the Genuine Impact investment risk management platform, and other products were created. Clients rate the professionalism, quality of work, and efficiency of employees at 4.8 stars out of 5.
Source: merixstudio.com
Yalantis
About 20% of the projects that this Ukrainian company carries out relate to finance. With 13+ years of experience, the Yalantis team knows how to implement mobile and web solutions for banks, insurance companies, and credit institutions. Employees have a high level of expertise in cloud computing, DevOps, big data, IoT, RPA, machine learning, and AI.
Clients like the punctuality of the team, its ability to adapt to any conditions, and customer focus. A high rating of 4.8 out of 5 stars on Clutch proves this fact. Sergio Miguel Vieira, Truhoo.es founder and CEO, noted that attention to detail in terms of budget, planning, and overall quality makes Yalantis a reliable and dedicated partner.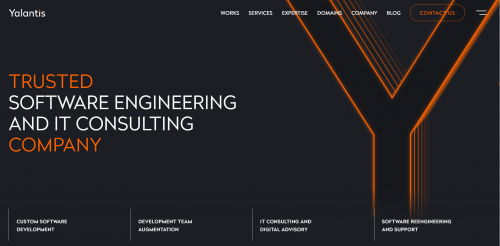 Source: yalantis.com
ITMAGINATION
Over 14 years of operation on the digital market, ITMAGINATION has completed more than 500 projects and gained the confidence of AXA, Mars, Credit Agricole, MoneyTrans, NFG, and other brands. In addition to standard software development and design services, the firm is building solutions for big data processing.
According to Clutch, more than 50% of ITMAGINATION's projects have been carried out for the financial industry. Good examples are Moneytrans, a mobile and web application for money transactions, a mobile platform for Insurance Tech, and other software solutions. Clients see the employees' exceptional talent and mention their profound knowledge and enthusiasm. As a result, they give the company 4.6 stars.
Source: itmagination.com
10Clouds
This American company with an unusual name focuses on blockchain development and FinTech consulting services. With its breakthrough solutions for Forbes, TrustStamp, Emergent, and other brands, 10Clouds has received awards from the Financial Times, Deloitte, Clutch, and others. More than 100 companies in the USA, Canada, Western Europe, and Australia trust this software developer.
Over 13 years of successful work, the team has spread such financial products as the G-Coin digital currency wallet application, the Crescent cryptocurrency application, and the Omise payment gateway around the world. Customers unanimously note the unique skills of employees and the responsiveness and dedication of specialists.
Source: 10clouds.com
Q-agency
Q-agency is engaged in software development and design services. Although the company has a short history (it was founded in 2013), its great potential and expertise are known in 20 countries. The team works on specific projects based on VR/AR, ML, and IoT and also offers standard software solutions. Employees know how to build Agile and DevOps development and how to approach each client.
Financial solutions constitute approximately 15% of Q-agency's projects. Clients are happy to cooperate with this Croatian company due to its discipline, professionalism, and ability to build partnerships.
Source: q.agency
Conclusion
The 10 outsourcing firms listed above can become reliable technology partners for the development, modernization, and support of financial applications. They have enough knowledge and the right tech stack to carry out projects of any scale and complexity. They have earned credibility and high ratings on the Clutch service. These outsourcing companies are mentioned first in the ranking of the best financial software development companies, which is a substantial reason for cooperation.
---
Interesting Related Article: "Software Development Trends That Will Soon Dominate"