DTE Energy Co. is an American energy company, based in Detroit, Michigan, that focuses on the development and management of electric and gas businesses and services in the United States.
The company, which was incorporated in the State of Michigan in 1995, is publicly listed on the New York Stock Exchange (NYSE) under the stock ticker symbol 'DTE'.
Its main businesses are:
DTE Electric – founded in 1903, DTE Electric generates, purchases, distributes, markets and sells electricity to around 2.1 million people in southeastern Michigan. It has three major classes of customers: residential, commercial and industrial. It has 671 distribution substations with around 33,648,000 kilovolt-amperes (kVA) of capacity and approximately 430,600 line transformers with a capacity of approximately 22,306,000 kVA.
DTE Gas – purchases, stores, transports, distributes and sells natural gas to approximately 1.2 million customers in Michigan. DTE Gas, which was founded in 1849, owns 278 storage wells accounting for roughly 34 percent of the underground working capacity in Michigan.
The company's other businesses are involved in power and industrial projects; energy marketing and trading operations; and natural gas pipelines, gathering and storage.
Overview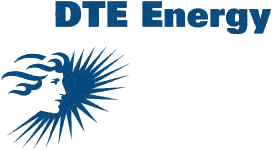 Chairman, President and CEO: Gerard M. Anderson
CFO: David E. Meador
Type: Public
Industry: Energy
Publicly listed on the New York Stock Exchange (NYSE)
NYSE stock ticker symbol: DTE
S&P 500 Component
Revenue: $9.661 billion USD (2013)
Net income: $668 million USD (2013)
Diluted earnings per share: $3.76 USD (2013)
Employees: 9,900 (2013)
Corporate headquarters: One Energy Plaza, Detroit, Michigan, USA
Corporate contact number: 313-235-4000
Investor relations contact number: 313-235-8030
Website: https://www2.dteenergy.com/
---
Operating data (in $ millions)

2013

2012

Revenue
$9,661
$8,791
Operating Expenses
$8,458
$7,512
Operating Income
$1,203
$1,279
Income Before Income Taxes
$922
$960
Income Tax Expense
$254
$286
Income from Continuing Operations
$668
$674
Loss from Discontinued Operations, net of tax
–
$(56)
Net Income
$668
$618
Net Income Attributable to DTE Energy Company
$661
$610
Comprehensive income attributable to DTE Energy Company
$683
$610
Balance sheet data (in $ millions)
Total assets
$51,499
$49,859
Total liabilities
$35,213
$39,560
Total stockholders' equity
$16,229
$10,208
Cash flow data (in $ millions)
Net cash provided by operating activities
$2,154
$2,209
Net cash used in investing activities
$(1,906)
$(1,769)
Net cash used in financing activities
$(261)
$(443)
Cash and cash equivalents at end of period
$52
$65
Common share data (in $)
Basic earnings (loss) per common share
$3.76
$3.56
Diluted earnings (loss) per common share
$3.76
$3.55
Source: "DTE Energy Company 2013 Annual Report"
---