Duke Energy is one of America's leading electric power holding companies, based in Charlotte, North Carolina.
It is publicly listed on the New York Stock Exchange (NYSE) under the stock ticker symbol 'DUK'.
The company provides energy to approximately 7.2 million customers, with more than 57,500 megawatts of electric generating capacity in the Midwest, North Carolina, South Carolina, and Florida. It also offers natural gas distribution services across Kentucky and Ohio.
Duke Energy's main business operations are:
Regulated Utilities – focuses on providing electricity to customers in North Carolina, South Carolina, Florida, Indiana, Kentucky and Ohio.
Commercial Power – owns and operates power plants mainly in the Midwest in the PJM Interconnection regional transmission organization.
Duke Energy Renewables – develops wind and solar energy solutions. It owns and operates solar and wind farms in 12 states that produce approximately 1,800 megawatts of electricity.
Duke Energy Retail – offers natural gas and electric services to businesses, industrial plants, local municipalities and multi-site customers in Ohio.
Duke Energy International – owns or has interests in approximately 4,900 gross megawatts of electric generation outside the US – mainly in Latin America.
Duke Energy traces its history back to the Catawba Power Company, which was created in the early 1900s by Dr. W. Gill Wylie, James Buchanan Duke and William States Lee. In 1904 the three opened their first power plant and began providing electricity to Victoria Cotton Mills in Rock Hill, South Carolina.
Overview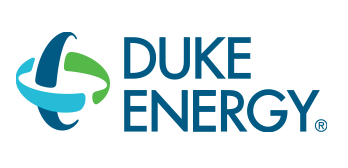 Vice Chairman, President and CEO: Lynn J. Good
CFO: Steven K. Young
Type: Public
Industry: Energy
Publicly listed on the New York Stock Exchange (NYSE)
NYSE stock ticker symbol: DUK
S&P 500 Component
Revenue: $24.598 billion USD (2013)
Net income: $2.676 billion USD (2013)
Diluted earnings per share: $3.76 USD (2013)
Founded: 1904
Founder(s): Dr. W. Gill Wylie, James Buchanan Duke and William States Lee
Employees: 27,948 (2013)
Corporate headquarters: 550 South Tryon Street, Charlotte, NC 28202-1803, USA
Corporate contact number: 704-382-3853
Website: http://www.duke-energy.com/
---
Operating data (in $ millions)

2013

2012

Regulated electric revenue
$20,439
$15,621
Nonregulated electric, natural gas, and other revenue
$3,648
$3,534
Regulated natural gas revenue
$511
$469
Total operating revenues
$24,598
$19,624
Total operating expenses
$19,600
$16,514
Operating Income
$4,982
$3,126
Income From Continuing Operations
$2,659
$1,746
Income From Discontinued Operations, net of tax
$17
$36
Net Income
$2,676
$1,782
Net Income Attributable to Noncontrolling Interests
$11
$14
Net Income Attributable to Duke Energy Corporation
$2,665
$1,768
Comprehensive Income Attributable to Duke Energy Corporation
$2,572
$1,696
Balance sheet data (in $ millions)
Total assets
$114,779
$113,856
Long-term debt
$38,152
$36,351
Total equity
$41,408
$40,941
Cash flow data (in $ millions)
Net cash provided by operating activities
$6,382
$5,244
Net cash used in investing activities
$(4,978)
$(6,197)
Net cash provided by (used in) financing activities
$(1,327)
$267
Cash and cash equivalents at end of period
$1,501
$1,424
Common share data (in $)
Basic earnings (loss) per common share
$3.77
$3.07
Diluted earnings (loss) per common share
$3.76
$3.07
Source: "Duke Energy Corporation 2013 Annual Report"
---