It's no secret that the e-commerce industry is booming. 
For example, in 2019, e-commerce sales accounted for 14.1% of retail purchases worldwide. With the global pandemic forcing more people than ever to shop online, you can expect this number to rise in the years to come.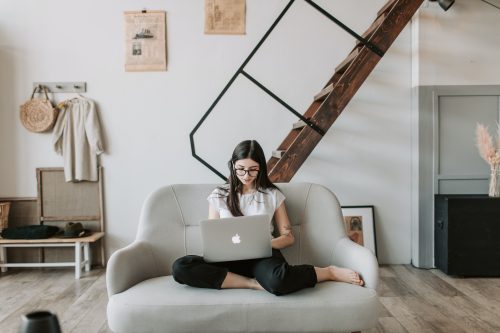 As an e-commerce marketing professional or online store owner, it's critical to track the key performance indicators (KPIs) and metrics that have the biggest impact on your business. If you are driving sales from organic traffic, those KPIs might look different than your goals for sales that are generated from display ads. 
But remember that there are a lot of KPIs and metrics that are nothing but noise. They seem important on the surface, but once you dig deep, you'll realize they're nothing more than a distraction. 
With this in mind, let's dig into seven eCommerce KPIs and metrics that really matter:
1. Impressions
Impressions are simple to understand. This is the number of times a piece of content or ad is presented to someone. Impressions are derived from a variety of sources, such as search engine results, social media, and paid ads. 
Impressions have nothing to do with clicks or sales, but it's still an important metric. This is because it provides a basic foundation for measuring your advertising, marketing, and sales efforts.
2. Engagement
Impressions are important, but engagement is what really matters. This is exactly what it sounds like: it's the number of people who engage with your content, such as sharing or liking it on social media, leaving a comment, sharing their email address, or making a purchase. 
By tracking engagement, you can better answer important questions such as: 
   

What is your audience most likely to engage with?

   

What type of engagement is most common?

   

What strategies can you use to boost engagement in the future? 
From content and social media to email, engagement is key. Without this, your message is falling on deaf ears.
3. Cost Per Acquisition (CPA)
Is an online store an online store if the store doesn't have paying customers? Did you follow that? 
This is where the cost per acquisition comes into play. It's vital to know how much you're paying to acquire customers as this allows you to project whether or not you can make a profit. 
For example, if it costs you $5, on average, to acquire a customer, and your average order value is $25, you're in the green. Conversely, if those numbers are reversed, you have some work to do.
4. Shopping Cart Abandonment Rate
An average documented online shopping cart abandonment rate of 70% is a huge problem for almost every e-commerce store.
There's nothing more frustrating than learning that shoppers are putting items in their cart but leaving before they make a purchase.  
A high abandonment rate can point toward bigger problems, such as a glitch in the checkout process.
5. Sales Conversion Rate
Without sales, your online store will only make it so long. That's why it's critical to closely track your sales conversion rate. 
This is calculated by dividing the total number of sales by the total number of visitors to your store. 
Knowing your sales conversion rate helps you answer one very important question: how much traffic do you need to generate to reach your sales targets?
In addition to a high-level overview, you can calculate your sales conversion rate based on:
   

Conversion rate by product category

   

Conversion rate by traffic source (Google Ads, search engines, email marketing, social media, etc.)

   

Conversion rate by a campaign, such as if you're working with social media influencers
6. Repeat Customer Rate
Here's a statistic that'll open your eyes: It can cost up to 5x more to acquire new customers than it does to keep current ones. 
Many online stores simply assume that they have repeat customers. But do you really know what your repeat customer rate is? 
Measure this by tracking what percentage of customers have purchased in the past. This will tell you what buyers think of your product, value for the money, and customer service.
7. Refund and Return Rates
Your online store will quickly fall apart if your refund and return rates are too high. It doesn't matter how many sales you make upfront if a large percentage of customers are asking for refunds and/or submitting returns. 
Tracking refund and return rates allow you to answer questions such as: 
   

Which products are prone to the highest rate of refund and return?

   

Is your refund or return rate higher in particular categories of your store?

   

Are the customers who return items purchasing others? 
Even if you expect a certain number of refunds and returns, you can't sustain profitability if this rate is too high.
Final Thoughts on Ecommerce KPIs and Metrics
As you can see, there is no shortage of KPIs and metrics to measure and track. 
A clear focus on this data will give you a better understanding of how your business is performing, what you need to change, and how you can better reach your goals in the future. 
What KPIs and metrics do you consider most important? Do you track the seven above?
---
Interesting Related Article: " Top KPIs to analyze your social media performance"