Popular e-commerce and gaming sites like Lootie offer a variety of deposit methods to ensure that all sorts of people can have fun purchasing items or unboxing crates. Before making any decisions, when it comes to spending your money and making educated sound business/wealth related decisions be sure to learn as much as you can from different sites such as Lootsie.
Whether you're a crypto fan, a hardcore gamer, or just an average player, there is a deposit method out there that is tailored for your needs.
For example, if you're on a website that accepts various different deposit methods, such as Lootie, you typically follow these 3 steps:
Step 1: Choose a deposit method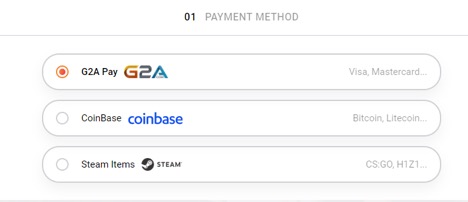 Step 2: Select an amount

Step 3: Click deposit!
G2A Pay
G2A Pay is a payment partner for many websites. Through G2A Pay, you can deposit on gaming sites like Lootie using over 200+ local and global payment methods. G2A Pay includes the following popular deposit methods:
Popular debit cards (Visa, Mastercard, etc.)
Popular credit cards (Visa, Mastercard, American Express, etc.)
Alipay
Webmoney
PayPal
Paysafecard
For a full list of deposit methods that G2A Pay uses, click here.
Deposits made through G2A Pay are easy, fast, and intuitive. Note that deposits may take up to 15 minutes to appear in your balance due to varying processing times.
Coinbase
Coinbase is one of the world's most popular cryptocurrency interfaces.
With cryptocurrencies, you can make payments anonymously and with very low fees.
If you have an existing Coinbase account with money loaded onto it, you can make an instant deposit onto a site like Lootie.
Coinbase accepts the following major cryptocurrencies:
Bitcoin
Bitcoin Cash
Ethereum
Litecoin
USD Coin
If you own cryptocurrency, Coinbase makes getting started on gaming sites quick and easy.
Steam Items
If you're a gamer, you probably have a lot of valuable Steam items sitting in your inventory. Luckily, you can use Steam items as a deposit method for several major game sites!
Don't forget to first add your Steam Trade URL to your gaming profile. This will allow your Steam account to be linked to your website account. After that, simply select "Steam Items" as your preferred deposit method, select the game, choose the items, and you're off to your first unboxing on a great gaming site like Lootie!
Comparison of payment methods
---
G2A Pay pros:
Wide range of deposit methods
Accepts major debit/credit cards
Accepts PayPal
G2A Pay cons:
Up to 15 minutes processing time
Possibly linked to your identity
---
Coinbase pros:
Wide range of cryptocurrencies
Instant deposits from Coinbase accounts
Complete anonymity
Lower transaction fees
Faster deposits
Coinbase cons:
You must already have cryptocurrency
---
Steam Items pros:
Great for gamers
Fast deposits
Can convert online items into IRL items through mystery boxes
Steam Items cons:
You must already have in-game items
---
Interesting Related Article: "PayPal Is Still The King In Online Payments But Till When?"