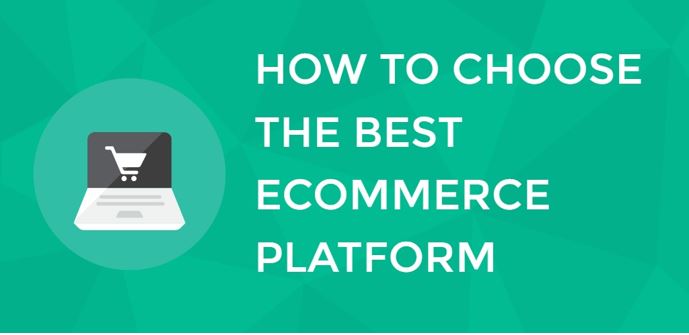 Let me assume that you want to purchase eCommerce software instead of building your web store from scratch. You seek a good eCommerce platform to start your online store or business. Would it be wrong to guess that you want to kick-off the business as soon as possible?
Until now, you might have been through numerous websites, blogs, and white papers, looking for the best eCommerce platform for your online store, and I am certain that you somewhat are confused now.
"Shopify is quick and easy, everyone is using it."
"Go for Magento development services. Magento is so scalable."
"PrestaShop is quite popular these days."
"Create on BigCommerce, It's really big."
"Why don't you go with Drupal Commerce, it's free."
This is just a glimpse of all the advice you get in your quest to choose eCommerce software for your online store. I mean, there are so many options, but how to choose an eCommerce platform that is perfect for your needs?
This article will cover a lot of stuff to help you do so. I will tell you the ways to pick the right donut from a mountain of all luscious donuts. AKA, you will acquire enough awareness of these eCommerce software solutions that picking up the right one would not be a problem anymore. So let's get going.
Why eCommerce platforms matter?
We can create and launch a blog or official website by simply coding some HTML pages, but we still use the solutions like WordPress and Drupal, Why?
Because reinventing the wheel each time we need one is not moving forward. You have the wheel, so build a cart with it. You need a website, and there is a ready-made solution for it. Take it, build a website, and focus on developing on top of it if the existing features are not enough.
That's why you need an eCommerce platform to get all the basic eCommerce utilities like front-end, back-end, CRM, inventory management, product listing management, order fulfillment management, etc. as readily available.
Should you randomly choose any popular Commerce platform?
No! There was a time when a simple ability to list products online, a virtual shopping cart, and a payment gateway was enough to start an eCommerce business. In fact, no eCommerce business would even care to optimize the mobile shopping experiences.
As of today, having the ability to sell online is not enough to succeed in the market; you have to stand out from the crowd. The crowd will notice you only when you have something unique to offer. However, that uniqueness is not just about products but also involves offering a smooth shopping experience; better than your rivals do.
Everything we discussed above depends entirely on the abilities of your eCommerce platform. It's the backbone of your business, and it literally limits you from implementing your creative ideas, if you choose the wrong eCommerce platform.
What works for others might not work for you. Any random eCommerce platform will not do the job. You need to understand some 'behind-the-scenes' to identify the best eCommerce platform for your kind of job.
Different types of eCommerce platforms
When it comes to choosing an eCommerce platform, most people consider the business models of software vendors. No doubt, it's important, but most of us overlook several other factors or we don't even know much about them. We will classify eCommerce platforms based on five such factors:
Factor 1: Based on the eCommerce model
Factor 2: Based on the Business model
Factor 3: Based on Product type
Factor 4: Based on the Revenue model
Factor 5: Based on the Delivery model
Note: All of these classifications represent a different kind of eCommerce business activity. However, the eCommerce platforms that satisfy these classifications might fall into one or more than one of these categories, too.
Factor 1: Based on supply-chain
Today, eCommerce businesses follow various supply-chain streams to procure and fulfill the orders. Considering the supply-chain factors, we can classify the eCommerce solutions into three major categories:
Inventory-based
These solutions come ready-made with the features required to enlist, sale, and fulfill the orders right from an in-house inventory. Businesses that use inventory-based eCommerce platforms manage their own inventory of products and use the same to fulfill the orders on-demand.
Example of similar businesses: nike.com
Multi-vendor Marketplace
Businesses who don't want to manage an inventory can let third-party sellers sell products/services on their platforms. The business is responsible for picking up the orders from the sellers and delivering them to customers. In return, the multi-vendor eCommerce business takes a percentage cut from the respective sellers on each order they fulfill. To build a multi-vendor marketplace effortlessly, Yo!Kart is a standalone multi-vendor e-commerce platform.
Another popular multi-vendor grocery eCommerce platform is Growcer. It comes with customizable features and functionalities that can be tailored as per business requirements. Being a self-hosted platform, Growcer is a ready-to-launch solution with readymade buyer and delivery boy apps where all technical aspects are taken care of. Platforms like Instacart, FreshDirect, Walmart, Peapod, and more, can be built using Growcer. Apart from many benefits, Growcer also offers 12 months of free technical support.
Example of a similar business: Amazon.com
Dropshipping-based
Works mostly the same as the multi-vendor marketplace model, except the multi-vendor eCommerce business is not responsible for the delivery of the orders. The sellers manage the delivery of the orders. The eCommerce platforms with this model integrate dropshipping APIs from the various dropshipping suppliers.
Example of similar businesses: Almost all popular businesses like Amazon and Alibaba support drop shipping these days.
Factor 2: Based on the Business model
The basic business model of any eCommerce activity relies on the fact that anybody can sell products/services to anyone on the internet. Depending on who the sellers are and whom they sell to, we can categorize an eCommerce business into three categories. The same classification also aligns with the eCommerce platforms you can choose to create such business models.
B2B eCommerce platforms
When a business is selling to other businesses in the market, its B2B eCommerce. There are specific eCommerce platforms that support unique features for B2B selling. Aspects like wholesaling, quotes, credit buying, logistic support make such platforms unique from others.
Example of a similar business: Alibaba
B2C eCommerce platforms
Businesses that sell directly to the consumers follow a B2C eCommerce model. This model is most popular for starting an online business. Almost every popular eCommerce platform in the market supports this model.
Example of a similar business: Bestbuy.com
C2C eCommerce platforms
When the business owner does not sell anything but let the customers sell to each other, it follows the C2C business model. They also call it a peer-to-peer eCommerce model, which businesses use to facilitate the commerce of products and services among the customers itself.
Example of a similar business: eBay.com
Factor 3: Based on Product type
This is clear as water. You can sell products or services on an eCommerce website.
Product-based eCommerce
Solutions with features to sell physical or digital products are product-based eCommerce platforms. Most of the popular eCommerce platforms support this model.
Examples of similar businesses: Amazon, eBay, Etsy Alibaba, and Best Buy, etc.
Service-based eCommerce
If a business deals with selling services instead of products, it needs a service-based eCommerce platform to get unique features like placing a service request, proving service requirements, connecting with service providers, managing post-service payments, commissions to the service providers, etc.
Examples of similar businesses: Thumbtack, TaskRabbit.
Factor 4: Based on the Revenue model
Until now, we learned about different business models and their eCommerce platform types. However, an eCommerce business is not limited to just selling stuff. It's more than that.
Sales-based eCommerce
When businesses sell products and services, they deal with sales-based eCommerce activities. Almost all the eCommerce platform, be it a product-based or service-based, follow the sales model.
Rental-based eCommerce
The eCommerce business following this model does not sell products or services. Instead, it rents the same to the customers. The customers can return the same once it's not required anymore. Hence, such eCommerce platforms follow a subscription model instead of one-time payments. Customers subscribe and pay regular rentals instead of purchasing the products upfront.
Examples similar businesses: Airbnb house rentals, Turo car rentals, etc.
Factor 5: Based on the licensing model
This is the most important factor to consider while choosing an eCommerce platform. The particular factor decides the cost of the eCommerce platform and how efficient is your solution in the long run. Based on the acquisition, licensing, and maintenance costs, we can classify the eCommerce platform into five major categories:
Enterprise Licensed Platforms
Vendors sell such eCommerce platforms with licenses for a limited time. You need to renew your license periodically to keep your website live. You can also customize the platforms as per your requirements as you also get API-based access to the source code.
Suitable for starting a medium scale eCommerce business with thousands of products and high website traffic.
Cost of acquiring: Highest
Cost of Maintenance: High
Scalability: Mid-level
Customizability and control: Limited
Example: Hybris, Magento Enterprise, IBM Digital, and Oracle Commerce.
Free Open-Source platforms
These are stand-alone eCommerce platforms with an open-source license. You don't require paying any charge for obtaining the source code. However, you might have to perform some initial developments and customizations, which requires paying to the third-party developers.
Suitable for starting small-scale web stores with inventory models. Mostly, up to thousands of listing and mid-size website traffic.
Cost of acquiring: Free
Cost of Maintenance: High
Scalability: Mid-level
Customizability and control: Mid-level
Example: PrestaShop, Magento Community, and OpenCart
Headless eCommerce platforms
These are similar to free open-source platforms, except they are not stand-alone. They are plugins for popular CMS platforms, which when installed add eCommerce features to traditional CMS solutions like WordPress, Joomla, and Drupal. However, the CMS and eCommerce functionalities work as two decoupled entities.
Suitable for small-scale implementations with lower capital investment. Supports hundreds of products in the catalog.
Cost of acquiring: Free
Cost of Maintenance: Low
Scalability: Low
Customizability and control: Low
Example: WooCommerce for WordPress, Drupal Commerce for Drupal.
SaaS eCommerce platforms
If you seek a ready-made solution managed by the vendors itself, SaaS is your best bet. The vendors deliver these eCommerce software solutions via cloud services. As a result, they are closed-source. However, vendors manage everything from development, customization, and hosting to upgrades. In return, you would be paying a monthly fee based on the plans you select.
Suitable for small-scale businesses or individuals without a team. Requires a decent budget to handle the recurring payments.
Cost of acquiring: Low
Cost of Maintenance: Highest (but in installments)
Scalability: High
Customizability and control: Lowest
Example: Shopify, BigCommerce, and Volusion.
Premium Open-Source
If you seek a ready-made eCommerce solution but also want open-source code access, you can purchase premium open-source platforms. With an upfront one-time payment, you can own the source code. Though the platforms come as a ready-made, you can still access the source code to customize the platform as per changing needs and demands.
Suitable for medium and large-scale implementations. Requires custom developments, upfront investments, and supports millions of listings. Best choice if you seek marketplace software for the business.
Cost of acquiring: Mid (upfront)
Cost of Maintenance: Mid-level (upfront)
Scalability: Highest
Customizability and control: Highest
Example: ShopyGen Node.Js shopping cart
Choosing an eCommerce platform for long term
Selecting an eCommerce platform is a long-term commitment. The more time you give in the research, the lesser are the chances to stall your business. Since you know your business idea better than anyone else does, it's easier for you to compare the solutions based on the offered features. What you must consider is the cost (acquiring + maintenance), your technical competence, technology stack, and the customizability of the platform.
Go for a platform with good tech stacks. Investing in cheaper and monolithic tech stacks will only lead to slow and sluggish user experiences. Make sure you invest in an easily scalable solution in terms of features, product listings, databases, website traffic, and code-base. Rest everything depends on your innovative ideas and the customizability of the platform to accept those.
---
Interesting related article: "What is E-Commerce? Definition and Examples"