The economic benefit from Australian's Spring Carnival has been believed to have a strong economic impact on places such as Victoria. The economy has seen record amounts of hundreds of millions of dollars being contributed. These "value-added contribution", is not only money from within the state but from overseas as well. The large impact that this sport has provided is unparalleled, easily beating any other sport in the state with its contributions.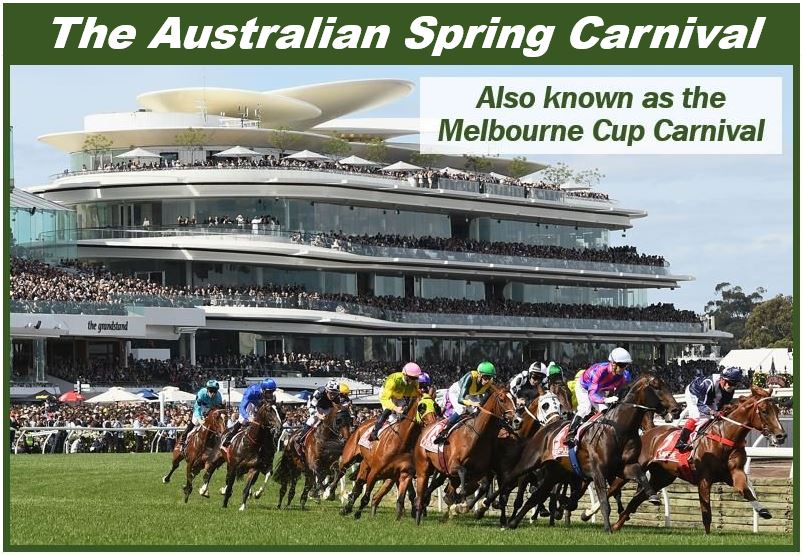 Commercial accommodations have seen spending amounts of around 40 million in 2016 and over 250,000 bed nights within the same year. These accommodations would also lead to an estimated 80 million in revenue brought to the fashion, grooming, and retail stores. Included in this amount is also the expected amount that this event brings to the food and beverage industry while the event is ongoing.
Employment Rates
The event itself normally employs up to 20,000 people. Between local staff and contractors a total of 900 companies are normally involved until the event ends. Globally,  The first run of the Melbourne Cup was in 1861, the Broadcast for the Melbourne Cup in 2017 was accessible in 163 countries.
Although they advertised the event through normal mainstream media sources, they would later choose to go with some more alternatives. In 2017, it was identified to focus on campaigns in both the Snapchat and Twitter social media groups. They focused on making people aware of the event by getting millions of views of their recordings and by the reposting of the hashtag, "#MelbourneCup".
Support Local Community
Among the four days that are normally involved in the Cup Week, Australia sees that these four race days are the most attended every year. They focus their actions that not only support the local community, but all individuals due to the state-wide support for this event.
The event is often stated as not only unrivaled but also increasingly better with each year. In fact, they have made the statement their goal is to make each year better than the year prior.
Bringing in Foreign Money
Overall, since 2014, they have seen an increase in the economy by almost 20% due to the large amount of revenue that this event brings. They are bringing in not only local money, but foreign money as well. They have estimated that around 35% of people are out of state, with over 20,000 of them coming as visitors from 31 countries overseas. Last year the Melbourne Cup Carnival kicked off on November 2. Also known as Victoria Derby Day, it would continue until November 9th.
Summary
As a large success story it is easy to say that this company impacts both its local economy and the world. Globally it could easily be argued that this event almost works with a thousand companies and vendors.
Most of these companies that even work with this event are some that continue to reach customers around the world. In foreign countries with different social media groups they also work with these platforms as well to give anyone the option to access this event.
As the event continues to grow, it can easily be expected that in the next decade the event should continue to grow up to another 20% based on its growth in previous years. Accommodations are high on demand. Largely due to their advertising contracts that are able to reach more people and communicate this unique sport they have without question become a record economic event.