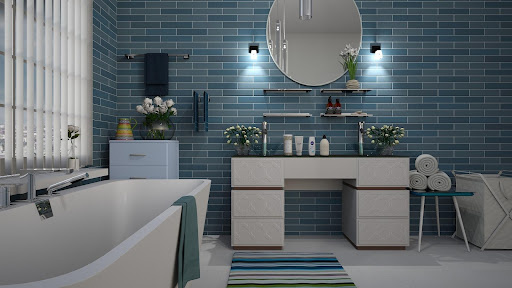 If you're looking to transform your bathroom into a space that's visually stunning and efficiently serves your everyday needs, you've come to the right place. In exploring creative ideas, we'll uncover innovative concepts, design hacks, and thoughtful solutions that will help you revitalize your bathroom into a haven of both aesthetics and practicality. Whether you're embarking on a complete renovation or seeking to breathe new life into your existing setup, read on as we unravel the endless possibilities that can turn your bathroom makeover dreams into reality. Get ready to be inspired, informed, and motivated to embark on a journey of reinvention for one of the most essential spaces in your home.
Settle On a Color Scheme
We know it's tempting to make your bathroom resemble a rainbow; who doesn't like colors, right? However, this often gives the bathroom a messy look, as not all colors go together. When deciding on a color scheme, remember to consider the dimensions of the bathroom and the lighting. If you have a small bathroom, refrain from using dark colors, as they virtually shrink the place. Opt for light colors to give it an airy and breathable look.
On the other hand, if your bathroom is big, you can use dark colors to give it a more refined and intimate look. Contemplate employing a balanced range of neutral tones highlighted by vibrant splashes of color.
Upgrade Your Fixtures
Elevating the charm and practicality of your bathroom involves upgrading the conventional fixtures with exquisite ones. From elegant faucets that combine both style and function to lavish showerheads that surround you in soothing streams of relaxation, every detail holds significance. Enrich your bathing sanctuary by hiring a shower replacement company, ensuring flawless installations and superior artisanship. Explore how each fixture resonates with your personal taste and practical requirements, shaping a harmonious environment that revitalizes both body and mind. Elevate your daily rituals, turning the ordinary into the extraordinary, all under the guidance of reliable shower replacement specialists.
Embrace Natural Light
Nothing is more comforting and rejuvenating than the sun's rays delicately falling on the bathroom floor. The way natural light brightens up a room is often difficult to replicate. Design your bathroom in such a way that allows plenty of natural light to come in. Large windows with café curtains are a great way to let in light while maintaining privacy. Using sheer curtains and strategically placing mirrors, you can create an ambiance that uplifts your mood and adds a touch of charm and serenity to your bathroom.
Built-In Storage
Improve the functionality of your bathroom while keeping its visual appeal with smart built-in storage solutions. Gone are the days of sacrificing aesthetics for storage; the current standard smoothly blends the two. Incorporate recessed shelves or cabinets behind mirrors and walls to reveal the art of disguised organization. This discrete upgrade increases storage capacity and adds a touch of elegance to your bathroom. Imagine easily storing toiletries, makeup, and linens while your bathroom remains uncluttered. Slide-out shelves allow you to easily reach often-overlooked nooks, ensuring that every square inch of your space is fully utilized. Collaborate with experienced designers who specialize in maximizing space while maintaining flair.
 Divide Your Space
Discover novel ways to divide and improve bathroom spaces. Consider installing a contemporary glass partition between your bathtub and vanity for a stylish and useful touch. Choose a smart folding screen to add a distinctive design element and vintage elegance while establishing private space around the toilet area. Your bathroom will appear and feel different if you divide the space creatively. You can hire an experienced bathroom remodeler or an interior designer to help you divide the space that looks attractive and functional at the same time. With a little effort and creativity, you can give your bathroom a useful makeover while customizing it as per your tastes and needs.
Bring Technology Into The Bathroom
Immerse yourself in the future by adopting cutting-edge technology that defies convention. Elevate your daily routines with an innovative smart mirror with built-in LED illumination that adapts to your selected atmosphere and touch controls that give you easy control over settings. Allow your favorite music to soothe your mind as you relax in a soothing soak. Moreover, embrace the automation with touchless faucets and incorporate heated floors that give your soul soothing warmth. This symphony of technical marvels caters to your every need, transcending the ordinary and creating an exceptional refuge within the confines of your bathroom. 
Opt For Statement Tiles
Tiles adorned with mosaic patterns, intricate details, and vibrant color palettes establish an artistic focal point that enhances the overall bathroom ambiance. On the other hand, geometric motifs provide a contemporary and modern flair, introducing a touch of sophistication to the bathroom decor. Whether you opt for hexagonal, chevron, or herringbone arrangements, these tiles make a striking proclamation and evoke a sense of visual satisfaction. 
Custom Vanity Design 
A custom-designed vanity can be the centerpiece of your bathroom makeover. Tailored to your needs, it offers both style and functionality. Incorporate ample countertop space, storage drawers, and possibly double sinks for a shared bathroom. Mixing marble, quartz, or concrete materials can lend a unique and contemporary touch to your vanity area.
Conclusion
As we wrap up this journey through creative ideas for a stylish and functional bathroom makeover, it's clear that the potential for transforming your bathroom into a true masterpiece is boundless. You can elevate this essential space beyond mere functionality by incorporating innovative design concepts with practical solutions. Embrace the interplay of colors, textures, and fixtures that resonate with your unique personality and needs, creating a sanctuary that speaks to your senses and sensibilities. Whether it's a simple refresh or a complete overhaul, remember that every element plays a role in crafting a useful bathroom and reflects your taste and lifestyle. So embark on this exciting endeavor, and let your bathroom become a canvas where creativity and functionality harmoniously converge.
---
You may be interested in: What you need to consider before buying bathroom suites