Are you considering buying an electric scooter? If so, you'll need to buy a motor scooter helmet too. But which one should you choose? In this guide, we'll take a look at the different types of electric scooter helmets available and help you decide which one is right for you. 
We'll also discuss how to choose the right size and fit for your head. So, read on for all the info you need to buy the perfect motorized scooter helmet, whether you're a beginner or a pro. 
Various Helmet Types 
Following are the various types of helmets: 
Moped Helmets 
Moped helmets are not just for motorcycles anymore. In recent years, the adult scooter has become a popular mode of transportation. As a result, many motorized scooter riders are finding that a moped helmet offers the perfect combination of protection and style. 
Moped helmets are designed to protect the rider's head in the event of a fall and provide a measure of protection from the elements. In addition, moped helmets can be a great way to make a fashion statement. 
With their sleek design and variety of colors, moped helmets can help you stand out in a crowd. So whether you're looking for protection or style, a moped helmet can be a great choice for your next ride.
Full Face 
A full-face helmet offers the most protection, covering your entire head and face. This type of helmet can help to prevent serious injuries if you are involved in a fall or collision. A full-face helmet can also help protect you from the elements, such as wind, rain, and sun. 
Whether you are new to electric scooters for adults or have been riding for years, make sure to always wear a helmet for added safety.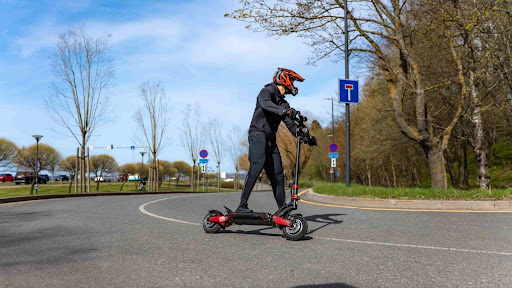 Modular 
Whether you're zipping around town on an motorized scooter or hitting the open road on a motorcycle, a modular helmet is an excellent option for riders who want the best of both worlds. A modular helmet has a full-face shield that offers protection from the elements and a visor that can be flipped up when you need to take a quick break. 
Off-Road 
An off-road helmet offers a number of advantages over a regular helmet, including a more rugged design that can stand up to more abuse, as well as better ventilation to help keep you cool. 
In addition, an off-road helmet typically has a visor to help protect your eyes from the sun and debris. Also, an off-road helmet will help keep you safe while you're having fun on your adult scooter.
Dual Sport 
A regular bicycle helmet won't provide enough protection in the event of a fall, so you'll need to purchase a dual sport helmet specifically designed for riding an best electric scooter. These helmets provide more coverage and are better able to withstand impact. 
They also typically have better ventilation to keep you cool while you ride. So, if you're planning on riding an adult scooter, make sure to invest in a good quality dual sport helmet. It could just save your life. 
How to Choose the Right Size of Helmet and Fit for Your Head?
When choosing a helmet for riding an motorized scooter, it is important to consider both the size and the fit. The helmet should be sized to cover the entire head without being too loose or tight. 
A good way to test the fit is to put the helmet on and then try to move it around on your head. If the helmet slides or shifts, it is too loose and needs to be adjusted. The straps also need to be tight enough so that the helmet does not come off in the event of a fall. 
In addition, it is important to choose a helmet that has been certified by a reputable organization such as the US Consumer Product Safety Commission. This will ensure that the helmet meets safety standards and will provide adequate protection in case of an accident. 
Advantages of Using a Helmet 
The helmet is the most effective safety gear that helps to protect the rider's head during a fall or collision. It is estimated that wearing a helmet can reduce the risk of head injury by up to 85%.
Besides protecting the rider's head, a helmet also helps to protect the face and jaw from impact. In addition, helmets can help to dissipate the force of impact, which can minimize the severity of injuries. 
While riding an e scooter, it is important always to wear a properly fitting helmet. A good helmet should fit snugly and remain in place even when the rider moves around. In addition, the straps should be adjusted so that the helmet is secure but not so tight that it is uncomfortable. 
In addition, the helmet should be replaced if it is damaged in any way. By taking these precautions, riders can help to ensure their safety while enjoying the convenience of riding an adult scooter. 
Buying Guide of Scooter Helmets for Adults
Whether you're a seasoned scooter rider or just getting started, choosing the right helmet is important. But, of course, the most important factor in choosing a helmet is making sure it fits properly. To find the right size, measure around your head about an inch above your eyebrows. 
Once you have your head circumference, consult a size chart to find the corresponding helmet size. Next, you'll want to consider the shape of the helmet. For example, rounder heads should look for helmets with a rounder shape, while oval-shaped heads will be more comfortable in an oval-shaped helmet. 
The third factor to consider is the material. Most helmets are made from either polystyrene (EPS) or polycarbonate (PC). EPS is more common and typically cheaper, but PC is stronger and can better withstand multiple impacts that EPS can crack after just one minor fall. Helmet construction is another important consideration. 
For the best protection, look for helmets that have an inner EPS layer and an outer PC layer. Finally, you'll want to consider weight and price when choosing a helmet. Heavier helmets offer more protection but can be uncomfortable to wear for long periods of time. 
In terms of price, remember that you get what you pay for – so don't skimp on safety by choosing the cheapest option. With these factors in mind, you're sure to find the perfect scooter helmet for your needs. 
Conclusion 
Electric scooter helmets are a must for anyone who wants to ride an motorized scooter. Helmets protect your head in the event of a fall or collision, and they could save your life. In this ultimate guide to adult scooter helmets, we've provided everything you need to know before making your purchase. 
We've covered the different types of helmets available, how to choose the right size and fit for you, and some tips on taking care of your new helmet. So, what are you waiting for? Start shopping for your best electric scooter helmet today!
---
You may be interested in: How much should you pay for a motorcycle helmet?