There's still the fact that sounds even odd. But it's true. The matter is that small business owners often underestimate email marketing. Or even completely ignore it. Why?
They simply consider it as something for big business only. But it's a total misunderstanding. Right, email channels are used by large scale businesses worldwide. But this tool is great not only for famous brands with big budgets. 
In fact, quite the contrary. This marketing method probably fits small businesses even more than large scale companies and corporations. Let's investigate the objective situation.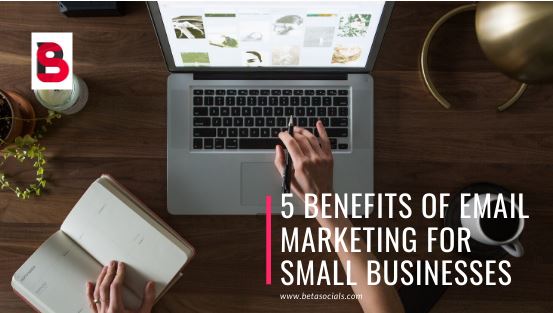 Firstly, big businesses have big money. So their resources are enough to test various strategies and tactics. They can promote themselves via multiple media channels, make professional TV commercials, install billboards, etc. In other words, they have dollars for everything.
Unlike them, a smaller business budget is strictly limited. So every dollar spent on marketing needs must work. Small business needs to be sure that investments will bring profits. So the first reason is: 
Return on investment is a key condition 
According to stats data, email marketing is really the most profitable online marketing channel, with an amazing ROI of up to 4400%. I guess you know this fact. And it seems to be already enough to say loud "yes" to email marketing. One spent dollar brings 44 bucks – a strong argument.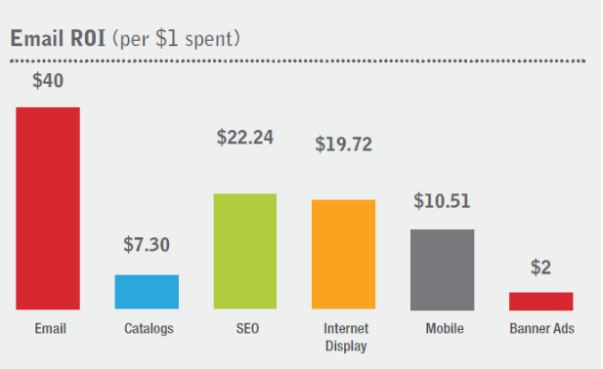 Apart from other conditions, this performance level is caused by the technical features of the email channel. Basically, it's cheap. No needs to spend money on printing, paper, physical mailings, etc. We typically pay only for HTML template builders and ESP tariff plans. They are not expensive and won't damage the budget. What matters here is the choice of the best tools. Our solution is Stripo.email + eSputnik, by the way. 
Speaking about tools, email marketing is easy to manage. Modern services are usually equipped with a set of features to ease marketers' mission and provide them with options to implement ideas. We can craft an HTML email template and send it by ourselves. No coding skills. No third party coders and designers are needed. As a result, fewer expenses.
We could also mention the fast and reliable delivery of emails here… But well, enough with common knowledge. Let's proceed with other encouraging benefits.
More benefits 
Besides budget optimization, there are other features useful for small businesses. Let's examine these profits and what special features are emerging now about them. You guess right, many things are caused by 2020 trends and novelties:
Constant engagement and relationships improving
Email marketing is a way to keep in touch with customers on a constant basis. People appreciate it when you accompany and support them on their way, show your care, and solve problems. It improves relationships as it's more convenient than other channels to get connected, f.ex. by phone or Skype. With emails, clients choose the perfect time to get in contact.
In addition to actual clients, it helps you to extend clients' databases and engage new people. It brings growth to your business and boosts sales. Especially when you come with expert-level content and use integration with other channels.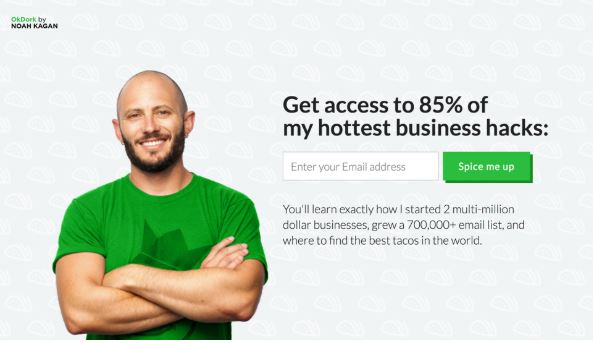 What tips are the hottest for today? Regarding high-quality content, AMP 4 Emails' popularity is constantly growing. Use its opportunities to enhance your content with new ways of presentation and structuring. Turn emails into mini websites. Clients don't like to make extra moves now. And they like it when everything in close access instead. 
Arrange content in a space-saving way with image rollovers and accordions, add feedback options… there are many solutions to implement AMP!
It is forecasted for 2020 that deeper integration with social media channels will be in trend. We mean not only regular socials icons added to emails as these elements are default today. In 2020, interaction with socials reaches a new level. Sales via socials platforms is an amazing opportunity to promote small brands and their goods – as well as to collect user-generated content. AMP feedback blocks are of great use here.
For small businesses with respectively limited clients audience, it works very effective when customers become your voluntary advocates and commercial agents. It brings cozy and friendly atmosphere to your business. 
Let's logically continue with the next hot trend. AI-based email marketing automation getting more and more powerful. So…
Targeted strategies through personalization
…and hyper-personalization. We all know that personalization is not only about kind addressing by names. Back in 2019, hyper-personalization was in trend. It's still actual. And empowered by advanced AI algorithms.
In a dedicated post, we can read more about how AI automation is applied to email marketing. For small businesses, it helps to set the aforementioned familiar, warm approach. We have not so many clients, therefore it's even more critical for us to treat them as family members.
AI-based tools allow us to segment your customers better. Notice that no problems appear when database is growing. It's a difficulty for marketers but not for machines. Use all the clients' data, preferences, and behaviors, track their activities online and even offline to send highly personalized content. Let machines craft the perfect subject lines and add dynamic content depending on each customer's personal needs and wishes.
Adjust your messages for different clients to make emails always engaging. Cultivate trust between your brand and clients… Well, this is the next point on our agenda.
Growing customers' trust and business authority
If you still didn't arrange the automated workflow – do it right now! Automated email campaigns not only save a lot of time for creativity but also do amazing things to grow customer's trust. The best solution is to combine creative ideas and AI-powered workflows. This way, it will be perceived as constant care about users. Even if this care is machine-based.
Of course, building clients' trust is not only about automation. It all depends on your professional, trustful and user-friendly approach to everything. Including users of all devices. this year, the number of emails opened on smartphones overrun desktop opens. That's why mobile responsivity is upgraded to mobile priority.
In 2020, there's no way to ignore this. Your email design has to fit the mobile screen absolutely. But this is not only about design! Content must be adjusted for mobiles too. Minimalism is in trend, it goes both to visual and contextual sides. Don't overfill emails with content, choose only what is relevant. People often read inbox messages on the run. Keep it in mind.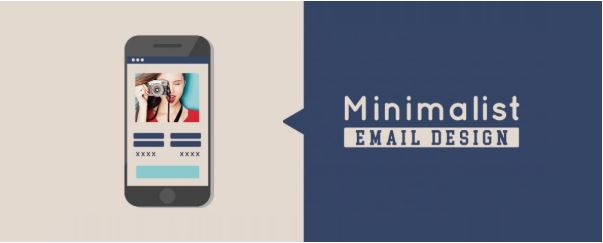 Another thing to remember is that many people have special needs. Accessibility was the priority last year – and it seems it will be still essential. Make your design eye-friendly. Content should be concise and legible. And not for people only – for screen reader software as well.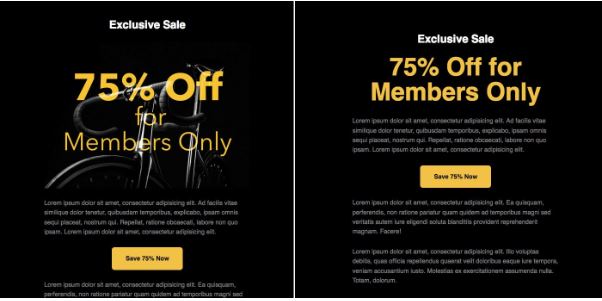 All in all, customers' trust and the business image is a complex thing. It's being formed from many elements combined in harmony. From business style to visual perception. Every little thing matters here.
But one of the foundation stones is brand style. 
Building brand recognition
Most of the glorious brands are well-known enough to be recognized literally at first sight.
But your small business has to be as identifiable.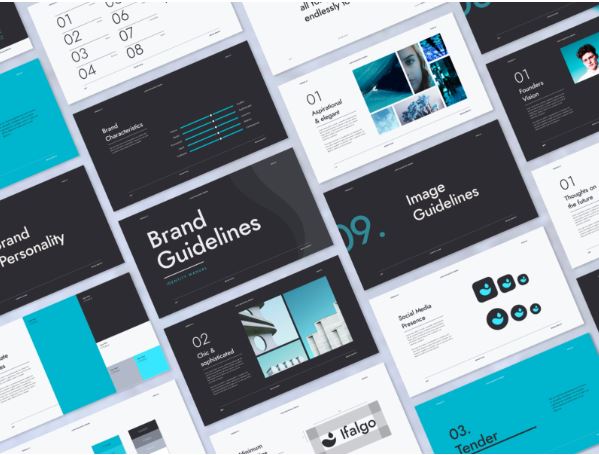 Email marketing is an option to build your brand identity because it opens you a direct way to client's inboxes – and therefore to their hearts and minds. Brand's unique voice is a convenient stairway through the marketing funnel, so to say.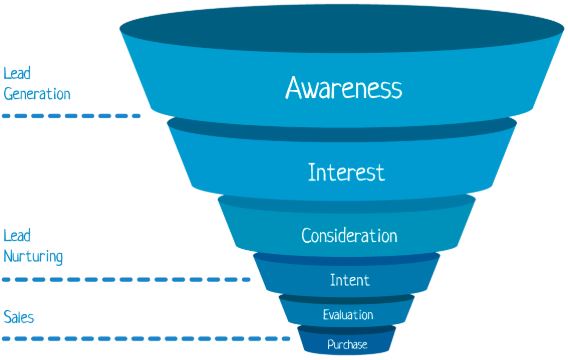 Your emails must be instantly recognized and always reflect the concept of a brand. Once you begin to speak a recognizable voice, you'll have an edge over competitors.
We mean sticking to the same logo, color scheme, imagery, fonts etc. AMP techniques are to the rescue. When an email is styled in the vein of the website, it's always great. But your campaign becomes even better when it's as functional as the website. Well… almost as functional :)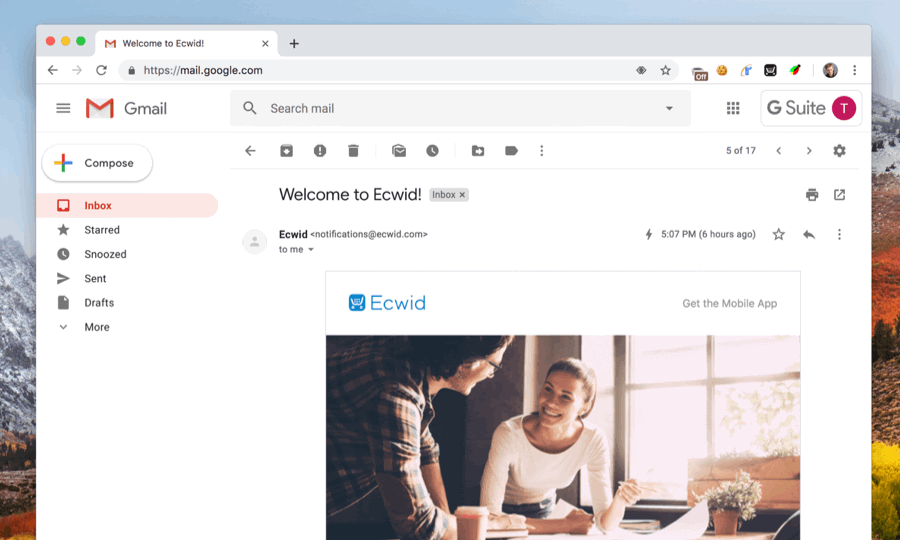 You can even use emails to collect useful feedback. Are clients satisfied with your content? Would they like to see something different? Use a survey or ask for review. Once you get people involved, you'll know exactly what they want – and boost their loyalty. Engagement, sir :)
Analytics and planning
The last but not least is the email channel potential to analyze your business performance and to plan the strategies and tactics.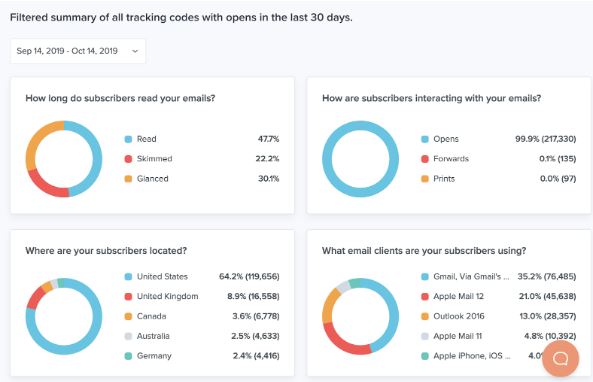 AMP-powered feedback options work well to know the clients' needs and plan or fix your strategies respectively. The aforementioned AI automation tools are another opportunity to measure results. It goes to open rate, click-through-rate (CTR) and other stats up to opening time. The processed data gives you a good idea of how to improve your business, not only email marketing strategies.
Final words
Of course, the benefits of email marketing are not limited to these five points. Well-crafted campaigns are also increasing traffic to your website, etc. But our post may extend into a book volume if to mention them all :)
Let's sum up with a final yet essential practical tip: define the clear goals before to craft a new campaign. And the major mission for the whole business from a long-term perspective. Having this picture before eyes make it easier to define tactics and choose the best solutions.
We sincerely wish you success and growth. Remember that many of famous brands started as small businesses. So hope to see you among the big guys one day!
______________________________________________
Interesting related article: "What is Digital Marketing?"
Video – What is Online Marketing?