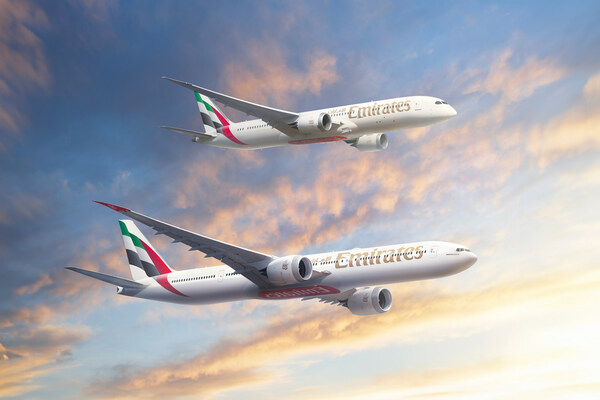 Emirates Airline commenced the Dubai Airshow 2023 with a landmark deal, placing an order for 95 additional wide-body aircraft, valued at $52 billion. This move not only expands its total order book to 295 aircraft but also reinforces its position as the world's largest operator of Boeing 777  wide-body passenger aircraft.
Emirates inked the deal for additional Boeing 777-9s, 777-8s, and 787s. HH Sheikh Ahmed bin Saeed Al Maktoum, Chairman and Chief Executive of Emirates airline and Group, noted that these aircraft would enhance the airline's capacity to connect more cities, aligning with Dubai's D33 economic agenda.
With this order, Emirates' 777-X order book reaches a staggering 205 units, further cementing its status as the foremost operator of Boeing 777 aircraft. The first 777-9 from a previous order of 115 units is expected to join the Emirates fleet in 2025, with new 777-9s being inducted until 2035. Additionally, Emirates will be among the first to operate the 777-8 passenger variant, expected to commence deliveries in 2030.
HH Sheikh Ahmed said: "Emirates is the biggest operator of Boeing 777 aircraft, and today's order cements that position. We've been closely involved in the 777 program since its start up until this latest generation of 777X aircraft. The 777 has been central to Emirates' fleet and network strategy of connecting cities on all continents non-stop to Dubai. We are pleased to extend our relationship with Boeing and look forward to the first 777-9 joining our fleet in 2025."
Stan Deal, President and CEO of Boeing Commercial Airplanes, commented: "This order is an incredible vote of confidence in the efficiency and versatility of the 777X family to meet Emirates' needs for global long-haul travel. The 777-9 and 777-8 are the perfect airplanes to support Emirates' growth plans, improving environmental performance and unmatched payload capability."
The significance of this order extends beyond Emirates. The Middle East market plays a pivotal role in the global demand for wide-body aircraft, accounting for a significant portion of the combined Airbus and Boeing widebody passenger backlog. This region, serving as a crucial hub for long-haul journeys, has been identified by both Boeing and Airbus as a primary source of demand, underlining the strategic importance of airlines like Emirates in the global aviation landscape.
The decision to invest heavily in wide-body jets also reflects the buoyant long-term growth outlooks and the healthy recovery in air travel demand following the Covid-19 pandemic. With the Middle East customers forming 30% of the global total backlog for such aircraft, Emirates' move is a testament to the region's continued dominance in the aviation sector.
The order also includes a commitment for 202 GE9X engines to power the 777X aircraft, taking Emirates' total GE9X engine order to 460 units. This further showcases Emirates' commitment to maintaining a modern, efficient fleet capable of long missions up to 18 hours, connecting Dubai non-stop to cities on six continents.
Emirates' substantial investment in expanding its fleet with Boeing aircraft not only signifies its own growth plans but also reflects the broader trends and strategic moves in the aviation industry, especially in the Middle East. This move is expected to keep Emirates at the forefront of the global aviation market, while also contributing to the broader economic goals of Dubai and the region.