Elearning has quickly gained popularity as one of the best training solutions for organisations of different shapes and sizes.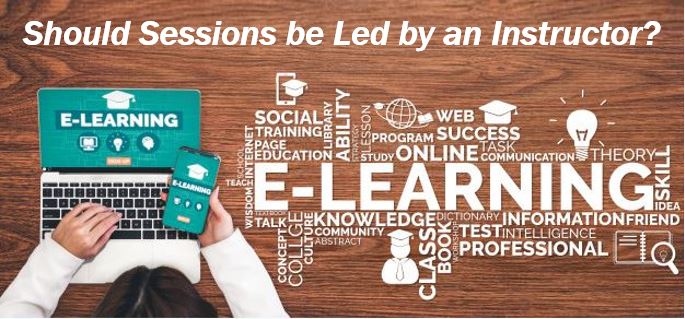 In most cases, when we talk about elearning, we automatically think about a self-paced learning model. Many organisations believe that it is the best way to provide training to their employees.
After all, grown adults need their freedom to learn.
No doubt, having the ability to consume training content as and when they please has benefits for learners. However, it is not the most efficient way to deliver training.
The adults that are taking self-paced training courses have grown up learning in classrooms and the impact of the same cannot be ignored.
Keeping that in mind, it is important for us to understand that elearning or online learning is not just a bunch of videos and text blocks that you can give to your employees and call it a day.
Effective training needs an authentic human touch.
Here are a few ways instructor-led sessions can make your online training initiatives more impactful:
Immediate Assistance
When an employee takes a self-paced learning course and comes across a doubt, there is no one to address the doubt. In some cases, the employees can ask the learning administrator to clear up these doubts, but this cannot happen on a real-time basis which can adversely affect the final outcome of the training.
On the other hand, in a virtual classroom or an instructor led training session, learners are free to get help regarding their doubts in real time. In fact, a good instructor will actually encourage the learners to ask questions to ensure nobody finishes the session with any doubts in their mind.
Moreover, in the process of clearing up a doubt of one learner, the instructor repeats the information in front of the whole class, further fortifying the retention of that particular concept or topic.
Focus
When consuming self-paced training content, employees may feel that it is okay to pair the activity with another activity. In some cases, employees will consume the training content during their work commute. In others, they might even be checking their email as the training video plays in the background.
These are just two of the many distractions that can compromise the impact of a self-paced learning experience.
An instructor led session combats this problem effectively. With a real human being explaining the topic/concept to them in real time, your learners will be more inclined to pay attention.
Timely Progress
With self paced training, you may run into instances where some learners' pace is slower than the others. As a result, learners from the same batch will take different amounts of time to complete the training. This can cause a lot of confusion and delays in your plans as an organisation.
However, when you pair these with routine instructor led sessions, you create virtual deadlines for your learners.
This way, your learners must complete a certain percentage of the training before each instructor led session for that session to make sense.
While this may take away a bit of the "self paced" element from your training, it will ensure your organization isn't wasting precious time unnecessarily.
Individual Attention As And When Required
Finally, unlike a course video delivered online, an instructor will be able to gauge if some of their students require individual attention and will be able to offer them the help they need to keep up with the training, and with the rest of their peers.
Conclusion
As you can see, any online training initiative can benefit greatly with a blended learning model than combined self-paced learning and instructor led training.
With improved accessibility of great video conferencing tools, organising instructor led sessions is easier and more pocket friendly than ever before. There is no reason your employee training programs should not enjoy the advantages offered by them.
---
Interesting related article: "What is eLeaning?"