Are you looking forward to creating a professional PowerPoint presentation?
If yes, you can go ahead with the PowerPoint software. It's a hectic job, though.
What if you have the option to make things easy instead of starting from scratch? That's where Slide Egg can help.
Slide Egg is a platform that offers hundreds of professional PowerPoint templates. There is something for everyone among the presentation templates at Slide Egg.
However, it offers many other services, such as professional PPT design services. While keeping the facts in mind, let's deep dive and explore what Slide Egg is all about.
Some interesting facts and figures about PowerPoint templates
PowerPoint is the most popular presentation-making software used now. It is being used by students, educators, professionals, and anyone in between.
As per Microsoft, more than one billion people all around the world use PowerPoint. Let's see them.
Most people who create PowerPoint presentations as of now tend to use pre-designed templates. That's because they have discovered that re-designing templates can enhance effectiveness and efficiency by up to 50%.

It is possible to use PowerPoint presentation templates to create numerous types of presentations. In simple words, PowerPoint templates help you with creating simple slideshows to complex and interactive presentations with multimedia elements.

It is possible to use PowerPoint templates to create visually appealing and engaging presentations. These presentations can easily capture the attention of audiences.

By using multimedia elements in presentations, they can be made more impactful and memorable.
Scope of PowerPoint presentation and templates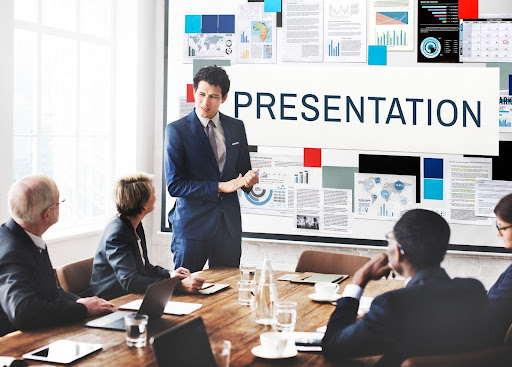 The scope of PowerPoint presentations is quite broad and varied. Here are some of the most prominent applications of them.
It is possible for you to use PowerPoint presentations for personal purposes. For example, people use presentations on birthday and wedding slideshows. This list goes on.
PowerPoint presentations are a great choice available for design and creative purposes. For instance, you may use them to create portfolios or showcase artwork. These presentations offer excellent photography, typography, and other visual elements.
Non-profits and charities
Charities and non-profit organizations tend to use PowerPoint presentations to deliver important messages to the community and raise awareness. Like the templates for grant proposals, fundraisers, and annual reports.
PowerPoint is one of the best tools available for educators and teachers out there. They can create informative and engaging presentations to share knowledge with PowerPoint. The educational PowerPoint templates offer class notes, lesson plans, and even interactive quizzes.
We cannot ignore the importance of PowerPoint presentations in the business world. It allows us to create all sorts of presentations, ranging from internal meetings to sales presentations.
Business around the world is so attached to PPT templates. You can find business-oriented PowerPoint templates, which are useful for financial analysis, marketing, project management, and more.
Now that we learned the scope of PowerPoint templates and Google slides. Let's look at why different industries require PPT templates.
Needs of PowerPoint presentation in all industries
PowerPoint presentations are used in all industries out there in the world as well. Let's take a look at a few of the industries where PowerPoint presentations are extremely useful.
The tech industry utilizes PowerPoint presentations for investor pitches, product demos, business proposals, internal meetings, and industry conferences.
In addition, including PPT presentations helps technology companies out there to showcase new products that they offer to the market. On top of that, PowerPoint presentations help them to explain technical concepts in a clear way. They can even demonstrate the expertise that they have in the field with PowerPoint presentations.
Government agencies tend to use PowerPoint presentations for internal meetings, public meetings, and training sessions. These presentations, they cover numerous topics such as emergency preparedness, public policy, and environmental issues.
When you take a look at the healthcare industry, PowerPoint presentations are created for patients as well as medical professionals.
Doctors, nurses, and all other healthcare professionals tend to rely on PowerPoint for creating educational materials. Moreover, PowerPoint presentations help them with presenting important research findings at conferences.
Educators find it an easy task to share knowledge and educate with the help of PowerPoint presentations. This is the main reason why teachers rely on PowerPoint to create lesson plans, deliver lectures, and provide students with interactive games and quizzes.
We often see how PowerPoint presentations are being used within the business world. That's because PowerPoint can help corporate professionals with communicating ideas, plans, and strategies.
Some of the most common examples for use of PowerPoint in the business world include the creation of internal reports, pitch decks, and sales presentations.
Wow! You might be astounded to know the stats and scopes of PowerPoint presentations.
It's time to know about the PPT giant that provides PowerPoint templates and Google slides for all the above-mentioned needs—Slide Egg.
About Slide Egg

One thing we cannot ignore. You will also come across the need to use PowerPoint to create presentations in day-to-day life. This is where you may take a look at the PowerPoint presentation templates available at Slide Egg.
Slide Egg is a comprehensive platform for PowerPoint presentations. With the help of Slide Egg, you can create the best presentations that you can ever think of.
On the website, you can discover over twenty thousand free PPT templates. With the help of these templates, design elements, and themes, you will be able to create impactful and visually appealing presentations.
Even if you struggle to create presentations the way you need, Slide Egg can assist with their PPT Design experts. While keeping that in mind, let's deep dive and see how Slide Egg can benefit you.
Free PPT Templates
On Slide Egg, you can discover 20000+ free PowerPoint templates. You don't have to pay for any of these. All you have to do is to sign up on their site.
Once done, you can access any template available and use it for your purpose. There are no limitations on how and where you can use these presentation templates as well. These presentations come in multiple nodes, attractive colours, and with advanced data.
Another great thing about the PowerPoint presentations at Slide Egg is that they are easy to edit. You don't need to be an expert in PowerPoint to create your customized presentations with these templates.
The designers of templates have given priority to convenience when editing them. As a result, you can remain productive and save time as you work along with the presentation templates. By spending a couple of hours, you may end up creating a unique and visually appealing presentation on your own.
The free PowerPoint templates at Slide Egg can surely help you with impressing your audience. All you have to do is to browse through the categories and pick the right template, which can speak to your audience.
To help you with that, the editing team at Slide Egg continues to update presentations with modern trends.
490+ Categories
There's something for every presentation creator on Slide Egg. In other words, you can find Best PowerPoint presentation templates that belong to more than 490 different categories and topics.
Some of the most prominent categories that you can find out of them include 5G technology, Metaverse, Artificial Intelligence, Real Estate, Cloud Networking, Finance, SWOT, Portfolios, Investment Pitch Decks, Environment, Digital Marketing, Social Media, and Education.
You may simply visit the website and search for the keyword on where you want to find a presentation template. Then the advanced search engine at SlideEgg will provide you with a list of presentations that match your criteria. You can pick one of the presentation templates and then proceed with editing it.
Or else, you may also think about browsing through the categories. Just go to the menu at the site and hit on the Categories link. Then it will provide you with all the major categories to which the presentations belong to.
All available presentations at Slide Egg are properly categorized by the team to ensure your convenience. As a result, finding that perfect PowerPoint presentation template will never be a challenging task for you.
PPT Design service
If you have already created a presentation, but you want to make it look better, you can get the help of PPT Design Service available at Slide Egg.
There's a team of PowerPoint experts at Slide Egg, who can provide much-needed assistance to you with creating presentations. All you have to do is to share your presentation with them over the Slide Egg website, and you can get it professionally designed.
Regardless of the number of slides available in the presentation, you may share them with Slide Egg. You can get the first draft of the professionally designed slideshow within one hour.
If there is a need for you to make a presentation look better overnight, this is the best option available to try. If you don't want to spend time on urgent designing services, you may expect to receive the first draft of your presentation within 24 hours or 48 hours.
When you are uploading your presentation to Slide Egg, you will need to provide a brief.
Make sure that you enter all specific information here as much as possible. This will help you to get the exact design that you have in your mind in the very first draft. You may also live monitor how your presentation is being worked on. This will help you to incorporate feedback right in real-time and get a perfect outcome.
Slide Decks
You can get your hands on complete Slide Decks Templates with Slide Egg as well. A slide deck can make your life easy when creating presentations. That's because it provides you with a comprehensive selection of slides. You will be able to save a considerable amount of time with the help of a slide deck.
Along with a slide deck, you will be able to get hold of all the important slides that are used in a presentation.
For example, if you have to do a presentation on your company's financial performance, you will be able to download an appropriate slide deck from Slide Egg. Then you just need to fill up the slides with data. There is no need to worry about designing the slides on your own, since you will be provided with the designs. All you have to do is to add your content to the slides and make them look informative and engaging.
When you are using a slide deck to create a presentation, you will also be able to ensure that you are not missing out on any important slide. These slide decks are created by subject matter experts. As a result, you can expect to find all the important slides that should be included on a slide deck.
The slide deck comes along with charts, graphs, and all sorts of visual aids. By entering your data, you may get assistance with creating these charts or graphs automatically. It provides much-needed assistance for you to illustrate the key points that you are trying to highlight with your presentation.
Tips & Tricks
Do you want to be an expert in creating PowerPoint presentations?
Then you can get some useful tips and tricks from Slide Egg. It serves as a learning platform as well.
There's a dedicated section on the Slide Egg website, where they share useful tips and tricks related to PowerPoint presentation creation. You can take your time to go through the articles and you will be able to enhance your knowledge on how to be an expert in PowerPoint.
PowerPoint presentations are mainly being used to communicate with your audiences. Slide Egg shares tips and tricks, which you can use to communicate effectively with your audience. You can deliver the message without causing any confusion.  
PowerPoint & Google Slide Tutorials
Slide Egg shares both PowerPoint & Google Slides tutorials with the visitors. These tutorials are specifically designed for Microsoft PowerPoint and Google Slides respectively. As a result, you will be able to enhance your knowledge without any confusion.
If you want to learn more about PowerPoint, you will have to go to the PowerPoint tutorials section at Slide Egg. It provides tutorials, which you can use to learn about PowerPoint from scratch.
On the other hand, anyone who wishes to learn about Google Slides can go to the respective tutorials section and learn. The best thing about these tutorials is that they provide step by step instructions. All you have to do is to follow the steps, and you can make sure that you won't get confused.
Comparing Slide Egg with Slidesgo, SlideModel, and SlidesCarnival
Slide Egg, Slidesgo, SlideModel, and SlidesCarnival are all online platforms that offer professional and creative PowerPoint templates for different purposes. Here is a comparison of these platforms:
Slidesgo offers a large collection of free and premium PowerPoint templates for business, education, and personal use. The templates are designed with colorful and modern styles and are easy to customize. Also, it provides a blog section with tips and tricks on how to make an effective presentation.

SlideModel offers a wide variety of PowerPoint templates for business, marketing, education, and more. The platform offers both free and premium templates, with a focus on professional designs and high-quality graphics. Additionally, SlideModel also provides editable diagrams, charts, and maps for presentations.
SlidesCarnival offers a collection of free PowerPoint templates with unique designs for different purposes, such as business, education, and creative projects. The templates are easy to customize and come with a set of icons and images. SlidesCarnival also provides a blog section with tips and advice on how to create effective presentations.
Slide Egg is a comprehensive platform that provides a wide range of presentation templates, including business, education, finance, marketing, and more. The platform offers high-quality templates with stunning graphics, animations, and transitions.
There are millions of professionally designed Microsoft PowerPoint templates on Slide Egg. No other website compared to the above offers such a large number of templates for you to access.
Slide Egg doesn't just offer PowerPoint templates. You can expect Slide Egg to help you with designing professional PowerPoint templates.
If you are creating an important presentation, or if you don't have time to create a presentation on your own, this feature will be helpful.
On the other hand, you can also get a bunch of useful Microsoft PowerPoint and Google Slides tutorials from Slide Egg as well. All these additional features make Slide Egg the best platform of its kind.
Be in touch with Slide Egg through social media for updates
If you are a person who regularly uses PowerPoint to create presentations, you need to remain up to date with Slide Egg as well. That's where you may think about following Slide Egg on its social media channels.
Slide Egg is active on all leading social media platforms, including Facebook, Twitter, Instagram, Reddit, LinkedIn, and YouTube. By subscribing or following Slide Egg, you can be up to date on what they are offering to make your life easy as a PowerPoint presentation creator.
Final Words
Now you have a clear idea of what Slide Egg is all about.
It is a wonderful resource available on the internet for anyone who is interested in creating PowerPoint presentations.
Whether you are looking forward to creating a new presentation or you want to redesign a presentation, you may visit Slide Egg.
You will never regret the decision you take to stick to Slide Egg.