In earlier times, projectors used to be huge and heavy, unlike today. They had limited features and select advantages. However, with the development of technology, the scenario has changed. Today it is the world of projectors. There are pocket projectors and HDMI projectors. In addition, there are Bluetooth projectors as well. They are used widely since they can be easily connected to any device. Mini projectors have been trending lately. You can see them almost everywhere. The popularity is due to some exciting features of the projectors.
These micro projectors have remarkable functionality. The best part is that they are portable too. This is one of the reasons why the mini projectors have become popular. There are several fun activities that you can do with the projector. For instance, you can live stream shows or watch movies or play fun games. All this can be done on a bigger and wider screen. Experience the fun of having a theatre like a screen right at home. We will discuss 12 interesting ways to enjoy your time with a mini projector by Projectors Today.
12 Fun Ways To Spend Time With A Mini Projector
Earlier, projectors used to be only found in schools or companies. They are vastly used for academic and business reasons. However, with lower prices, projectors are now used widely. The improvements in the pocket projectors, make them easy to use. So let us not waste any more time and get straight to the point. Let us jump right into some interesting ways to make the best use of the mini projector.
Recipe Projection
If you love cooking for your family and friends, this one will be your best bet. Use the mini projector to get a widescreen display. If you decide to watch it on a mobile, the screen size can be a huge turn-off. You will have to watch the video closely to follow the steps. Besides, you can spill oil or other liquids onto the phone. Yes, we know it can be difficult. Hence, you can use the mini projector to see cooking vides.
Display the recipes on a big screen right in front of you. You can simply display the video on a wall and follow the recipe. This will avoid any kind of stains or more. Also, it will enable you to make recipes at ease. When you watch the videos on a bigger screen, you can follow without any mistakes. Try out new recipes and cook for your family and friends. There are different varieties of projectors available. You can select the ones that suit your needs.
Big Screen Fitness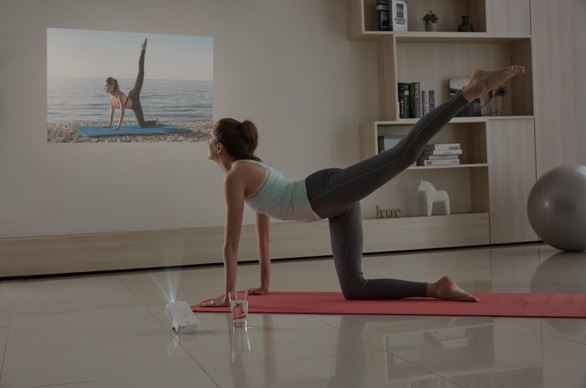 Has this lockdown made you lazy? Have you been missing out on your workout sessions? Give your excuses a break. Use the mini projector to display workout and fitness videos on the screen. Keeping track of videos can be pretty tough on a smartphone. It can be challenging to focus on a small-sized screen.
You may have to pause the video many times to follow the exercise. When you project it on a big wall, it becomes easy to observe. You can include your family or friends while working out. This will give you a company as well as helps you have fun. Get your option of projectors to stay fit right at home.
Music is Life 
Grab your favorite book, a cup of coffee, and settle down to some calm music. Projectors have Wifi and Bluetooth options. You can also use it as a standalone Bluetooth device to listen to soothing music. Get rid of your stress and tensions while playing excellent background music.
That is one of the features of projectors. They can be used in several ways to make the best use of the device. You can use portable projectors as Bluetooth speakers. They are great for smaller spaces. If you happen to throw a party, you can use these projectors and play music. It is a great way to make use of the device. There are dedicated bluetooth projectors available in the market that you can choose from.
Binge Watch 
Are you bored of watching your favorite shows on a small screen? It's time to change. You can now enjoy your shows on a big screen. Get a theatre like an experience, and watch movies or shows at home. Make the best use of time at home to binge-watch your favorite series. Pocket projectors have Wifi, which lets you connect and watch Youtube or stream live shows.
You can also watch Netflix, Disney Hotstar among several other streaming apps. Now you won't have to waste money in a theatre. You can witness the same experience right in the comfort of your home. Set up a movie night with your family or call your friends over to join in on the fun. You can also watch your favorite shows or series free of cost.
Gaming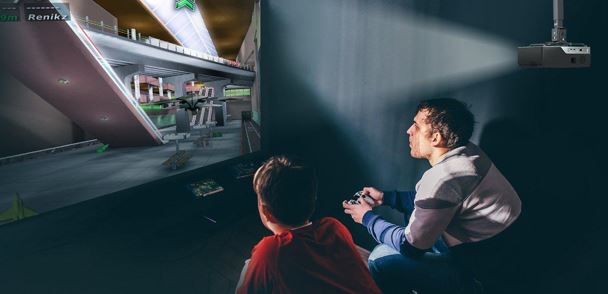 Portable projectors are a great way to big-screen gaming. You can simply cast using your tablet or phone, which is plugged to the PlayStation. You can experience live gaming at its best. These projectors expand your view and let you enjoy gaming in its true sense. The exciting graphics is something you should look out for.
The bigger and wider screen makes the game all the more stunning. Engage in some good quality gaming. With this, your days will never be rough or dull. You can also game along with your friends or family to double the excitement. Never miss out on some fun using these fantastic mini projectors.
Whiteboard with Remote 
Regular whiteboards can be expensive. An affordable way to do it is to use a mini projector to cast on a screen. Besides, you can use a marker to control the screen. There are different devices for that too. With this, you can create your interactive whiteboard anywhere. Whiteboards are widely used all over the world for teaching purposes. Now with a mini projector and an LED light, simply create your personalized whiteboard.
You can do it at a little cost, which can be helpful for kids. If you have kids at home, you can consider teaching them using a whiteboard. If you plan to homeschool your children, you can use this tip to use the projector. You can call your kids friends too, to teach them or give tuitions utilizing this feature.
Paint a Mural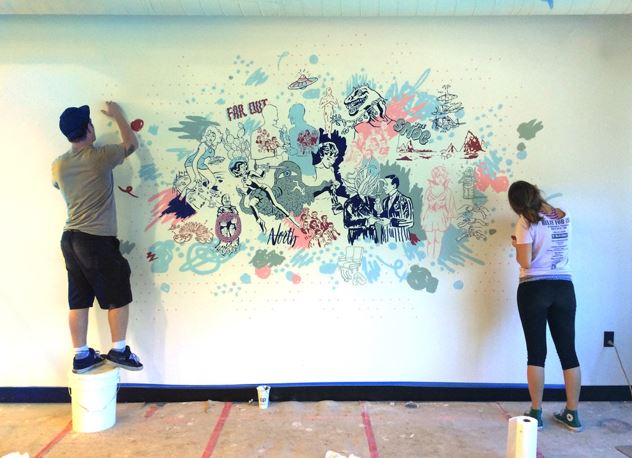 Do you love painting? So now is the time to show off your skills on the wall? You must have seen interesting paintings on the walls with accurate detailing. Ever wondered how? Painting a mural is very simple. You can make use of the mini projector to display a black and white image onto the wall. After you project it on the screen, use a pencil to trace the lines on the wall. Later, you can use paint to fill the mural.
This is the best use of the mini projector. Be an artist anywhere you go. Amaze others with your talent using the projector. Surprise everyone with your amazing painting skills. Invest in a pocket projector and indulge in some fun using these advanced devices.
Create a Background Setting
Are you having a party at home? That calls for some stunning photographs. If you do not have impressive backgrounds for your pictures, project a crisp image on the wall. This is a fun way to make use of the mini projector. You can pose for pictures and create memories with the same. Create a DIY background and get ready for some fascinating pictures of yourself.
You can change the background image as per preference. Besides, if you happen to have a pool party, you can set the right mood using the projector. You can transform your wall with a picture of the ocean. You can also make your pool into an ocean by projecting images. You can use coral reefs, tropical fish, and a dolphin to create the scene. Furthermore, you can also add relaxing background music to make it the best evening ever.
Storytime for Kids
Kids love their storytime. Hence, you can try an advanced version of the same. Many storybooks are available on tablets, smartphones, or computers. Use a projector to display the videos on the screen. This will make their storytime all the more interesting.
Give your children a new experience and take the storytime to the next level. Let your kids watch the story take life as they watch it on the big screen. The benefit of doing so is to make them understand the story pretty well. Additionally, it is an experience to witness.
Sleep Better 
Are you having trouble falling asleep? Try using the mini projector to display the video on the ceiling. You can project a beautiful rain scene or ocean waves on the screen. This will help you in falling asleep faster. You can also try playing some relaxing music that will calm you down. This will enable you to sleep better.
On the other hand, you can watch a movie with your partner while in bed. You can place the projector on the side of the bed that points up. This will project the display onto the ceiling. You can also display a picture of the moon and the stars in your child's room to give a beautiful set up to the room. This will allow them to sleep better as well. You can also play calming music in your child's room.
Shadow Puppet Show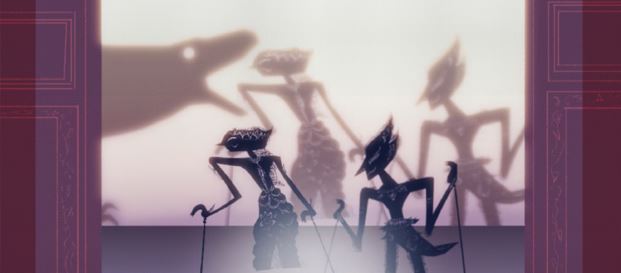 You can use the mini projector to create interesting puppet shows. This is an excellent way to engage your kids. Spend quality time with them by playing these shadow puppets. You can teach them how to create different forms. Besides, you can also set up a puppet show that tells a story. There are many ways how you can make it fun and interesting. This will be a great way to keep your kids busy while they learn something new.
Meditate
Being at home is the best way to take care of your mind and body. Make the best use of the projectors by casting meditation videos. You can grab a yoga mat and get ready to relax your mind. Download or watch yoga or meditation videos on a bigger screen. Project it on a blank wall to follow the videos, as shown. While performing yoga, you can easily look on the screen.
On the other hand, if you use a phone, it can get tricky to follow them. Also, using a portable projector allows you to perform yoga or meditate in any place. Now you won't have to give any excuses to skip yoga. Get fit even at home and stay healthy.
Conclusion
Here we have listed a total of 12 fun ways to spend time with the mini projectors. Keep your creativity alive and look at ways to make it interesting. They are great devices for you to use when you spend time at home. Now being at home will ensure you make the best use of the time. Portable projectors are often quite cheap and affordable. Different features are available in every projector. Hence, be sure before you plan to buy one.
If you have been planning to buy projectors, make sure you have a good knowledge of the same. Do thorough research on the phone projector before you purchase one. They have a wide range of available functionalities. The best one out of the lot is that they are portable enough to be carried around anywhere. Besides, they are also very lightweight, unlike older bulky projectors. Try these 12 interesting ways to have fun with projectors and let us know which one did you like the best.
---
Interesting related article: "What is Technology?"