Starting a cleaning business of your own can be a daunting challenge. But, armed with high-quality cleaning accessories – you can run an efficient business and even save money!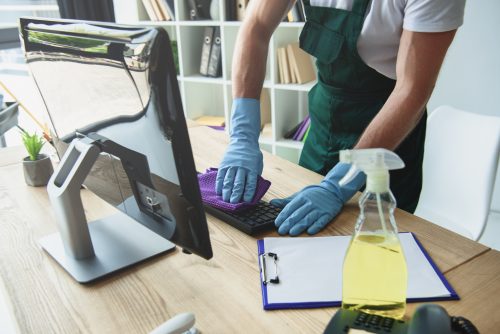 But if you are starting, you will have to understand how to prioritize your supplies. You will also have to find a pocket-friendly supplier who gives you reasonable prices. And finally, you will need to narrow down the list of tools you need.
Should You Supply Cleaning Products for Your Customers?
In general, it is best to supply cleaning products yourself. The benefits of doing so are –
It is an added incentive for customers to hire you.
It looks more professional and organized when you show up for the job well-equipped.
You can charge an additional fee for the cleaning job
You will be able to clean faster and better with products and tools you know how to use.
The Complete List of Home Cleaning Tools
CLEANING EQUIPMENT LIST
Microfiber Cloths –Color-code the clothes and keep them separate for the kitchen and bathroom.
Mop & Bucket – A good quality mop with a bucket, choose one that's easy to carry.
Bucket, Basket or Container – Use it to carry your tools and supplies.
Duster – Both long and short duster for cleaning.
Vacuum Cleaner – Carry vacuum cleaner with attachments for hardwood and carpet.
Paper Towels – Apart from cloths to wipe, carry paper towels for quick clean-ups.
Rubber Gloves – Protect your hands as you clean with a pair of rubber gloves.
Laundry Bag – Laundry Bags are helpful to put away the old rags you find lying around.
Glass Cleaning Cloths – Special soft cloths for cleaning mirrors and glass table-tops.
Spray Bottles – Useful for mixing all-purpose cleaners and homemade products.
Disinfectant Wipes – Great for wiping kitchen and bathroom surfaces for hygiene.
Cleaning Brushes – Use plastic cleaning brushes for toilets or ask customers to provide them.
Shoe Covers – Wear shoe covers on your feet to keep the floor clean.
Trash Bags – Needed to dispose of the trash and dirt at the end of the cleaning.
CLEANING PRODUCTS LIST
Air Freshener – Use it to leave a pleasant smell lingering in the room when you are done.
Disinfectant – An essential product for cleaning bathroom and kitchen surfaces.
Furniture Polish – Add a touch of shine to wooden furniture after cleaning.
Wood Cleaning Liquid – Make your own by mixing Murphy oil in eight parts water.
Multi-purpose Cleaner – Choose a cleaner that works on appliances and hard surfaces.
Glass & Window Cleaner – Available in a spray solution for mirrors and glass surfaces.
Toilet or Shower Cleaning Liquid – Available in the all-in-one form to clean mould, mildew etc.
Oven / Stainless Steel Cleaner – Use it to clean all appliances with outer bodies of steel.
Heavy-Duty Detergent or Degreaser – Useful for cleaning floors and stubborn stains.
Laundry Detergent – Needed for washing clothes, curtains and bedsheets.
Dishwashing Liquid – Needed for washing dishes, cleaning stovetops and refrigerators.
Descaling Agent – Removes limescale in kettles, washing machines, water dispensers etc.
Stain Remover – Choose a stain remover that works on all surfaces.
Carper Cleaner – A vital part of the living room cleaning routine.
OFFICE SUPPLIES
Cleaning Business Insurance – A must-have for every cleaning business.
Cleaning Business Software – The ultimate solution to organizing your cleaning business records, including online booking, appointment reminders, and invoices.
Phone Line – Get a contact number to allow your customers to reach you.
Printer – Use it to print invoices with a professional look and format.
Laptop/PC – Important to keep your records digital.
Business Cards – One of the best ways to introduce yourself.
Why do you need Cleaning Business Software?
At the end of your cleaning business checklist is a cleaning business software. A cleaning business software is as valuable for your business as a good mop or duster. It saves time, does all the hard work for you and helps you maintain a professional impression. Software to maintain your cleaning records is essential to run an efficient and profitable cleaning business. Find out more about how your cleaning business can benefit from cleaning software today!
Author Bio:
Akhil Rajan is a Customer Success Specialist at Zuper, an intelligent workforce management platform for service-oriented businesses. Working with customers daily, he has a deep understanding of their needs and pain points and so he can contribute to the marketing strategies for Zuper with the content he writes. He writes on topics like how to increase workforce utilization, how to reduce the service turnaround time and increase workforce efficiency, customer adoption, cost reduction strategies, etc. – to name a few. He is often found buried in books or playing chess in his free time.
---
Interesting Related Article: "What is included in office cleaning?"